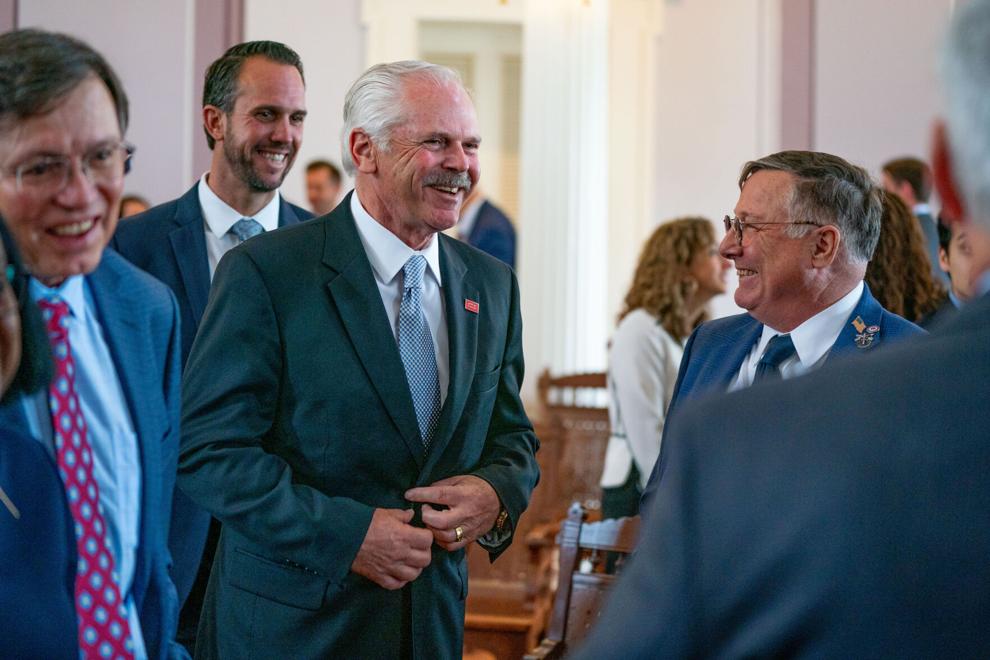 In 2012, Canadian company Alabama Graphite Corp. began prospecting in Coosa County in an area that hadn't been mined since World War II. After six years of generating excitement among local officials, however, the company failed to get the financing, sold to Colorado-based Westwater Resources and "The Coosa Project" went quiet.
Then the Lake Martin Area Economic Development Alliance (LMAEDA) got a call from Westwater representatives in January, just before the capitol insurrection.
"I'm usually not like, 'Gotta have 'em,'" LMAEDA director Chad Odom said. "But I was like, this one we do, we gotta have this. Because that (industrial) park needs it, that county needs it. You've got to be vertical with your resources. Once you have something and it leaves, it ain't coming back."
Last year, Westwater shared its business plan for The Coosa Project, one of two graphite deposits being developed in the U.S., which the company expects to start mining by 2028. In the meantime the company plans to import graphite feedstock and process it domestically — a tricky procedure where most of the cash is anyway — before processing its own Coosa County graphite. Once complete, Westwater's Alabama Graphite Products processing plant will be the only battery-grade graphite source in the U.S.
The site search began in January among several locations within a 30-mile radius of the mining site near Weogufka. Across several visits, the LMAEDA wined and dined them, offered workforce development programs at Central Alabama Community College, among other incentives, and took them off-roading around the trails of the Lake Martin Regional Industrial Park in Kellyton. According to Odom, they came right back.
"Nobody else sold them like we sold them when they went around," he said. "I'm confident of that."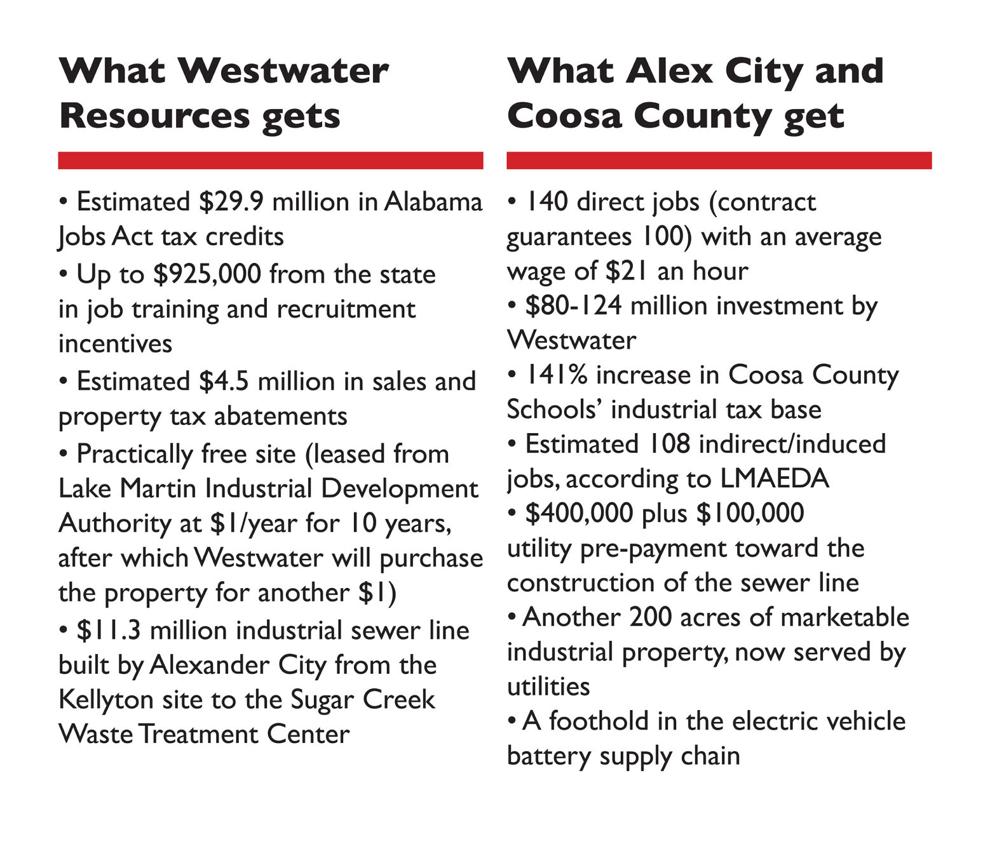 What the Lake Martin area gets out of the deal is a guaranteed average salary of $44,000 a year, about twice the current $10-14 starting wage of the local manufacturing plants. The company intends to hire 140 people for its Alabama Graphite Products plant from operators to management.
"It's a game-changer," Odom said. "Their starting salary is going to put positive pressure on the labor market."
Workers can also expect stability, according to Crystal Equity Research analyst Debra Fiakas, who tracks small-capitalization companies including Westwater. Fiakas describes the company as a slow and deliberate decision-maker, with low employee turnover and a focus on the long-game.
"To me that's the kind of employer you want," she said. "They're not speedy; they're not the kind of people who rush. They're very, very careful — just incredibly careful."
In the high-risk mining industry, Fiakas says the conservatism is for good reason. Before its pivot to battery minerals, Westwater was called Uranium Resources with sites in Texas and Turkey. The mining company was dealt two blows, however, first by the Fukushima disaster, which sent the uranium-reliant nuclear power industry "into freefall," then in 2019, when the Turkish government — in what Fiakas describes as an arbitrary decision — said Westwater's mining permits were "issued by mistake." The legal battle is still ongoing.
As such, in an industry that elicits a strong emotional response and is reliant on many stakeholders, Westwater has good reason to keep the community happy.   
"They need to get along with everybody," Fiakas said. "These guys have been involved in the mining industry for a long time and they know that increasingly so, any mine has to get involved with the local folks."
In this instance, the local folks included the Alexander City mayor and council, the Coosa County Commission, the LMAEDA and the state, many of whom had also dealt with Alabama Graphite Corp. while under different ownership.
"It was a smaller operation without the capacity," Coosa County commissioner Unzell Kelley said.
The difference between Westwater and the company it bought, however, is Westwater currently has $118 million in the bank. According to Kelley, it was an easy sell.  
"We mean what we say," Westwater president and CEO Chris Jones said, pointing out the company's financing, defined business plan and leadership team's tenure in the industry. "We make conservative promises and we think conservative promises work out."
The deal
First, by choosing the Lake Martin area for its processing plant, Westwater is getting an estimated $4.5 million in sales and property tax abatements, with the exception of taxes paid to schools, and practically free use of the land.
The most complex incentive package in terms of financing, however, is the forced-main sewer line Alexander City is planning on building — the biggest indicator something worthwhile was on its way.
Despite being in Coosa County, the Kellyton industrial park is served by Alexander City water and sewer, but only for flushing toilets. In a deal negotiated with Westwater through the LMAEDA and approved by city council in May, the City of Alexander City has agreed to construct an $11.3 million wastewater run from Kellyton to the Sugar Creek Waste Treatment Center in Alex City, which has been operating at a fraction of its capacity ever since the textile mills shut down.
"They didn't ask for this; we just didn't have it," Odom said. "They required something we didn't have."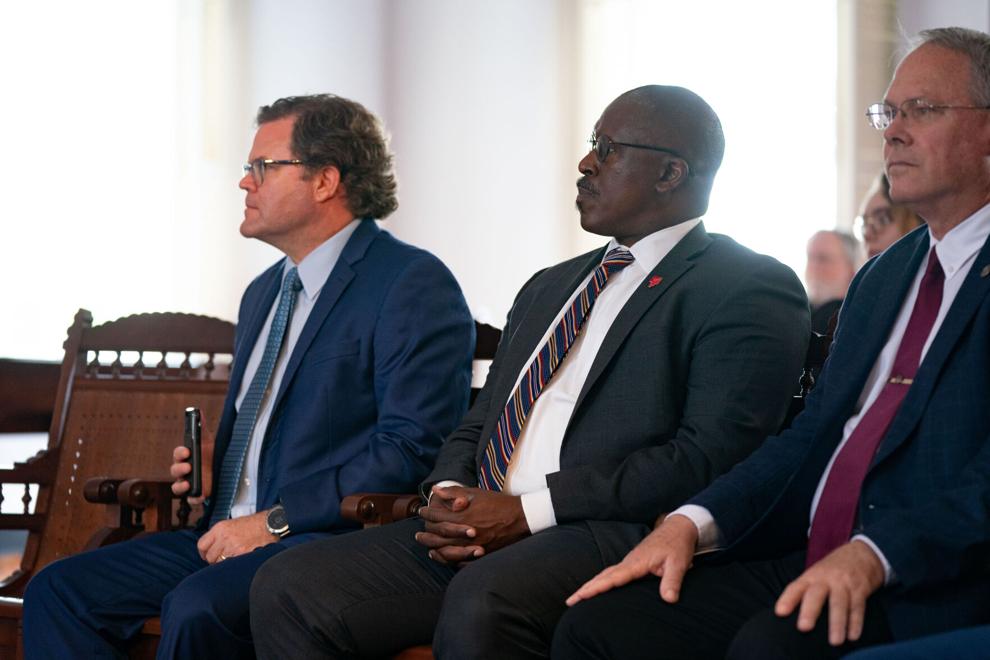 Of that $11.3 million, $2 million will be low-hanging fruit — half a million will come from Westwater, $100,000 of which as pre-payment on future utility bills. Another $1.5 million is expected to be covered by grants, including a $500,000 Community Development Block Grant for the residential portion of the sewer line and $1 million from the Appalachian Regional Commission.
The next $5 million will be paid by selling tax credits, which buyers can swap dollar-for-dollar with state tax money owed. Out of the $20 million in Growing Alabama tax credits the state awards each year, $5 million is the maximum it can give to a single project. It's up to the LMAEDA to sell those tax credits within a finite period.
After Westwater's contribution, the grants and the tax credits, that leaves $4.3 million in Alexander City bank debt. However, Odom is assured the wastewater run will more than pay for itself once Alabama Graphite Products ramps up production and starts racking up a water and sewer bill.
"There were a lot of questions with this being a new process, first time tried, speculative — 'Is it going to work?'" Alexander City mayor Woody Baird said, referring to Westwater's patent-pending purification process. "That's why I had reservations to a certain extent, because I can't risk the city's assets on something we don't feel (is) viable. But at this point I think it's very viable. And I think it has huge potential for the future."
There is one thing left to be seen, and that's the definitive feasibility study, due in September. The report commissioned from several engineering firms will give a final verdict on the economics of the project. Jones says much of the risk has been mitigated by a successful graphite-processing pilot program but does not rule out the possibility of a surprise.
"The nature of a feasibility study is taking your original concept and plan and running all of the numbers to make sure it's workable, how it's workable and to connect all those processes into one," he said. "So can there be surprises? Of course there can. Could there be more funding needed? Depending on the nature of the surprise, perhaps. But in our world surprises come both ways. Sometimes things are better."
Either way, Westwater is promising both investors and Coosa County it'll break ground on Alabama Graphite Products in December, with a fully-running plant by 2023.