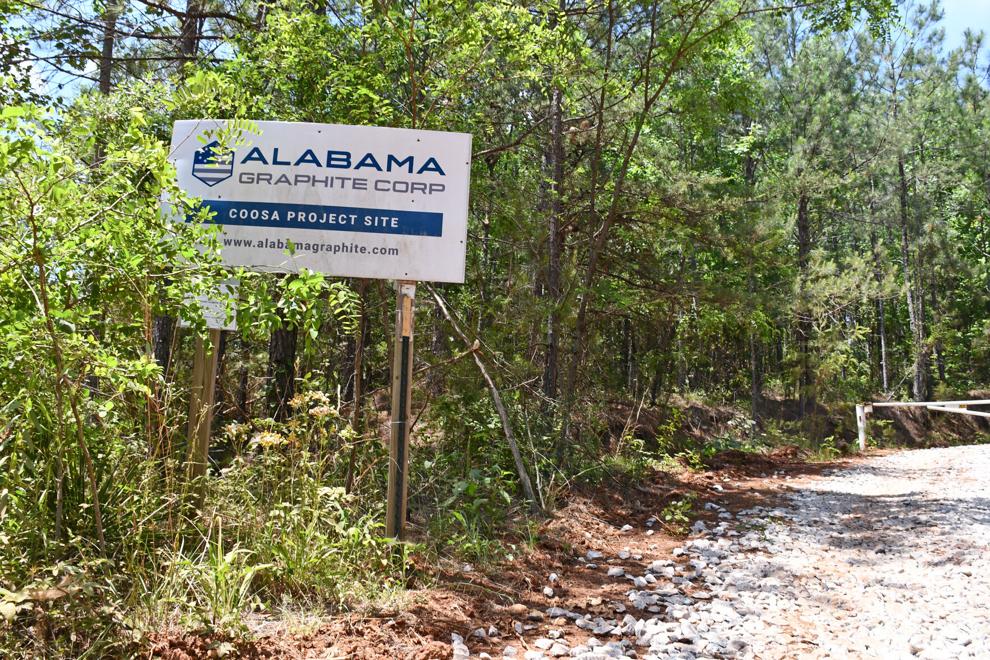 Coosa County's graphite has been waiting in reserve.
Now, three-quarters of a century after graphite was last mined in the area, the electric vehicle industry trajectory and the U.S.-China rivalry have coincided in Coosa County's favor, making the mineral worth a whole lot more than just pencils. 
"I think a lot of us had an increasing amount of faith that this was going to happen," Lake Martin Area Economic Development Alliance (LMAEDA) chairman T.C. Coley said. "At some point when you have something special you realize that it's going to have to happen, especially given the geopolitical climate we're in."
At present, about 62% of the world's graphite supply and 100% of its battery-grade graphite supply comes from China. By 2023, Colorado-based Westwater Resources seeks to be the first U.S. company to process graphite suitable for batteries, using raw material imported from undisclosed, non-Chinese sources and purified in Coosa County, Alabama. By 2028, Westwater seeks to be the first U.S. battery-grade graphite mining company out of its 42,000 acres of mineral holdings on the other side of Coosa County.
What makes graphite mining viable for the first time since the 1940s, according to Westwater, is the rapidly growing demand for lithium-ion batteries found in laptops, mobile phones and electric vehicles, of which graphite is an essential component. As the nation switches to renewable energy, battery grid storage also offers a way to store "spare" electricity to tap into when the windmills aren't turning.
"There's a big expectation there's going to be a huge shortage of battery materials, especially graphite, so we don't see any problem with being able to sell the materials," Westwater CFO Jeff Vigil said.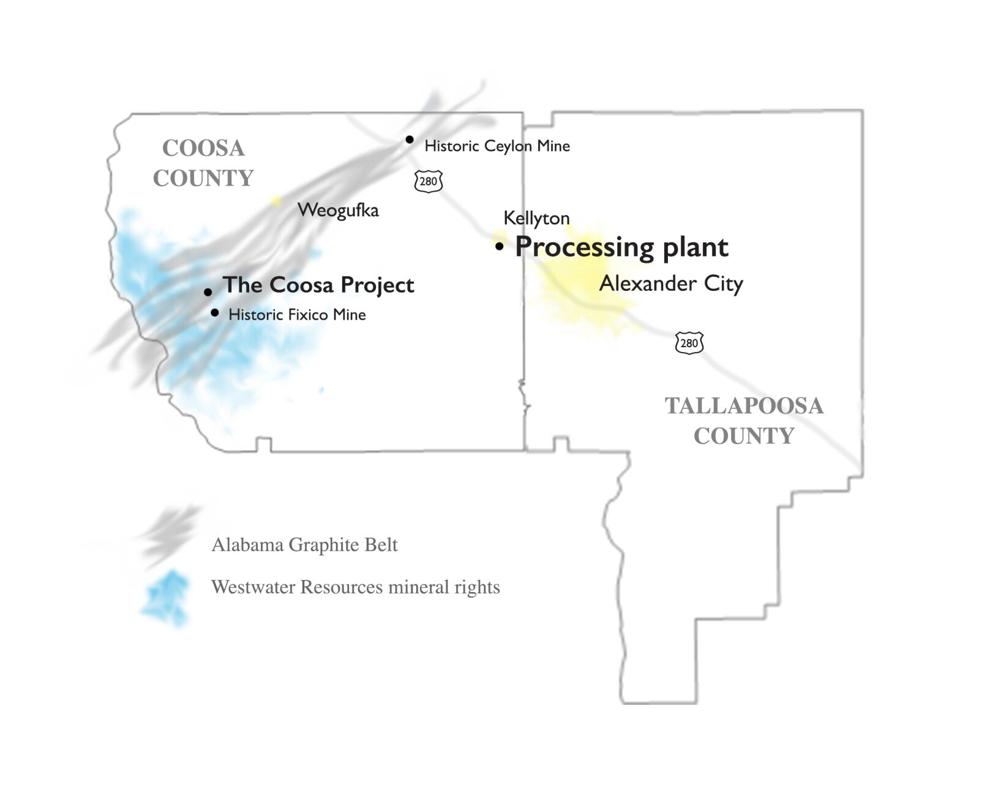 Westwater subsidiary Alabama Graphite Products intends to purify graphite suitable for three different types of batteries, including the batteries found in flashlights and gasoline-powered cars, but it's the lithium-ion battery market that's expected to see the most growth. Last year, California governor Gavin Newsom mandated all vehicles sold in the state be electric by 2035. The U.K. has set goals for a similar mandate by 2030, and an all-out gas-powered vehicle ban by 2035. 
The private sector is taking notice. Last month, Ford said it expects 40% of its global sales to be electric by the end of the decade under a new plan to invest another $30 billion in the industry. Earlier this year, General Motors pledged to go electric vehicle-only by 2035.
If all of America's vehicles were to go fully electric, market research firm Ademas Intelligence says domestic graphite demand would increase 55 times over from the year 2020, more so than any other battery ingredient including lithium, nickel and cobalt (despite the name "lithium-ion," graphite is the largest mineral component).
Even a fraction of a fully-electric America will require boatloads of graphite.
"Think of it for the purposes of discussion — 15 million cars per year," Westwater president and CEO Chris Jones said. "If 20% of those cars come out as electric vehicles over the near-term, that is five times more graphite than the world currently produces."
Graphite is not rare, but there's a difference between the amorphous graphite used as an industrial lubricant and the flake graphite required for batteries. Westwater has only one American competitor for battery-grade graphite — Graphite One, about 40 miles north of Nome, Alaska. Like Westwater, Graphite One's mineral deposit is still in development. Unlike Westwater, the Alaskan company has yet to give a timeline on the construction of its battery-grade graphite processing plant.
"I don't know a lot yet what their final process is going to be," Jones said. "I think they have yet to do their feasibility study which is an important step in developing their thinking around the business."
To take it another fashion, when asked whether they'd beat Graphite One, "We think so," Jones said.
Several Canadian and Australian companies are also getting close to battery-grade graphite production. But at present, China is Alabama Graphite's primary competitor and is much less cost-burdened by labor, safety and environmental standards.
Still, in a world natural resources market, Westwater insists it will remain price-competitive. The company is in the process of applying for a patent on its purification process and hopes to use that, and its shipping advantage, to manage cost. Patriotism may be an added benefit.
"I think the 'buy American' ethic being developed around battery materials right now serves us," Jones said. "We don't expect our customers to pay up for American products, but I think we can expect it to be a tie-breaker."
According to Jones, having an American supplier is not just a feel-good thing, but a hedge against natural or political uncertainties, like a trade war or global pandemic.
"Having some diversity of supply around the politics and the geographies around the world helps you have a more stable manufacturing facility," he said.
A number of proposed carrot-and-stick measures could also work in Westwater's favor. As soon as a viable American company enters the graphite market, the U.S. Department of Defense (DoD) is legally obliged to buy domestically.
American graphite demand could also be driven by the consumer. President Joe Biden's proposed infrastructure bill earmarks $174 billion toward supplanting fossil-fueled vehicles, including $7,500 tax credits to every American who buys electric. The proposed tax credit would increase to $12,500 for electric vehicles assembled by union workers in the U.S.
Of the small share of electric vehicles assembled in the U.S., all still require, on average, 175-200 pounds of Chinese graphite per vehicle. By 2023, Westwater hopes to offer an American alternative.