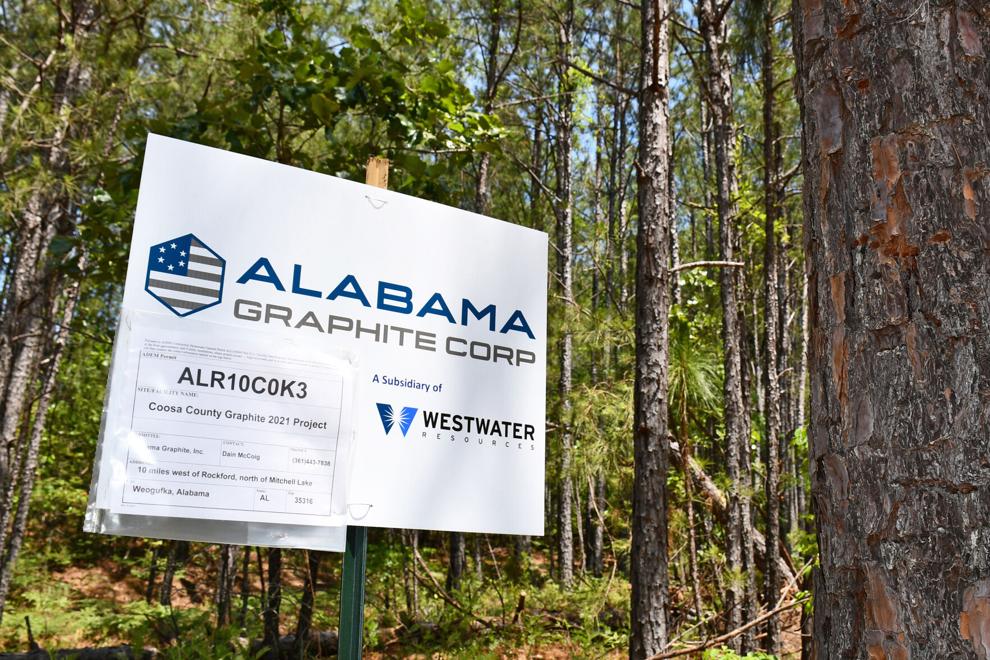 Mining company Westwater Resources is set to build its flagship processing plant just outside Alexander City in Kellyton after months of back-and-forth between the company, Lake Martin Area Economic Development Alliance (LMAEDA), local municipalities and the state.
The news brings Coosa County one step closer to becoming the sole U.S. source of graphite, a key battery ingredient found in laptops, mobile phones and electric vehicles. 
Colorado-based Westwater Resources and its subsidiary Alabama Graphite has the mineral rights to a 42,000-acre graphite deposit in western Coosa County, nearly 10% of the county by land area. The company intends to hire up to 140 people by the end of 2022 as it constructs its battery-grade graphite processing facility at Lake Martin Regional Industrial Park on U.S. Highway 280. Westwater's Alabama Graphite Products will be the first battery-grade processing plant in the U.S.
The impending announcement by Gov. Kay Ivey Tuesday comes after months of hinting from local stakeholders about an economic development project which, due to an infrastructure quirk, involved the Coosa County Commission and the City of Alexander City, despite the latter being in Tallapoosa County. From a list of seven candidate sites, two in Colorado and five in Alabama, the industrial park Westwater ultimately chose is a 30-mile drive along Coosa County roads from its future mining site, southwest of Weogufka.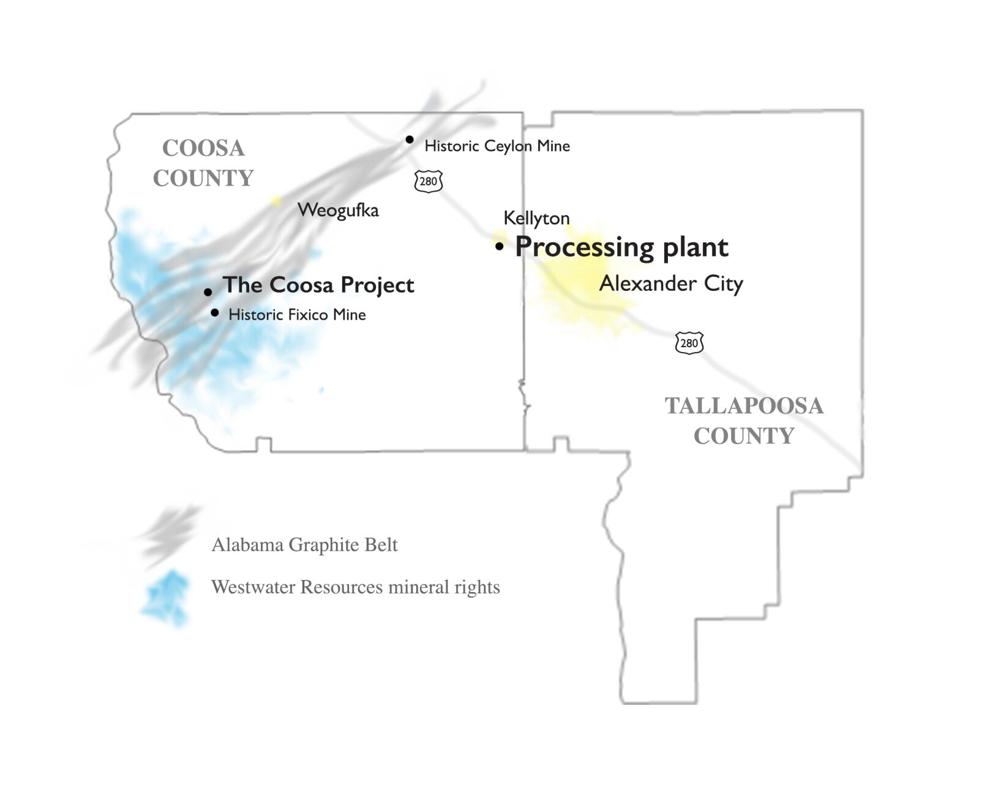 The decision has Coosa County, 666 square miles and with a population just over 10,000, poised to benefit from a growing demand for batteries, including the lithium-ion batteries of which graphite is an essential component. Two hundred pounds of the weight of a Tesla is accounted for by graphite. Electric vehicles are also about to become a lot more ubiquitous. Last month, Ford said it expects 40% of its sales to be battery-electric by 2030.
Graphite is also found in the batteries used for gas-powered vehicles, mobile phones and computers, and Westwater intends to produce three different types of battery-grade graphite suitable for all of the above. All production will take place in Coosa County.
Put simply, "This is a huge announcement," LMAEDA director Chad Odom said.
Westwater is also getting a massive incentives package.
An agreement to be signed by Ivey Tuesday gives Alabama Graphite Products an estimated $29.9 million in job tax credits over 15 years and $925,000 of job training and recruitment incentives.
As for local government's end of the deal, Alex City has committed to build an $11.3 million industrial sewer line from the site bordering Kellyton. The infrastructure will be paid for with $5 million in Growing Alabama tax credits, $1.5 million in grants and $500,000 from Westwater, $100,000 of which is pre-payment for the company's water bill. Alex City will go into debt for the remaining $4.3 million.
Westwater also gets free use of 80 acres of the industrial park and an estimated $4.5 million in sales and property tax abatements, with the exception of taxes paid to schools.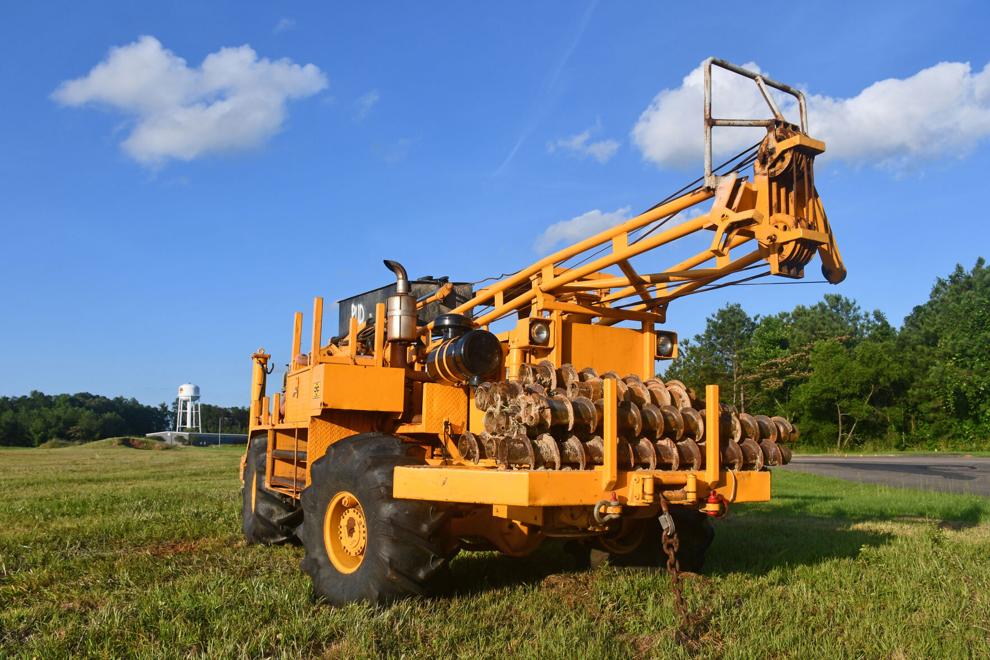 As for Westwater's end of the deal, the processing plant will bring new jobs to Coosa and Tallapoosa counties as soon as this year and more than double Coosa County Schools' industrial tax base. Last month, the public company told investors it would hire 140 people within the next 18 months. In an interview with The Outlook, Westwater president and CEO Chris Jones doubled down on that promise.
"We don't have an army of people waiting to show up in Alabama and go to work there," Jones said. "We are going to hire locally. And you can plan on a fully-developed organization from entry-level jobs, management-level jobs and senior-level jobs right there in Alabama, right there in Coosa County."
As part of its contract with local stakeholders, Westwater has also promised an average Alabama Graphite Products salary of $44,000. The figure is nearly double Coosa County's per capita income, according to 2019 Census estimates.
At present, "The Coosa Project" near Weogufka is one of two battery graphite deposits in the United States currently in development. The other, owned by Graphite One, is 40 miles north of Nome, Alaska and has yet to declare a timeline for its mining and processing operations. As such, 100% of the country's battery-grade graphite comes from China.
Westwater does not plan to start mining graphite until 2028. In the meantime, the company says it will import graphite feedstock from undisclosed, "non-Chinese" sources and process it at its Kellyton facility.
Jones concedes this is an unusual order of operations for a mining company.
"Usually they'll mine first and do the manufacturing after," he said in March. "But it turns out the cash flows are concentrated around the processing of the graphite, because that's hard. So we can build the processing facility first using other people's graphite and build the mine later out of our cash flow."
By processing its graphite as well as mining it, Westwater is also positioning itself closer to the electric vehicle market. Analyst Debra Fiakas of Crystal Equity Research said this is a growing trend among graphite miners worldwide.
"Up until the last five years or so, graphite companies just mined it out of the ground and sold it," said Fiakas, who tracks small-capitalization companies including Westwater. "It's changed because now we have this transition to electric cars. Graphite miners are integrating forward to get closer to the end customer."
Westwater is not the first company to start talking about graphite in Coosa County. Canadian-based Alabama Graphite Corp. had been sniffing around in Coosa County's historic Alabama Graphite Belt as early as 2012 and had promised an active mine and processing plant as soon as it got the financing, before selling to Westwater Resources in 2018.
According to Fiakas, however, Westwater's timeline is realistic and its financing — which Westwater says will see them through phase one of construction — is legitimate. The company's balance sheets show $118 million in cash on hand and Fiakas says it shouldn't be an issue to raise more for the project.
"Some of that could be financed with equipment financing, and that's pretty easy to get when you have a proven resource and plan," she said. "I don't think they're going to have any trouble at this juncture finding adequate financing for their processing plant."
Jones also maintains his company's viability.  
"I understand the skepticism and I would ask people to wait and watch," he said. "We plan on breaking ground at the end of this year, building a facility for operations in 2022. So people don't have to be real patient to get information and the proof positive that we are who we say we are."
Going strictly by size of workforce, Alabama Graphite Products is not going to be the new Russell Athletic for Alexander City anytime soon. What it will do, however — according to the LMAEDA — is associate the Lake Martin area with a rapidly growing, green industry that'll attract other players in the battery supply chain.
As soon as the announcement gets out, "We will be aggressively targeting related industries," Tallapoosa County commissioner and LMAEDA chairman T.C. Coley said. "We may be pioneers of a whole new frontier in that we're going to have this critical resource that will be a game-changer."