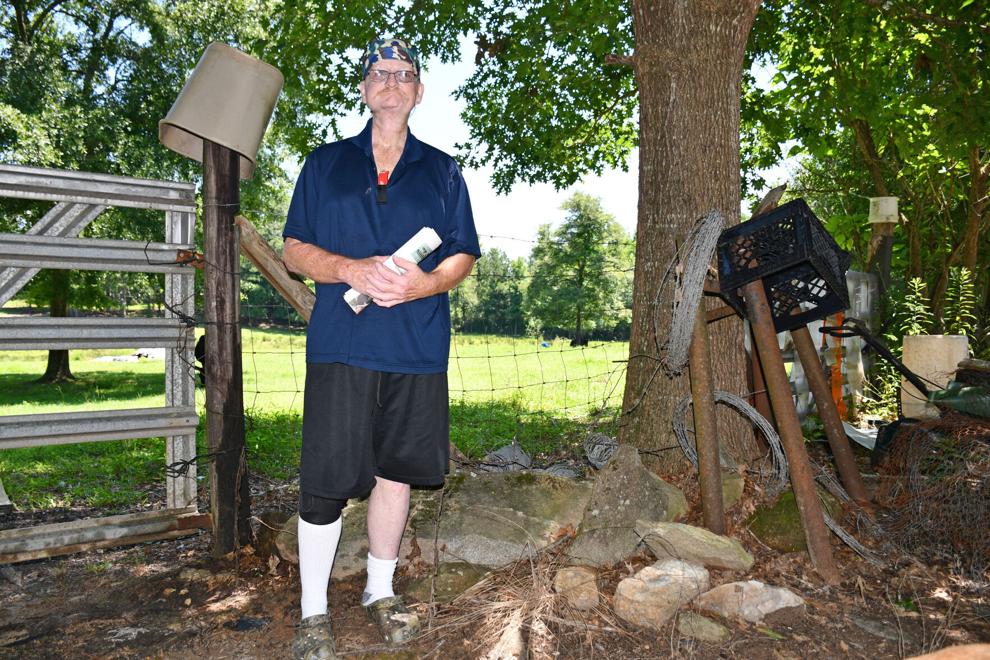 Kellyton resident Randall Hendrix lives, grows vegetables and tends his friend's cows on a quiet, 23-acre pasture bordered on three sides by property of the Lake Martin Area Industrial Development Authority.
For 20 years, the industrial site has sat undeveloped. Weeks ahead of anyone else, however, Hendrix got tipped off that was about to change when subcontractors showed up at his house, asking if they could drive their core-drilling trucks down his driveway in preparation for an $80 million graphite processing plant. Hendrix allowed it, but he isn't thrilled about his new neighbors.
"I've worked in a cotton mill for 35-plus years and you can see what kind of state I'm in — throat cancer," he said, pointing out a scar on his neck and jawline. "And dust, from whatever they're going to be doing... maybe it's going to be safe. I don't know."
Earlier this week, Gov. Kay Ivey announced Alabama is set to become the first U.S. source of graphite, the key battery mineral found in laptops, mobile phones and electric vehicles. Mining company Westwater Resources, which owns the mineral rights to nearly 10% of Coosa County by land area, will break ground on its processing plant on the other side of the county in December.
At present, China controls about two-thirds of the world's graphite supply and nearly all of its battery-grade graphite supply. As climate change necessitates a full shift to electric vehicles, however, the U.S. government has made it a priority to find ways to source key battery components domestically, including graphite, the largest lithium-ion battery mineral by weight.
By 2023, Westwater subsidiary Alabama Graphite Products in Kellyton will be the only graphite processing plant in the U.S.
"Every cell phone has a few grams of graphite in it," Westwater vice president of operations Dain McCoig said. "Nobody really knows where they're from; sometimes people don't want to ask because they're made in areas of the world that don't have the best environmental or personal safety in mind. So knowing it's made in the U.S.A., it can probably give us an advantage in the market, and make people feel a little bit better about the products they can buy."
Indeed, a 2016 Washington Post article on Chinese graphite mining describes a polluted village with a perpetual shimmer in the air, coating every surface and getting in ones teeth. According to The Post, that graphite eventually wends its way up the supply chain to companies like Samsung, General Motors and Toyota.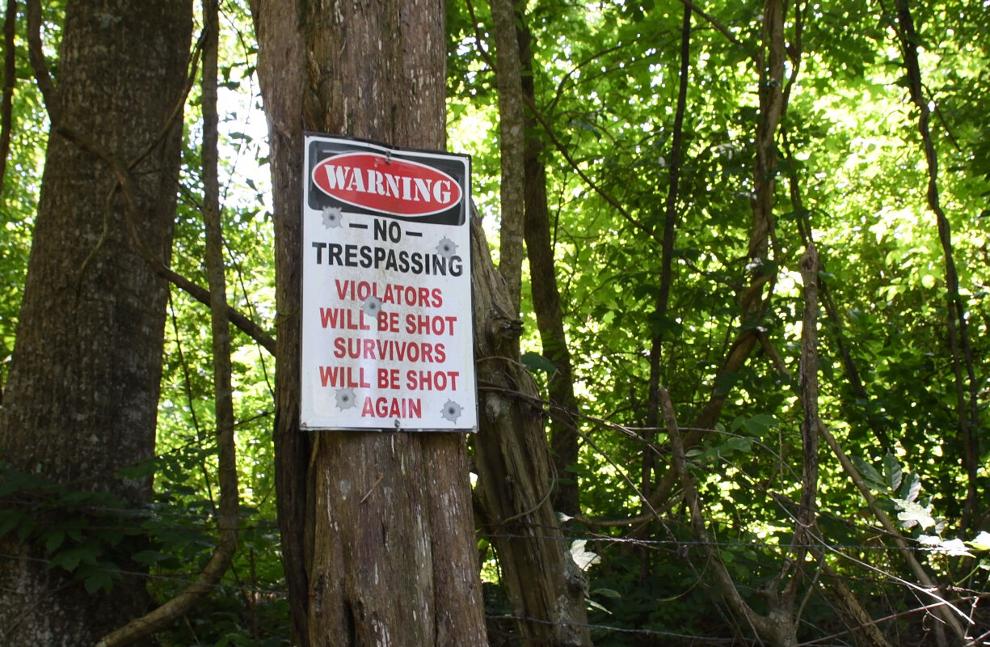 Westwater does not intend to start mining graphite in Coosa County until 2028. By then, president and CEO Chris Jones says the mine will be an open-pit mine and won't use explosives, which send up particles that are then inhaled. In the meantime the purification plant will be up-and-running on imported graphite feedstock, using a proprietary processing method devised by Alabama Graphite Products.
"The process itself is made up of three understood processes and the patent is the linking of those processes together," Jones said. "The real benefit of our process is that it uses chemicals and processes that are really off-the-shelf. Common industrial chemicals that are relatively easy, relatively benign, and with well-known handling processes that are simple."
Jones contrasts that process with the Chinese, which involves hydrofluoric acid.
Then there's the solid waste — the 5% of the graphite not made up of carbon that's expelled in the purifying process. Of the 7,500 tons Alabama Graphite Products intends to process annually, that's only 375 tons of solid waste that'll be sent to a landfill per year, Jones said. 
Rather, the biggest potential pollutant — at least from the processing plant — is the estimated 200,000 gallons of wastewater per day, which is where Alexander City comes into play by building an $11.3 million industrial sewer line connecting the Kellyton site to its Sugar Creek Wastewater Treatment Plant. According to Alex City mayor Woody Baird, that's a drop in the bucket compared to the 1.5 million gallons Russell Mills used to expel from its dye house and bleach treatment plant each day.
"The water that comes out of that (sewage treatment) plant, you can drink it," Baird said.
After Sugar Creek, Baird says, Alabama Graphite's 200,000 gallons will run through a network of pipes along State Highway 63, across Coven Abbet and down Pineywoods Road before emptying 300 yards from the shoreline into the bottom of Lake Martin.
For months ahead of Tuesday's announcement, Alexander City, Coosa County and the Lake Martin Area Economic Development Alliance (LMAEDA) had been working behind the scenes to coax Westwater to the Kellyton area with a massive incentives package, including free use of Kellyton's Lake Martin Regional Industrial Park and the construction of the wastewater run.
For Baird, the biggest concern was whether the processing method would work.
As for environmental concerns, "No. Absolutely none," he said. "And trust me, I'm an eco-freak. I'm big on recycling."
For the company's part, Jones said the "well-run machine" of the Sugar Creek Wastewater Treatment Plant was a key factor of their decision to locate in the area. 
"We're working with the wastewater treatment facility and the guys there in order to make sure that the water we bring to the facility for treatment is easily treated by that facility and won't pose any danger to Lake Martin," he said, adding not only does the company promise it, the legal environment guarantees it.
Environmentalists, however, point out a long history of pollution by regulated and often well-intentioned companies. Among them is Coosa Riverkeeper executive director Justinn Overton, whose charge is the Coosa River watershed where Alabama Graphite's mining site will be.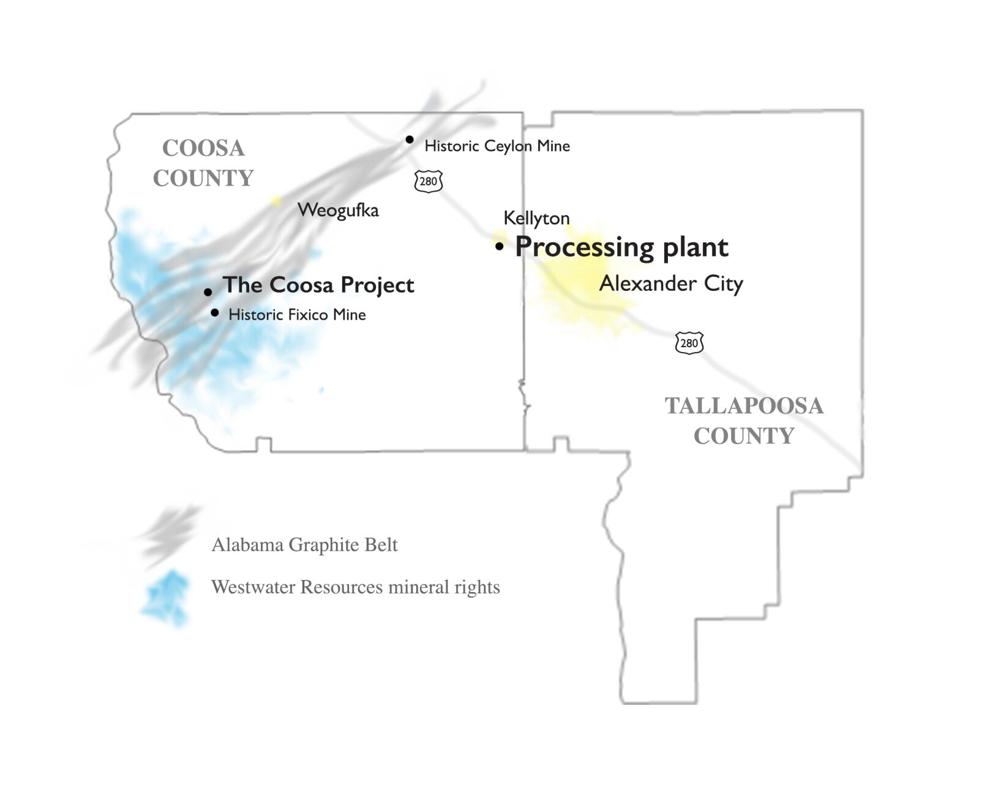 "I think the most important thing to us — if this happens and if they start mining — is, 'Will their permit be enforced by our state regulatory agencies?'" Overton said. "Time and time again our Alabama Department of Environmental Management (ADEM) is more beholden to the polluter than to the public in maintaining water quality for the rivers and the people that rely on these places."
Keith Johnston, Birmingham director of the Southern Environmental Law Center, also stressed the "extreme, extreme importance" of ADEM remaining vigilant, especially around the mining operation.  
"This '40,000-plus acres of mineral rights' seems like a potentially massive mining operation and western Coosa County has some pretty magnificent water resources," he said. "I mean, it's a huge red flag, that's the bottom line."
Neither Overton nor Johnston are prepared to declare a stance on the project in general, however, simply because there aren't many instances of battery-grade graphite production to refer to — aside from China, which sets a pretty low bar. Overton says she's reached out to a similar water protection organization in China with a graphite mining operation in its watershed.
"We're fighting an animal rendering plant right now in the Gadsden area and animal rendering plants are very well-documented for the ways they impact communities and waterways," she said. "But graphite mines? Not so much."
While Westwater Resources will not be the first company to mine graphite in Coosa County — the area was mined extensively during the first and second world wars — it will be the first since the Clean Water Act of 1972. As such, there isn't much of an environmental paper trail.
Overton also points out the potential for regulatory holes in a "first-of-its-kind" operation —"And that isn't necessarily because anyone is doing anything wrong, but because this is such a new practice to our nation," she said. "And it's obviously very high-priority to our government."
Baird, however, who has high-school memories poking around old graphite mines in Coosa County, is convinced it's benign.
"Graphite is neutral; it's carbon," he said. "Carbon is basically a neutral substance. Now anything in concentration is dangerous or deadly. You can eat carbon; you can't eat five pounds of carbon."
Hendrix, 59, is a former colleague of Baird's. Knowing Baird has signed off on the project, "it helps," he said.
For full assurance his home won't be polluted, however, Hendrix says he needs to hear it from Westwater Resources — "for some of them to come by and tell me that, for sure, it ain't going to get into that creek and it won't mess these cows up."