Although Reeltown and Tallapoosa County Schools are under scrutiny from the Freedom From Religion Foundation for a baptism that took place at Nix-Webster-O'Neal Stadium, superintendent Joe Windle is defending the event in question.
In early December, the FFRF sent a let to Windle about a "team baptism event" held at Reeltown's football stadium Nov. 21. This group, headquartered out of Madison, Wisconsin, which has 30,000 members across all 50 states, said it was writing "to ensure that TCS is not sponsoring and endorsing religious activities," according to the letter provided to The Outlook by Windle.
The letter went on to ask the school district to investigate the situation and "ensure that it is respecting the rights of conscience of its students and their families."
"In the letter, they asked me to look into the allegations and conduct an investigation," Windle said Monday. "Well, I've investigated and I didn't find anything. I'll talk to the board president (Carla Talton) and I'll bring it up at our work session (this week to decide how we respond). Sometimes it's good to ignore those kinds of things and other times you need to respond."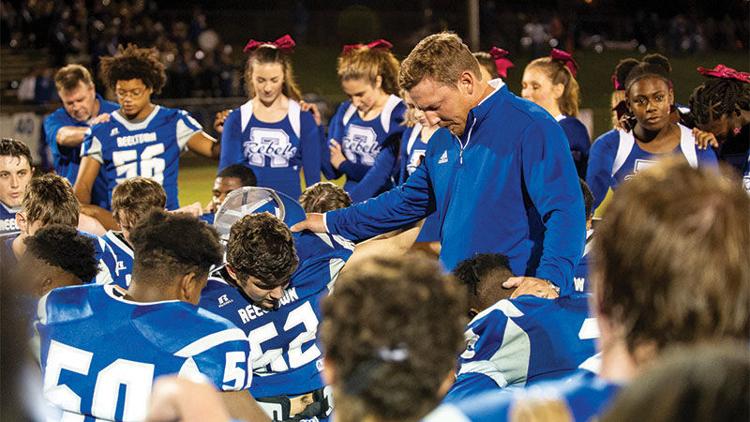 Windle said he has received letters from FFRF in the past usually at the beginning of the school year, but this is the first time he's received a letter from the organization about a specific event.
According to FFRF staff attorney Christopher Line, he is not allowed to reveal who made the complaint and brought the baptism to the attention of the FFRF but "they were connected to the area and reported this," Line said Tuesday.
The baptism involved 26 players from the Reeltown football team, and according to Rebel coach Matt Johnson, who is also the athletic director at Reeltown, it was an entirely voluntary event. In fact, the players involved asked Johnson if they could be baptized at the football field.
"The way I run my program is based 100% off Christian values," Johnson said. "I am extremely adamant about that, regardless of any consequences. The kids know that. Now, I won't say we instill that. It's definitely not dictated. It's not preached. It's more of an example. We try to lead those values by example and instill those values by example and give them an opportunity to accept that relationship or not." 
Johnson is Christian and does use those values to teach his players life lessons, but he was insistent being a Christian or praying Christian prayers are not required by his players. He said, "it's not like they're going to run hills if they don't pray," and he also pointed out the many football players who chose not to be a part of the baptism.
Although Johnson was present at the baptism, he did not participate. According to Windle, Tim Smith, who is the team chaplain, and a preacher from First Baptist in Camp Hill, performed the ceremonies. Windle also said different denominations were represented.
But the FFRF is adamant there was a violation of the "constitutional principle of separation between state and church" because the baptism took place at the football stadium, which is on school property, and Johnson was present.
"A lot of the photos were posted on Facebook; they didn't really hide what was going on," Line said. "The coach was involved and potentially other staff members. We now know it took place before football practice. So having this ritual for the football players with the coach there gives the indication that this was a team event." 
Windle, on the other hand, said there is an open-use facility policy at Tallapoosa County Schools and because the players asked for the baptism to be performed at the stadium, he did not think they should be denied that.
"(The FFRF) does not know what a small rural school in a community like ours needs or does," Windle said. "If we have a Catholic group or a Buddhist group or a Muslim group that wants to use our facilities, we have an open-use facility policy. We have to provide our facilities to outside agencies in Tallapoosa County because not everybody has the kind of facilities that might be needed to conduct something of that nature." 
Windle went on to say schools in the district have hosted funerals because no churches were large enough to handle something of that magnitude. He also said the schools have hosted organizations such as the Future Farmers of America and others for any number of events.
Line said, "At this point, we don't have any anticipation of (something legal happening) in this case" but he would be following up with the school district soon.
But Windle continues to be adamant the school did not violate any rights.
"That school did nothing wrong down there and coach Johnson did nothing wrong," Windle said. "We don't promote a specific religion in anything we do, but we do give students the opportunity to exercise a religion if they want to. We didn't promote it; coach Johnson didn't promote it. He just did what his football players asked him to do. They said, 'Could we do it at the 50-yard line at the football field?' And I see nothing wrong with that.
"When I look at all the court cases and what they've actually said in relation to promotion of a specific religion, we didn't violate anything."