Along a county road in Dadeville there's a full speed and agility training facility for local youth and high school athletes.
It's easy to miss from the road. That's because it's a local residence.
Dadeville coach Michael Taylor has turned his backyard into a full collegiate-level camp grid, complete with measured 40-yard dash, bag drills, low hurdles, cones and everything else required to train local competitors for combine-style speed and agility training.
"We've focused more on the fundamentals, showing kids how to run," Taylor said. "You'd be surprised, kids think they can just jump out and run fast. Some can, but once they learn the fundamentals, knowing how to run, their speed changes so fast."
Athletes from across the area come to train with Taylor.
Dadeville Tigers, of course, take advantage of the camp, which runs every weekend and in the evenings during the week, but so do players from Reeltown, Benjamin Russell, Tallassee and others.
"He's been to all these camps, not just football but baseball, track, he coaches track at the high school," Michael Champion, who helps with the camps from time-to-time, said. "He's picked up a lot and brought it back to the community for these kids. Dadeville, we're a small town. There's not a lot for kids to choose from. So what we do have, he's been able to make great athletes out of them."
Michael Champion's son Logan just completed his freshman season of football at Dadeville. Through his work with Taylor, his 40-yard dash time went from more than six seconds down to 4.6.
Logan's younger brother Luke also works with Taylor.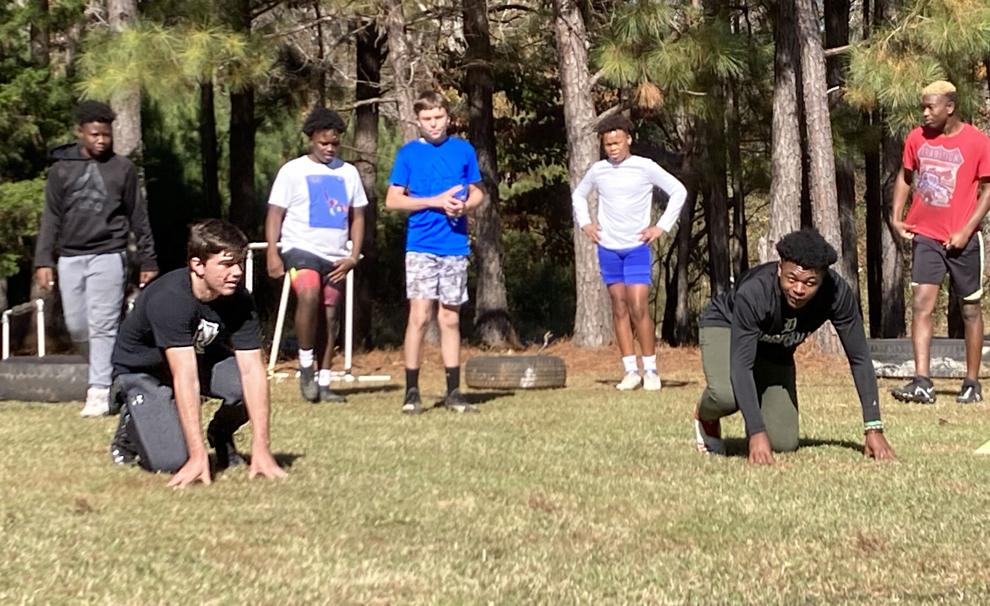 "We do a lot of work on footwork and speed," Logan Champion said. "The L-Drill helps you redirect and stuff like that. It gets your footwork right."
Taylor improves athletes' speed through a variety of drills and technique work.
When focusing on a runner's speed, Taylor said, there's a few main points of emphasis he focuses on. First, it's important that athletes move their hands "from ear to pocket," using their upper body to propel their legs forward.
Second, balance is key. Running in a straight line is always faster than veering slightly to the left or right.
"Also making sure you come out going downhill, instead of going uphill," Taylor added.
Among the exercises utilized by Taylor is 5-10-5, the L-Drill and ladder drills. Dadeville freshman Jay Burns' favorite is the ladder.
"It helps build quicker footwork," Burns said.
Taylor's coaching style is one of constant feedback, one that his 10 years of military experience helped evolve.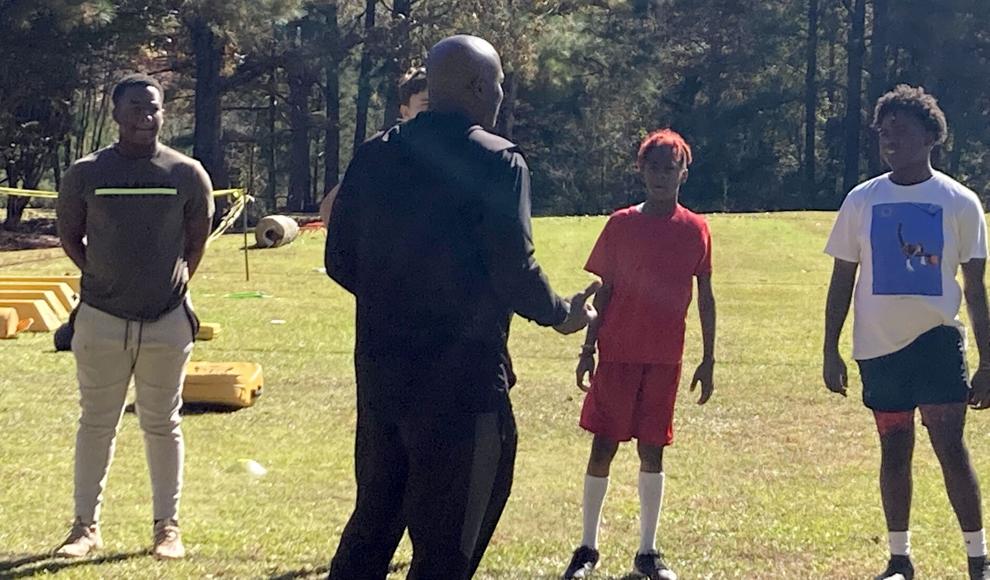 His philosophy is that you have to love a player before you can truly coach them.
"It's called 'tough love,'" Taylor said. "And basically what tough love is with a kid, every kid is always praying. They have some personal issue somewhere in their life. It may be at home, it may be with friends, it may be with a relationship. And they'll look to you to fill that gap. And that love, you've got to get it in right then. And teach them right then how to go back to the problem that they're having, what it came from."
Those interested in participating in the camp can contact Michael Taylor at (334) 549-2337.