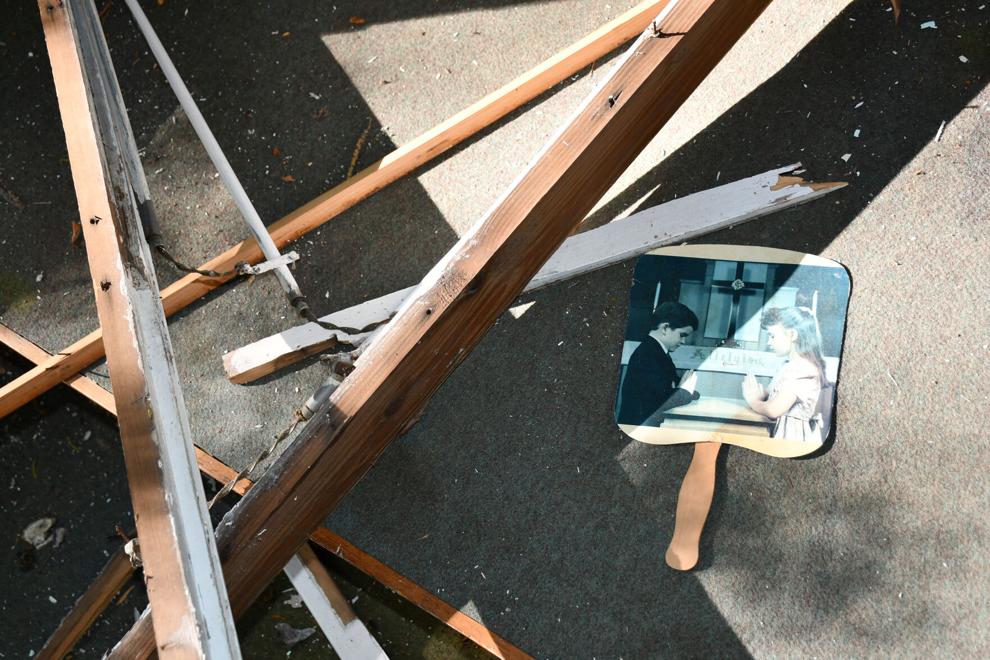 If he hadn't pulled off Hillabee Street Wednesday to eat his sardine-and-cracker lunch, Grady Lamberth would've never noticed it.
Last year, Fellowship Primitive Baptist Church's five remaining members voted to close the 184-year-old congregation's doors. Two weeks later, a storm blew a tree into the church's roof.
Lamberth, a contractor and lifelong Alexander City resident, is well-versed in the town's history and was dismayed to see the apparent abandonment of its oldest church. The building is still intact with roof damage and lacks windows and a door.  
While Fellowship Primitive Baptist Church has sat on Hillabee Street since 1875, the church was founded February 26, 1837 by the "Baptist brethren settlers of Youngsville" on the corner of Washington Street and North Central Avenue, where the Russell family would later build their estate.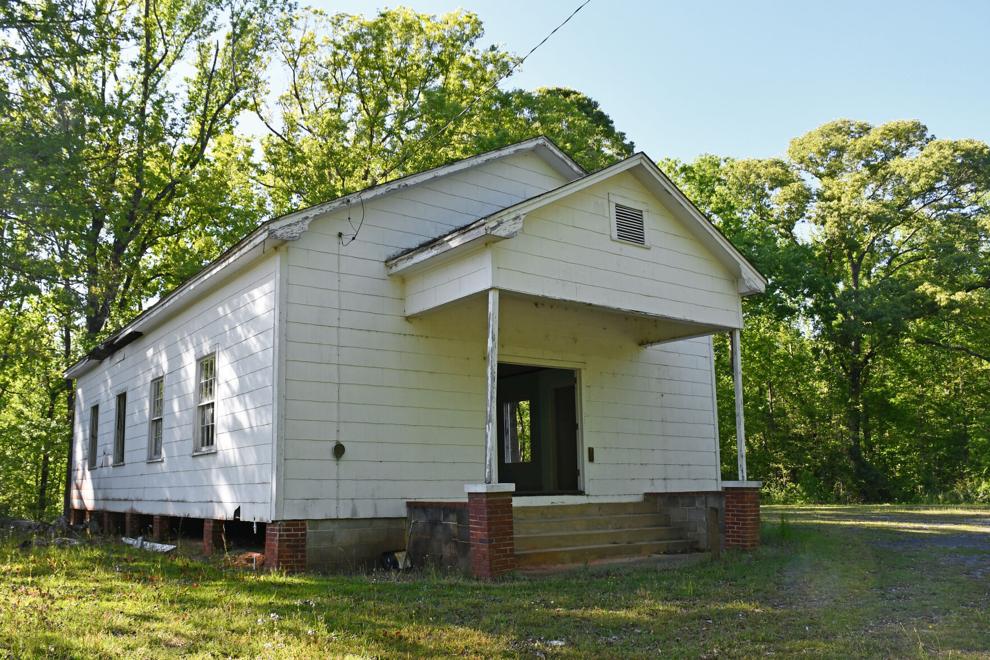 "It was the pioneer church for Youngsville," Lamberth said, referring to Alex City's original settlement founded by James Young. Youngsville, also known in some contemporary records as Youngville, was renamed Alexander City in 1873 after Savannah and Memphis Railroad president Edward Porter Alexander, who put the town on the map.
As Bob Saxon writes in Alexander City's 125th Anniversary history guide, "Community life in Youngville really began when settlers of the Calvinist persuasion joined together to organize the area's first church." According to Saxon, Fellowship Primitive Baptist Church was the only church in the area for nearly 40 years.
Most Alex City residents will be familiar with the approximate site of Youngsville thanks to a historical marker on Washington Street. Unbeknownst to many, however, is that a vestige of the settlement can still be found on a tiny rectangle of land. The property is wedged between two of the homes Russell Mills built for executives in the '30s. For those who can get over the feeling they're trespassing, a cluster of tombs and gravestones awaits 40 feet off Robin Hill road through a dense cluster of foliage. Tax maps simply mark it as "unnamed cemetery."
PHOTOS: Dozens of old Youngsville graves lie in the woods of the Russell Mills estate
While the cemetery is not officially connected to Fellowship Primitive Baptist Church, many of its original congregants are likely buried there. According to a U.S. GenWeb Archives survey, 15 marked and possible several hundred unmarked graves can be found there with one "Palo Alto" Young born as early as 1818. Three children of Griffin Young, convicted Klansman, and his wife Sarah are buried there. "Presumably the founders of Youngville are buried in unmarked graves in the same cemetery," Saxon wrote.
Some of the surnames, including Cain, appear on Fellowship Primitive Baptist Church's first list of members. Sadly, church member Rachel B. Cain was marked as "excommunicated" on February 24, 1838, nearly one year after the church's founding. Many of the other members were marked as "dismissed by letter."
Not long after the arrival of the railroad, the church voted to move.
The reasoning varies across several historical accounts, but according to Lamberth's understanding, the church had been facing PR issues, to put it mildly.
"That church got in a bunch of trouble post-Civil War with its members being involved in the KKK; there was a real stigma with it," Lamberth said. "Mr. Young had been arrested with being involved with the leadership of the KKK."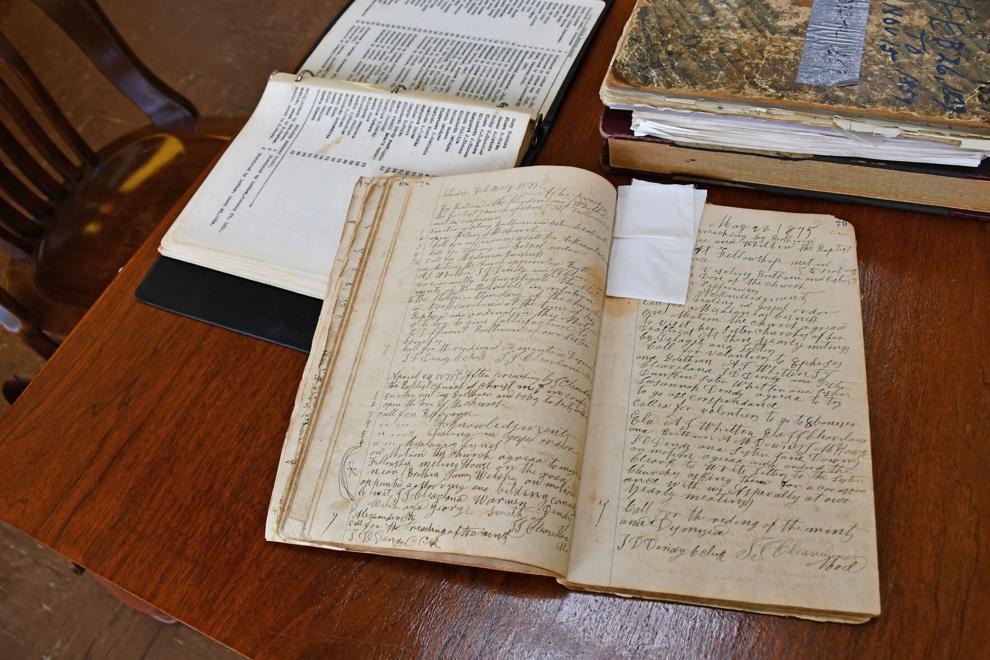 In the spring of 1871, a group of Klansmen including James Young's son Griffin and two other Youngs met in the churchyard before carrying out the first of what would be several violent raids, Saxon writes. In a rare deliverance of justice to the Klan, the men were found guilty in a Montgomery court the following year.
Three years later, Fellowship Primitive Baptist Church "fully picked up where it was, built a new building and started a new graveyard," Lamberth said.
Grave markers for three of Griffin's children, who died ages 6, 11, and one in infancy, can still be seen in the old Youngsville cemetery.   
By other accounts, however, it was the lawlessness and immorality that sprouted up after the railroad was built — followed by a race track, bowling lane and cockfighting pit, according to a 2009 article in The Outlook — that drove the Primitive Baptists across town.
The latter account is closer to that of Roy Nelson, the last deacon of Fellowship Primitive Baptist Church before it shut down in 2020. According to Nelson, it was the noisy railroad that led the church to move to Hillabee Street in 1875, to a two-acre lot donated by church members John and Elizabeth Young.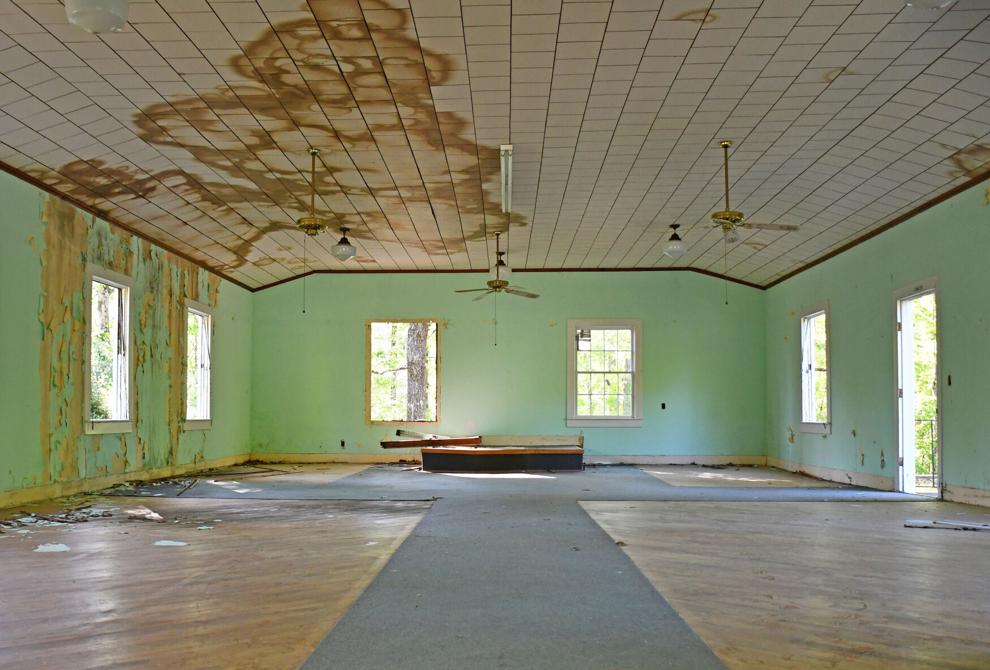 "I've got the original deed to it," Nelson said.
For the past few years, Nelson, 77, had watched the church's congregation dwindle, which he duly recorded in the church's record books that go all the way back to its founding in 1837. In 2019, his wife Sara, the church clerk, passed away. In 2020, he and the five-or-so remaining members voted to close the town's first church. The decision was cemented when the tree fell two weeks later.
"We ran out of members to come and support it," Nelson said. "We had already voted to close it. We didn't have enough to keep it up. We couldn't afford to."
Nelson donated the 184 years of record books to Adelia M. Russell Library.
Today, anyone is free to wander through the empty double-doorframe of Fellowship Primitive Baptist Church or peer through its pane-less windows. Water stains streak its teal walls, and the floor has a bouncy give to it such that one last revival might have sent worshipers crashing through the floorboards.
"I'm trying to get the fire department to burn it," Nelson said.
As for the two acres of land, Nelson said it was promised to the heirs of John and Elizabeth Young should the church ever close. So far he's been unable to locate any.
"I asked the lawyer Tom Young and he didn't know, and he's a Young himself," Nelson said.
While Nelson isn't certain John and Elizabeth were part of the same Young family that first settled the area, he says it's probable.
On April 24, 1875, Fellowship Primitive Baptist Church's clerk recorded the decision to move to what is now Hillabee Street. "On motion the church agread [sic] to move Fellowship Meting [sic] House on the road near Brother James Welch's," the church minutes read. Oddly enough, the name Young is nowhere to be found.