With the All-Outlook football teams and players of the year to be announced Wednesday, The Alexander City Outlook wanted to take time to recognize a few players that stood out in specific ways over the course of football season.
There were plenty of great storylines to follow, from alter-egos to broken bones being played through and much more. So the paper is handing out 11 superlatives, yearbook style, to recognize some of those tales.
Here are the All-Outlook football superlatives:
Most Electric Returner: Philstavious Dowdell, Dadeville junior
If there's one thing Dadeville's opponents could all agree on, it's that you don't kick the ball to Philstavious Dowdell. The defensive back and wide receiver was liable to house any punt or kickoff that landed in his hands, scoring special teams touchdowns in each of the Tigers' first four games. He also served as Dadeville's best big-play receiving threat, whether catching the ball or on reverses.
"He's just smooth," Dadeville coach Roger McDonald told The Outlook in September. "He looks like he isn't moving fast, but he is. He makes really subtle cuts. His vision, he's real patient with things, and next thing you know he comes out of a pile and he's gone. He sees the whole field."
Big Play Threat: Corri Milliner, Benjamin Russell junior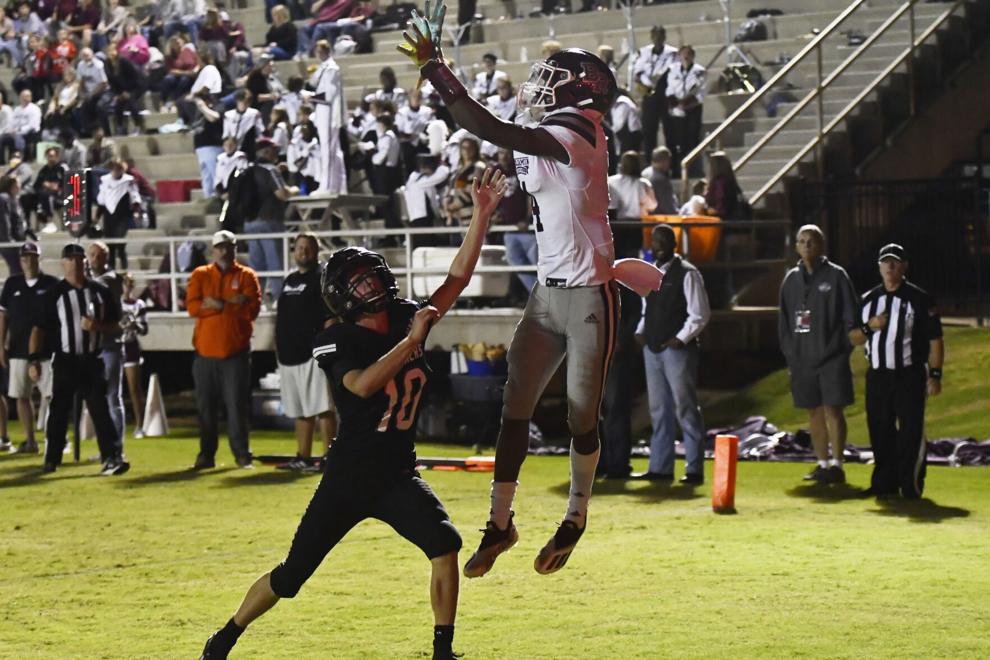 Corri Milliner put up the best numbers of any wide receiver in the area, and part of that was his ability to slip behind defenses for big plays. Easily the biggest example of this is his performance against Smiths Station, where he posted nine catches for 195 yards and four touchdowns. None were bigger than a game-winning 80-yard score with less than two minutes to play to secure the Wildcats' first win of the season.
"I'm thinking, 'Don't let anybody catch me,'" Milliner said after the game in October. "I had to score and win the game. After I scored, I knew the game was over. I knew the defense had my back. I just knew we won."
Best Nickname: Dee "Alpha Dawg" Griffin, Reeltown senior
Reeltown had multiple contenders for this category, most notably running back Dakarian "Juicy" Hughley, but for a coaching staff that preaches a "dawg mentality" for its players Dee Griffin was the "Alpha Dawg." Even though he played the sometimes unglorified positions of center and defensive end, at least one opposing coach said he "jumped out" on film.
"He's just a leader, leads by example," Reeltown coach Matt Johnson told The Outlook in August. "Really gritty. Ferocious. High energy. He's got a motor that won't stop, and of course, 'Alpha.' Alpha male, alpha leader, alpha dog. Leader-of-the-pack-type mentality. He fits every one of those descriptions."
Toughest: Gavyn Vickers, Benjamin Russell senior
True story — after defensive tackle Gavyn Vickers broke his left hand during the first week of the season, he was full go in team workouts within days. At times going against the advice of doctors, Vickers played his entire senior season with a cast covering his left arm and never missed a practice or workout beyond that first week. It didn't do much to hinder his play either, as he recorded team highs in tackles, tackles for loss and sacks for Benjamin Russell this year.
"He never stops," Benjamin Russell coach Aubrey Blackwell said. "He continued to lift every day, he didn't miss a lift. It didn't matter if it was upper body, lower body, you weren't going to get the weights out of his hand, you weren't going to do it."
Physical Monster: Avontae Wilson, Dadeville junior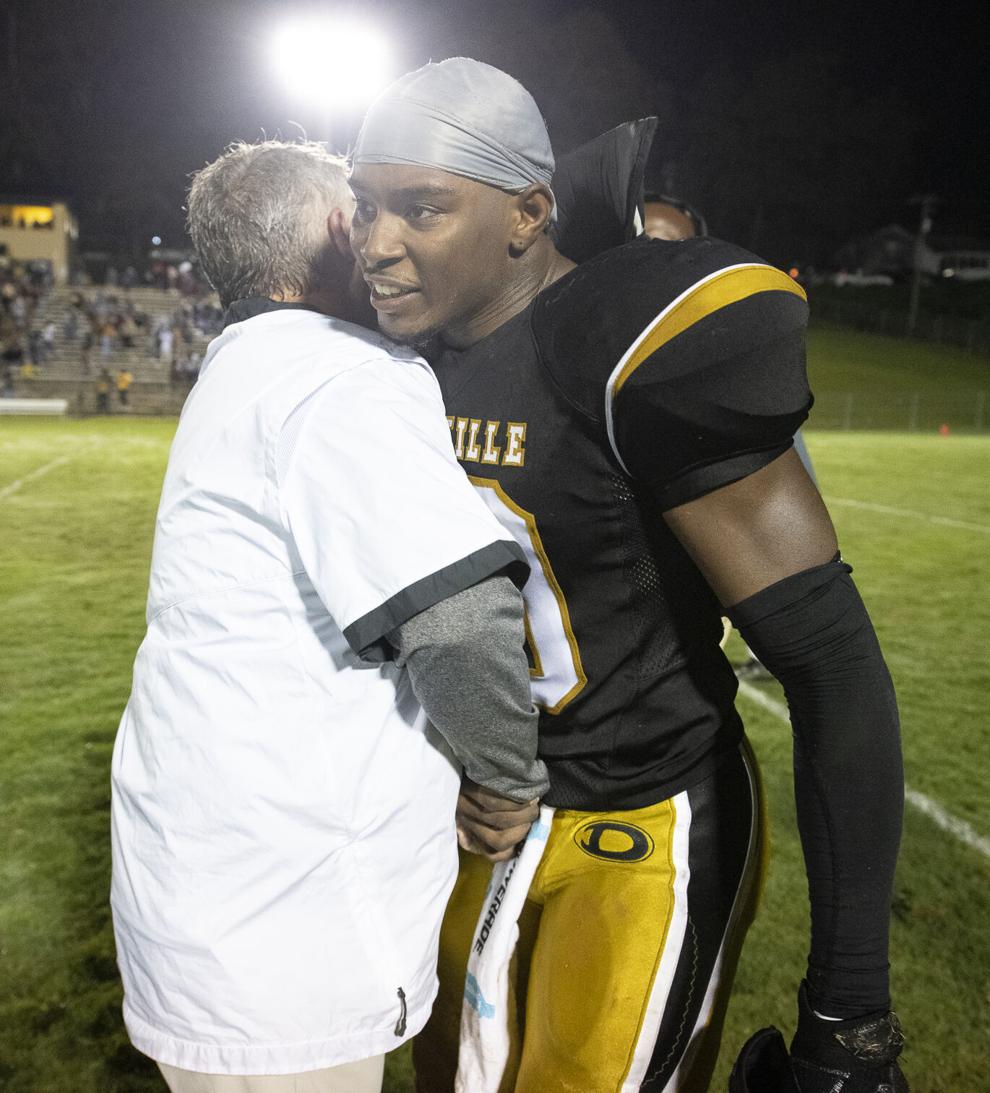 It's hard to conceive of a linebacker built better than Avontae Wilson. He's 6-foot-1 and 220 pounds of pure muscle, and plays with a sleek visor that only adds to the intimidation factor. He was likely the hardest-hitting linebacker in the area this year and a centerpiece of Dadeville's 4-4 defense.
"He's not just trying to do what he can to get by," McDonald said of Wilson during a profile by The Outlook in October. "He's trying to make himself better. That's a big part of it. In that part, he leads by example because the other kids see how hard he's working. He's one of our most gifted athletes and yet he also has a great work ethic."
Takeaway Machine: Elijah Richardson, Central Coosa junior
Safety Elijah Richardson intercepted no less than seven passes for Central Coosa this season, disrupting opposing passing games and helping keep the Cougars in games.
"He had an uncanny knack for angles, seeing the field, making the proper read," Central Coosa coach Brett Thomas said. "A couple of those interceptions, we didn't think he was going to get to the ball, he was on the opposite side of the field. But that was one of the main reasons we put him at safety was because of his intelligence."
Newcomer of the Year: Gabe Benton, Benjamin Russell sophomore
Benjamin Russell had the area's best passing attack statistically when quarterback Gabe Benton was healthy. In the eight games he played, two of which he was severely limited by injury, he piled up 1,572 yards and 13 touchdowns against just five interceptions through the air. He added two scores on the ground.
"He continued to get better and better as the year went on," Blackwell said.
Biggest Personality: Holt Tidwell, Horseshoe Bend senior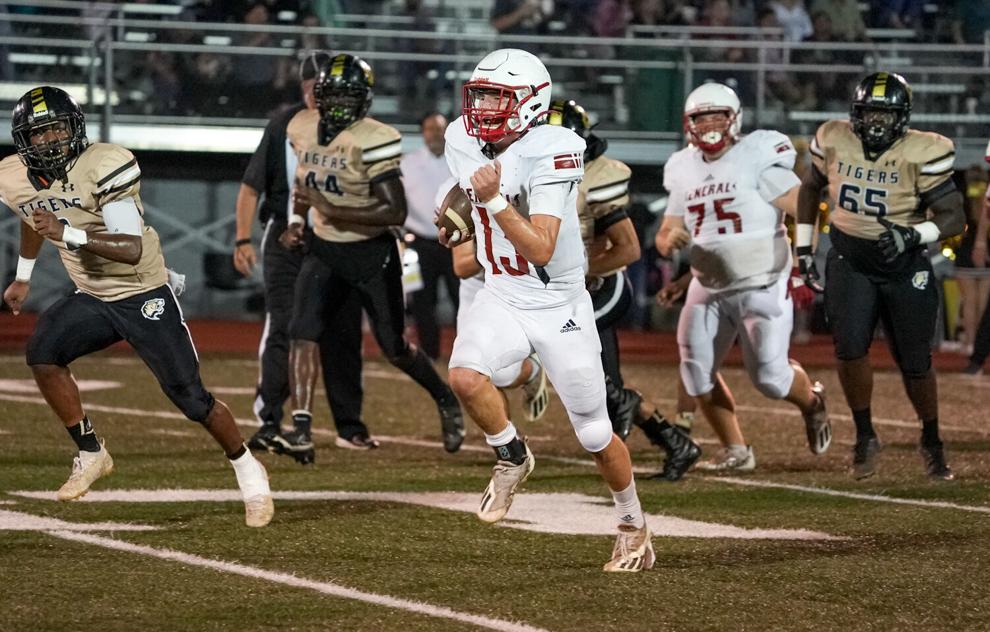 Ever heard of Lee Wayne? Probably not if you haven't hung around Horseshoe Bend this year. It's Holt Tidwell's alter ego, an inside joke with a church friend that grew into something else entirely. It's a reflection of the positive locker room impact Tidwell had throughout the year.
"I know when to cut it up and when not to," Tidwell said in September. "I try to keep everybody laughing. Football is fun, it's a game, it's supposed to be fun, and I try to help everybody remember that."
Glue: Gavin Brazzell, Horseshoe Bend senior
Four-year starter, Swiss army knife, leader, these are all apt terms to describe Gavin Brazzell. Horseshoe Bend's most consistent rushing threat and defensive difference maker, perhaps his best attribute was his ability to keep the Generals together.
"If you just meet him, you'd think he's really quiet," Horseshoe Bend head coach Jeremy Phillips said in a profile in August. "But he likes to cut up and all the kids like him. I don't know how to explain it, but he's a guy that people want to gravitate to and they want to follow. He's just a natural leader."
Best Game: Reeltown at Childersburg
Of the many great games played across The Outlook's coverage area this fall, Reeltown's second-half comeback, last-minute touchdown and go-ahead two-point conversion at Childersburg stands out as the best clash. Hughley rushed for 281 yards and all three touchdowns in a 22-21 victory.
"On the road, and the rules of overtime, their offense is more likely to go a couple yards, grinding down the field," Johnson said of the decision to go for two. "It was just kind of an emotional thing in the moment. We had the momentum."