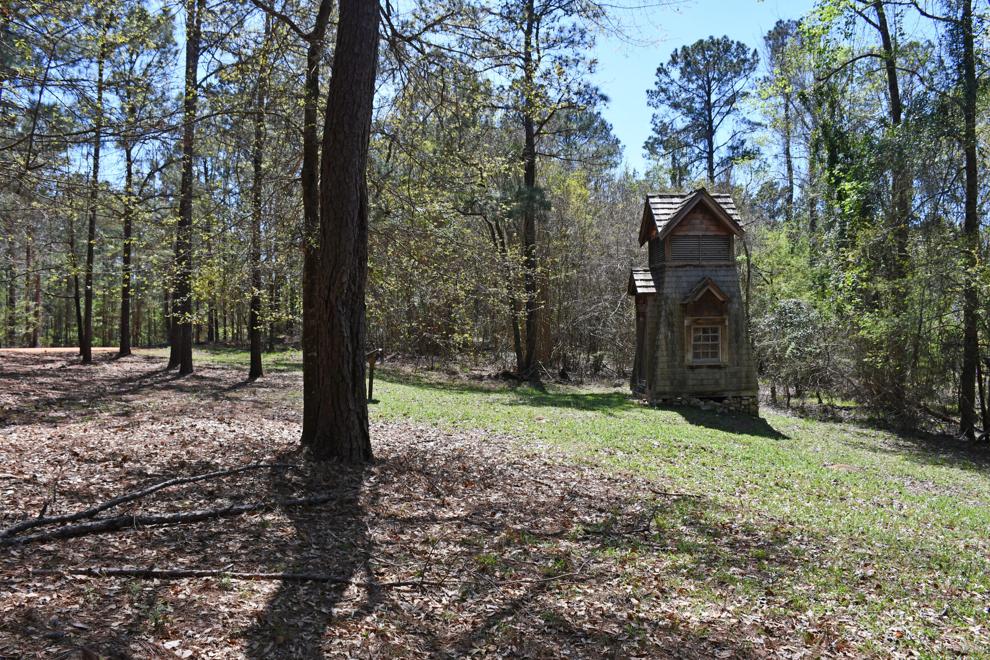 It's easy for travelers heading down Highway 63 to miss Benson, the rural community once home to the Carnegie-backed Kowaliga Academic and Industrial Institute and the first Black-owned railroad in the U.S. No signs point out Benson; much of it lies underwater beneath the Kowaliga Bridge.
Its founder, John J. Benson, and his son, William E. Benson, get very little airtime given their accomplishments. That is, until last month, when they finally received their 15 minutes of internet fame in the form of a Twitter thread by Erica Buddington.
A former educator and amateur historian from New York, Buddington has spent the last two years digging into the Kowaliga area. Eventually those findings will make their way into a book, but first Buddington gave a preview on her blue-checkmark Twitter account.
"Wouldn't you think the brotha who established the FIRST BLACK RAILROAD would be in someone's encyclopedia?" she tweeted. "Nope. Not a trace. I had to dig deep to find this. All because I came across one article, with one line that mentioned a drowned Black town named 'Benson.'"
Buddington's deep dive actually began with Lake Lanier, the Georgia reservoir that swallowed the Black community of Forsyth County. Some of its structures are still visible during droughts when the waterline recedes. That's when someone told her to Google the drowned towns of Alabama, leading her to an AL.com article containing two sentences on the Kowaliga area, "a community of mostly Black residents founded in 1895 by Will Benson" (a detail, she's since learned, that's partially incorrect).
"It was like one line and I was like, 'whoa,'" Buddington said. "So that's where my research began."
For those willing to do the digging, there are a lot of contemporary accounts of John and William Benson — newspaper articles, land deeds, letters of correspondence. As far as historical accounts, however, not a lot exists on the internet. Buddington was only able to find two articles that provide a layman's understanding — a recent write-up by Russell Lands, the Lake Martin developer that now owns much of Kowaliga, and an article in the spring 2005 issue of Alabama Heritage magazine. The authors thank Tallapoosa County commissioner T.C. Coley in the acknowledgements.
Coley, an Alexander City native, has spent the last two decades researching Benson, starting with what records he could find in the basement of the Tallapoosa County Courthouse. It was Coley who told Alabama Heritage authors Michael Sznajderman and Leah Rawls Atkins that John was the father, not the uncle. Since then, the research project has been on the back burner.
Last month a friend showed him Buddington's Twitter thread.
"This was the impetus I needed to move," Coley said.
Like Buddington, Coley's research began through happenstance. It all started with a conversation with Catherine Shelton, a local acquaintance, about her time at the Kowaliga School. The one-room school building educated Black children in Tallapoosa County from the Great Depression through the 1960s, and is still visible from Highway 63. Shelton, who passed away in 2010, was still far too young to have attended the Kowaliga Academic and Industrial Institute the Kowaliga School had replaced, "But in talking about one story, she would always talk about the other," Coley said. "And so that triggered my interest to start digging."
At the time information was piecemeal and the research was more of a hobby, though working in the courthouse helped, where he would comb the basement records room during breaks.  
"It's really about stumbling upon stuff," he said. "When I first started on this, much of the stuff that's sitting out there online now did not exist online."
What he did find led him down a rabbit-hole.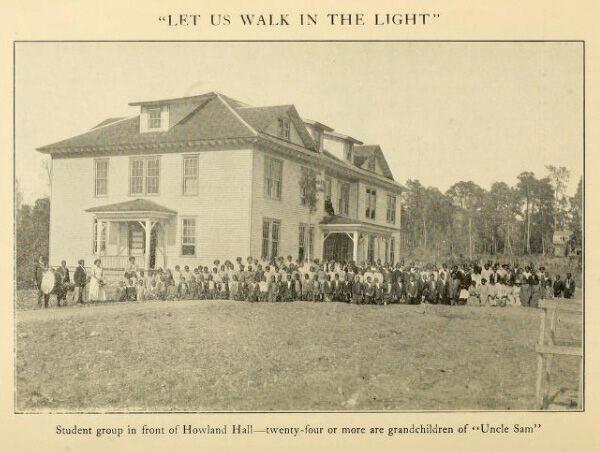 'Such a country as would excite the poetic instincts of any man'
While the Kowaliga community dates back to the Creek tribe, the industrial settlement of Benson was founded post-Civil War by John Benson, on the very land he was born to slavery.
"We talk a lot about Will Benson, the son, but really the father's story is significant," Coley said. "Here is — probably, from what we gather — a biracial bi-product of what was likely an unsolicited relationship between one of the staff of the plantation and one of the women on the plantation."
From what can be gleaned through secondhand accounts, John accompanied his enslaver — and rumored father — to the Civil War battlefront, where the latter died in action. From there, John took his freedom, tracked down his sister in Florida and saved his wages as a coal miner before returning to Kowaliga to purchase the plantation he once worked as a slave.
"After the Civil War, through work and resources, he saved money, bought land and began to amass land and he got to a point where he, a Black man, was mortgaging land to both Blacks and whites," Coley said. "He built a significant enough fortune that he was able to start a school in the area, and his son was among those who attended the school."
After that, John was able to send his son Will first to Fisk, then Howard University. That's where Will picks up, turning his father's school cabin into the Kowaliga Academic and Industrial Institute and converting his father's land into the Dixie Industrial Company, builder of the first Black-owned railroad.
Much of this information Coley pieced together is included in the Alabama Heritage article (except for the identity of John's father, which is still unconfirmed). After googling the name "Kowaliga" and stumbling upon the Alabama Heritage issue, Buddington got a friend in academia to send her the pdf.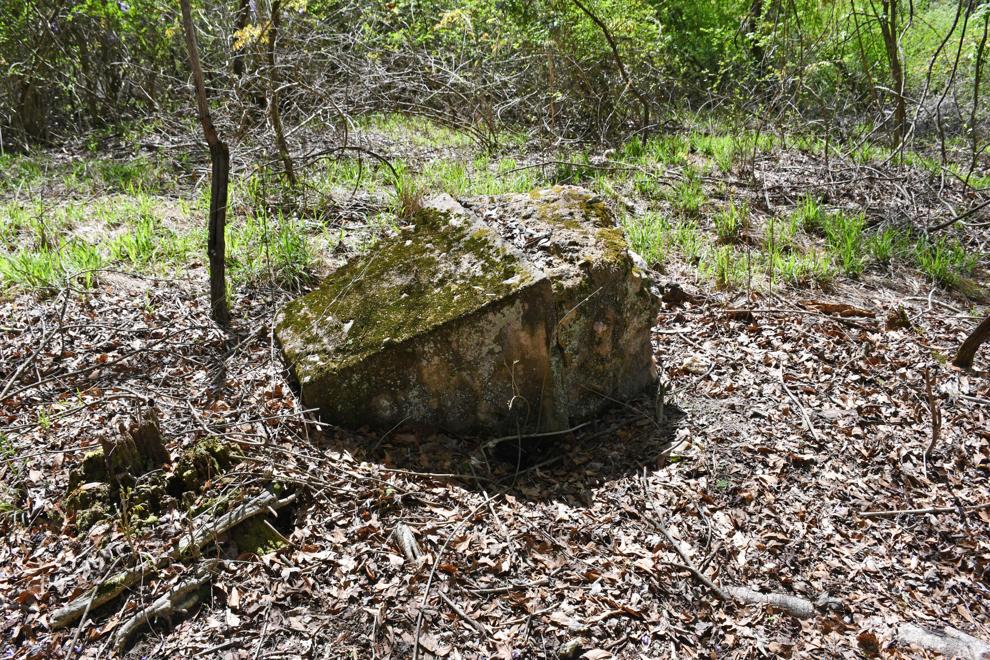 "I got maybe two paragraphs in and I was like, 'Why is the name Benson bothering me so much?'" Buddington said. "And I started going through my paperwork."
As it happened, Buddington was in the middle of another research project involving W.E.B. Du Bois in the early 1900s. In the pile of documents still sitting on her desk, Buddington found a letter from Du Bois' wife asking her husband if he'd heard the news about Benson. 
"'They say he died of a broken heart,'" Buddington remembers reading. "And I'm like 'What? This can't be the same person. And it was the same person."
From his college days at Howard all the way up until his widely-attended funeral, Will Benson is well-documented not only in the circles of Du Bois and Booker T. Washington, but a number of northern white progressives including Emily Howland and NAACP co-founder Oswald Garrison Villard.
"The Black folks that were living middle class (lives) were very, very connected back then because there weren't many of them," Buddington said. "So with William, you start to find his footprint in Tuskegee around the age of 21."
After studying photography at Howard, Will was invited by Booker T. Washington to Tuskegee to showcase his work (later on, Washington would join the Kowaliga Academic and Industrial Institute board of trustees).
"There's an article about him being there, and this reporter's in awe that he has over 400 photographs of all these beautiful images of Black people living off the land, as well as soldiers and students and farmers," Buddington said.
Both the photography skills and the Washington connection would later prove useful, when Will set out to raise money for what's now considered his life's achievement — the Kowaliga Academic and Industrial Institute, founded in 1896 and incorporated in 1899. Will traveled extensively through the north, courting philanthropists first to raise money for the school and tuition, then to rebuild it after it burned down in 1909.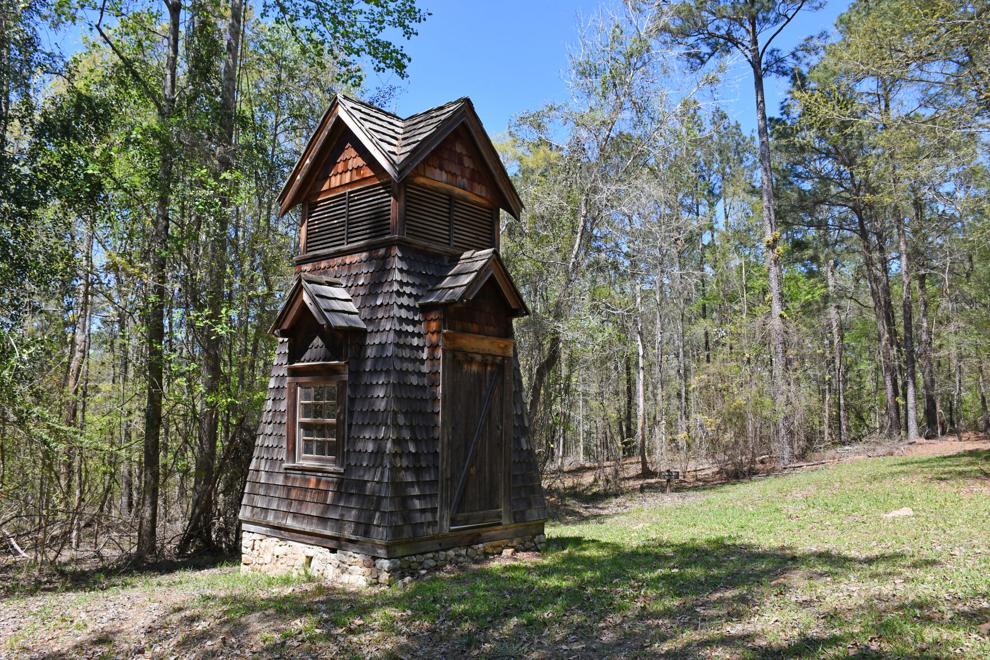 "Rockefeller, Carnegie were blown away because here's a Black man not just talking about his school, he's essentially got a PowerPoint," Buddington said. "He's like 'OK, you see this image right here?' That's unheard of in the early 1900s."
In his annual reports, Will thanks a long list of donors including Howland and Villard, who both sat on the board of trustees. When school burned down, it was Andrew Carnegie who donated much of the $20,000 — over half a million in today's dollars — to rebuild it.
By that point, however, William's relationship with Booker T. Washington had soured, to the point where Washington removed himself from the board.
"It seems like Washington was excited about having a mentee following in his footsteps," Buddington said, "but when William became too big, he started to go, 'Wait a minute. You can't become the next Tuskegee. There's only one Tuskegee.'"
It didn't help that Will was admired by Du Bois, Washington's famous rival. In letters to the same philanthropists, Washington began to criticize Benson for his extensive fundraising and, as the son of a by then very wealthy man, spoiledness — "very shady, crab-in-barrel-like behavior," Buddington said.
However, the school persisted, well beyond the day Washington attended William Benson's funeral.
'A community of interests, rather than a collection of buildings'
After giving the Kowaliga community a chance at an education, Will got to work giving them a livelihood. In 1900, he built the Dixie Industrial Company toward, as he put it, "solving in a unique and practical way one of the most vital problems of the Southland."
"A town center is soon to be laid out, where five hundred families can buy lots, half way between the school and the industrial settlement at Benson," Will said in promotion. "The former will afford their children unexcelled opportunities for education, and the latter will furnish the grown-up people a chance for earning a good livelihood therein by working at the industries or on the farms."
Many of the same "northern white allies" of the Kowaliga Academic and Industrial Institute were now buying shares in the Dixie Industrial Company. As Kowaliga graduates went on to work in the company, much of the company's profits turned back around to finance the school.
"Benefit corporations, or B-corps, we think that's a big thing now, but that's what they were doing 106 years ago," Coley said. "(William Benson) had figured out the model of running a for-profit company, paying a 4% dividend to the stockholders and then taking the remaining profit as a contribution to the endowment to the school. And that was brilliant."
Using land donated by his father, William built a sawmill and started exporting timber and turpentine. In addition to employing many of the local families, Dixie Industrial Company provided the housing and infrastructure. In 1913, Will built a 15-mile railroad from Benson to Alexander City.
Later on, after Will's death in 1915, the 15-mile Dixie Line would prove key in helping Alabama Power clear the timber from the Kowaliga Creek area to make way for the rising waters of Lake Martin.
Alabama Power's damming of the Tallapoosa River was not sudden news. Talk of the dam was about as old as the Kowaliga Academic and Industrial Institute.
"Back in the mid to late 1800s, Alabama Power began to look at places to build these hydro-electric dams and they realized (Benson) was going to be an ideal place," Coley said. "And even in a letter I read back around 1903, they said the Benson family holding's land was going to be an area significantly impacted by their plans, and they expected to compensate him accordingly."
As far as local lore goes on the drowned town of Benson, the lake tends to be the villain. However, 10 years before the river was ever dammed, Benson was dealt two successive blows. The first came from overseas.
"They would use the train they'd developed to haul timber and turpentine to the Central of Georgia railroad, and by my understanding, the destination of all that turpentine was actually Germany," Coley said. "Which was fine until you get to the start of World War I when the British started blockading shipping lanes into Germany."
As a result, the Dixie Industrial Company lost its largest market, triggering a 90-day shutdown of production as well as pressure on Will Benson to resign.
"Initially he did, then he paused, then he changed his mind, then he spent the rest of his life fighting for control of his leadership position at the Dixie Industrial Company," Coley said.
Unfortunately, "the rest of his life" lasted less than a year. On Oct. 13, 1915, The Alexander City Outlook reported "Will Benson, one of the best known negroes in the state, died early Sunday morning at a hospital in Montgomery after an illness of several months."
The same article describes Will as at one time owning "considerable property, but according to reports he had lost much of his property in recent years."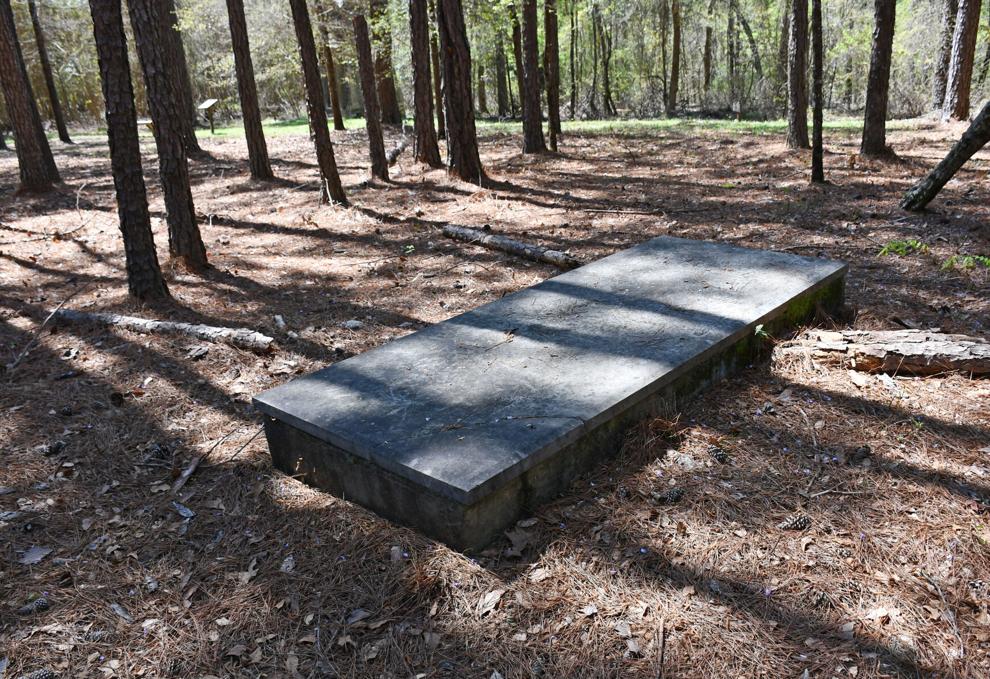 The exact land turnover is where it gets to be "very lawyerish," Coley said, chronicled by a century-old paper trail of land deeds, contracts and court cases filed by John after Will's death. Much of the land loss, however, owes to landowners trading their land for stock in the Dixie Industrial Company, thus losing the land when the company went bust.
By the time Martin Dam was completed in 1926, much of what was once Benson was either underwater and owned by Alabama Power or above water and owned by Ben Russell of what was then Russell Manufacturing. Today, the land belongs to a different Ben Russell (grandson of the aforementioned), chairman of Russell Lands. What was once the Dixie Industrial Company is now Russell Crossroads, a village-style development built by Russell Lands as a tourist attraction.
Kowaliga Academic & Industrial Institute continued to stay open after Will's death, but not for long. As Lake Martin's water level rose, what was once a creek became an impassable body of water for the majority of students in Elmore County who used to be able to walk to school. The campus buildings were eventually sold to the Russells, who turned it into a lakeside attraction, Hotel Camp Dixie.
Meanwhile, a smaller school was built for the remaining students on the Tallapoosa County side. The one-room schoolhouse was one of thousands of African-American schools being built at the time through the Rosenwald program, with local funding matched by philanthropist Julius Rosenwald. The Kowaliga Rosenwald school, which Shelton attended, still stands across the street from Russell Crossroads.
'A rural paradise in the pine lands of Alabama'
For Buddington, whose bread and butter as a historian is the American history neglected by the typical K-12 curriculum, Kowaliga is literally a chapter in a book. As the founder of Langston League, Buddington researches and designs the school curricula she wishes she had as a teacher. Langston League's clients include school districts in several U.S. states, Canada and the Dominican Republic.
"Everyone is trying to decolonize their social studies classroom right now and there aren't a lot of tools for them out there to do that," Buddington said.
Buddington is also currently writing a book, which will include a chapter on Will Benson.
"I wanted to honor the legacy of this Black man who founded this institution, has been mentioned numerous times throughout history but still, somehow, this huge legacy has been suppressed," she said. "And that's the whole message of the book — it's like, 'You should know this, and if you don't, here it is.'"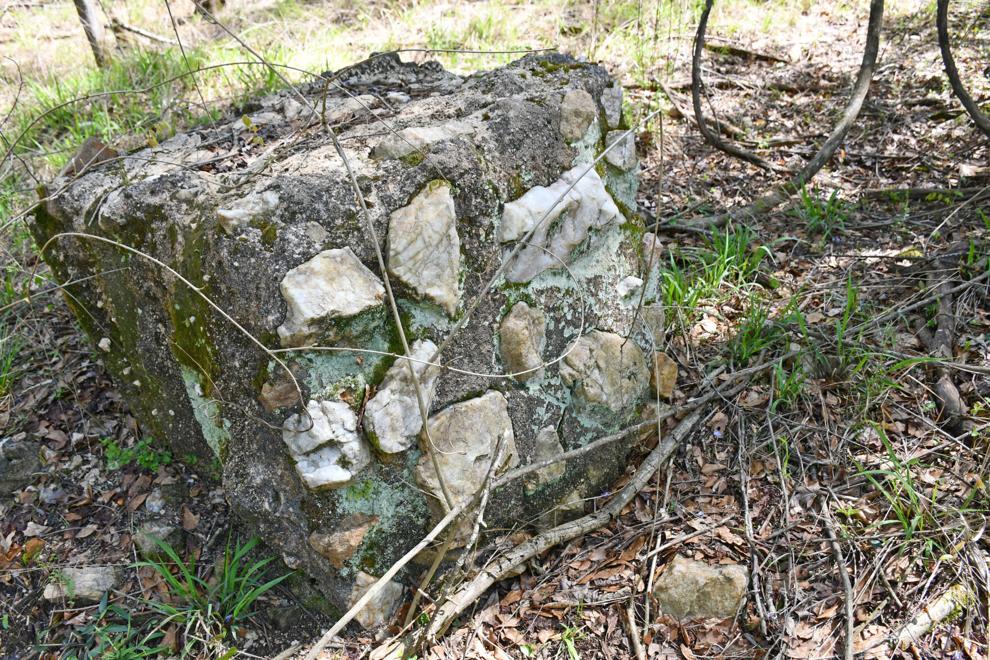 After tweeting a preview of her research, however, Buddington unturned a stone. Descendants of Benson residents, seeing the Twitter thread, reached out Buddington to share their versions of the story. Many dispute their families' loss of land.
"One family was telling me that their great- great- great-grandfather's name is on one of the roads still," Buddington said. "They're a little heartbroken, like, 'It's clear we once lived here. Why are we being ignored?'"
At present, Buddington isn't "looking to write an exposé," but at the very least hopes to shed light on Kowaliga.
"One of the descendants said to me, 'If we do decide to go through with this, we need a cohesive history,'" Buddington said. "'Someone needs to write this to say hey, this is what Kowaliga used to be. So if you're going to write the story, write it in a way where it serves us.' And I'm like, OK.'"
Meanwhile, for Coley, the introduction of a northern rival has given him renewed focus on his Benson research.
"A book was always the end game, it's just there so many gaps in the story I never felt comfortable just pushing everything out," he said. "Now that I've really begun to go back and look at everything I've amassed, I probably have more than I realized."
The book is also a means to end, which is to bring attention to the legacies of John and William Benson.  
"While I think a lot of the family members are very focused on the loss of land, I think they may be missing out on the significance of what was accomplished here," Coley said.
Not only did Will Benson pioneer the concept of benefit corporations but — according to Coley — quite possibly the Rosenwald program itself. Coley points to an influential essay Booker T. Washington wrote that helped formulate the program, about how bringing schools closer to rural Black communities could help increase the length of the schoolyear.
"Well guess what," Coley said. "The Kowaliga Academic and Industrial Institute was that all day long. It was in a rural community in close proximity to the farms, the kids could walk there, it was everything the Rosenwald schools and Booker T. Washington's vision about rural schools were."
Sadly, unlike the second Kowaliga school, the Kowaliga Academic and Industrial Institute no longer stands. Hotel Camp Dixie is mentioned intermittently in The Outlook until about the 1950s. It burned down some time in the '60s.
Those who know where to go can still visit the site, down a red-dirt road leading to one of Russell Lands' waterfront developments just north of Kowaliga Bridge. A few chunks of quartz rock and concrete foundation can be seen near the bell tower, rebuilt from the crumbling original by Russell Lands about 15 years ago. Will Bensons' grave lies just off the road nearby. One has to look for it to notice the weathered-down etching, "William E. Benson, Founder of the Kowaliga Academic and Industrial Institute."
Just south of the bridge, an Alabama Historical Association marker commemorates the cabin that inspired Hank Williams' 1952 hit, "Kaw-liga." Neither the Kowaliga Academic and Industrial Institute nor its Rosenwald school replacement have any sort of historical marker.
"T.C. (Coley) and I have talked about that on a number of occasions," said Steve Forehand, Russell Lands vice president and general counsel.
The developer has no immediate plans to put a marker in place, but "we need to put our heads together," Forehand said.
In addition to the two schools, Coley can think of a handful of locations worthy of a historical marker, including the remains of John Benson's homestead, the site of the Dixie Industrial Institute and the railroad's Alexander City terminus, not far from the Russell print shop. Such recognition would still be disproportionately small for a family who, according to Coley, "indirectly or directly influenced one of the most significant educational movements as related to African Americans in American history."