"If you don't get better, we'll be out here for days," Bob O'Daniel hears his wife jokingly yell from their home in Eclectic. Scouring the O'Daniel's property — all 36 acres of it — has become Bob's favorite pastime, and one numerous Lake Martin area citizens benefit from daily. 
On any given day, Bob, 80, will search for a small plastic sports-type Project Lifesaver bracelet hidden along the earth, dutifully leaving no stone unturned. By doing so, he tests the quality of the bracelet — and, of course, tries to beat his personal record. 
"Those little white bracelets are hard to see under pine straw, in a hole or anywhere else clever my wife has hidden them," Bob O'Daniel said. "But it sure is relieving to know the device works and will help out those who also find themselves tucked away from plain sight." 
The Project Lifesaver bracelets are just one component of a national mission by the nonprofit organization to find wandering at-risk populations in communities across the nation. 
According to Project Lifesaver literature, nine hours is the average time a search lasts for a missing Alzheimer's patient once he or she is reported missing. 
Without effective procedures and equipment, searches can involve multiple agencies, hundreds of officers, countless man hours and thousands of dollars. More importantly, because time is of the essence, there is only a 50% survivability rate after 24 hours with that time being affected by climate conditions and terrain, increasing the risk of a tragic outcome.    
However, the time spent searching for a patient wearing the Project Lifesaver transmitting bracelet is reduced to somewhere in the 15- to 30-minute range.
In direct response to the needs of these individuals and their caregivers, Project Lifesaver partners with state and local public safety agencies to successfully rescue wandering persons. The task of searching for wandering or lost individuals with cognitive conditions is a growing and serious responsibility according to O'Daniel.                                                                                    So, O'Daniel decided to do something about it. 
In February 2012, O'Daniel, the then president of Alabama Power Company's retiree organization known as the Energizers and member Don Franklin met with two state troopers who were trying to promote Project Lifesaver in the state.
"My mother and wife's grandmother both died with Alzheimer's, and Franklin has family members with it," O'Daniel said. "We both had soft spots in our hearts for the disease. I told the state troopers we would help for two reasons: to save lives, and be allowed to ride with the aviation team in the helicopter once."
Then and there, the Energizers decided to bring Project Lifesaver to Alabama.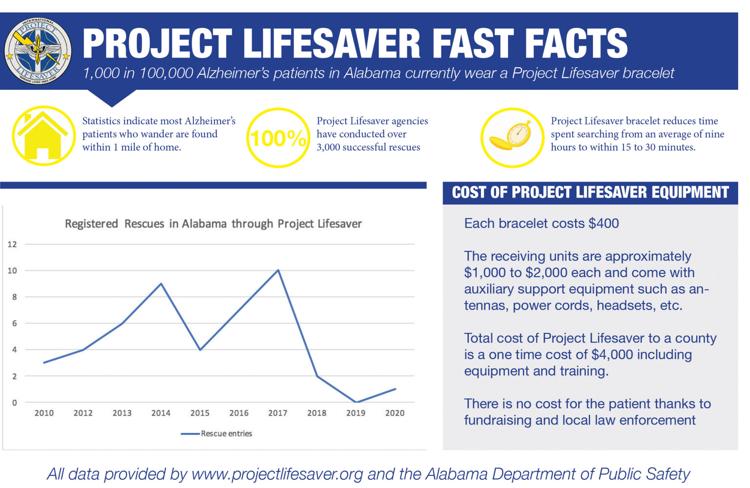 Conceptualized in North Carolina with the Stokes County Mountain Rescue Team and officially formalized by a search and rescue team in Chesapeake, Virginia in 1999, the heart of the Project Lifesaver operation is a bracelet the individual with a cognitive disorder wears. The product transmits its own individual radio frequency and is waterproof tested underwater at a depth of 9 feet. O'Daniel said the bracelet is purposefully not GPS to improve its reliability as a product. 
O'Daniel said the Energizers' main mission with Project Lifesaver was to raise funds for the local law enforcement agencies' $4,000 starter's fee and equipment costs to pass the $400 bracelet along at no cost to families in need. 
In eight years, the Energizers donated more than $135,000 to Project Lifesaver and served as the single largest contributor to Project Lifesaver in the United States according to the Project Lifesaver literature. Project Lifesaver now has 11 chapters throughout the state. 
"The individual chapters fully supported Project Lifesaver, but a number of others helped and were sympathetic to our cause," O'Daniel said. 
The Energizers raised money through a series of fundraisers, including pecan pie bake sales and private donations. 
 After O'Daniel's term as president ended in 2019, the Energizers refocused its efforts on the Alabama Institute for Deaf and Blind.
 Yet, O'Daniel is still active with the program, and at even given moment has the equipment on him to rush to aid a missing person if needed. "Everywhere I go, that equipment goes with me," O'Daniel said. 
He said all the Tallapoosa County area clients' information is kept in a database in the local county's sheriff's office, including "even the color of their eyes."
O'Daniel often checks in with local sheriff's offices in the area to see if any additional information or material is needed. He regularly keeps up with clients and has been known to sit inside the Walmart and inform passersby about Project Lifesaver.
"It's simple and clear cut why I am so passionate about this program — it's my generation of folks who need this equipment," O'Daniel said.                 Of the cognitive disorders, Alzheimer's is the primary disorder Project Lifesaver works with. Alzheimer's disease is a progressive, irreversible neurological disorder. Most victims are older than 65, but Alzheimer's can strike in the 40s or 50s. According to the Alzheimer's Association, close to 59% of those affected with this disease will develop the wandering tendency. Alzheimer's disease destroys short-term memory while keeping long-term memory intact. No cure is known. 
Since 1986, Alabama has had a higher death rate for Alzheimer's disease than the national average. With a 155% increase since 2000, Alabama has the eighth highest death rate of Alzheimer's patients in the nation with 100,000 people living with Alzheimer's in Alabama, according to the Alabama Department of Public Safety. 
Less than 1,000 of them currently have a Project Lifesaver bracelet, according to Project Lifesaver literature.
Project Lifesaver is a 501c3 community-based, public safety, nonprofit organization providing first responders with technology and training to quickly locate and rescue such wandering individuals.  
Law enforcement supervises Project Lifesaver
Project Lifesaver is under the direct supervision of local law enforcement. Alabama Law Enforcement Agency (ALEA) Aviation Unit assists the other agencies in the fundraising and searching of missing individuals.
 Although the Alabama Project Lifesaver program training is provided by state coordinator corporal Kent Smith, the sheriffs of each county are in charge of the individual program in their counties.
Smith also acquires equipment from Project Lifesaver International to help search for wandering individuals.  
"You have counties in our state that are very poor counties and these sheriff's departments could not afford bringing in Project Lifesaver," Smith said. "But because of the Energizers, they were able to sponsor those agencies. So now, the Energizers are affecting lives all over the state of Alabama." 
For Tallapoosa County, investigator Cameron Perry is the coordinator of Project Lifesaver. 
Perry said the program is free of cost to any person in Tallapoosa County that qualifies for the services. 
"The equipment that is used to locate lost loved ones who are enrolled and wearing a transmitter is extremely accurate and helpful in the event it has to be used," Perry said. 
Each client accepted into the program will be required to fill out a profile and provide a current image of the member. This profile is kept confidential but can be very helpful in case a person becomes missing. 
"The investigations unit ensures that the Project Lifesaver program is monitored routinely for the safety of all the clients."
According to both Perry and O'Daniel, the signal is easy to track and leads right to the wandering person. 
Of those affected with this disease, close to 59% will develop the wandering tendency, according to Project Lifesaver literature.
The application for a new member enrolled in the Project Lifesaver database can be located on the Facebook page of the Tallapoosa County Sheriff's Office. 
For further information regarding Tallapoosa County's Project Lifesaver mission, call the sheriff's office at 256-825-4264 or email Perry at rawls6231@yahoo.com.