Alabama Secretary of State John Merrill is still gleaming five weeks after the group Concerned Women for America gave Alabama's election system the highest integrity rating in the country.
Merrill stopped in Alexander City to have lunch with the Alexander City Rotary Club and shared his happiness with the rating, his take on elections across the country and other things the secretary of state's office does.
"When was the last time Alabama has ever been first in anything? That would be never," Merrill said Monday. "We take a lot of pride in that. I'm the one that gets credit for it because I'm the chief elections officer, but (probate judges) need credit for it. We need to make sure that the circuit clerk, the sheriff, we need to make sure the county commission, board of registrars, all of our election officials, our poll workers, our inspectors, our clerks all get the credit for the work they do in the field."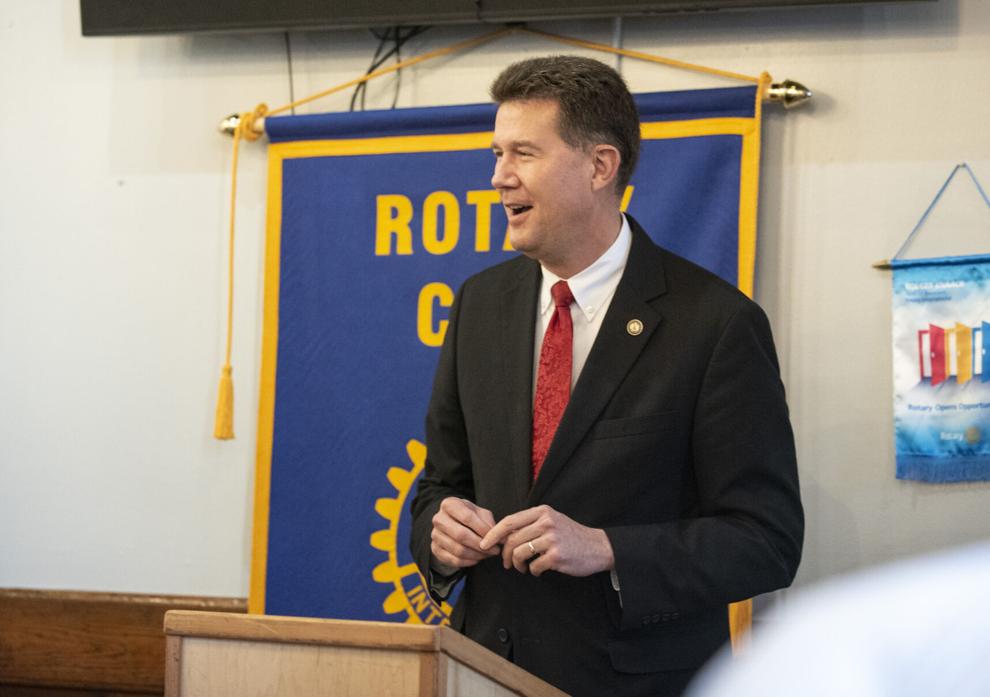 Merrill said he had been speaking with an Associated Press reporter for months leading into the November election when the reporter asked why Merrill was so confident in administering a successful election.
"We are prepared," Merrill said. "I'm an Eagle Scout. What you need to know is this. The day to be concerned about whether or not you are going to have a successful election administration is not (in the days just before the election). It is Jan. 4, Feb.16, March 11, April 15, May 11. It is when you can do something about it. It is when you can be prepared for what obstacles may present themselves that you don't know about. If you have a plan in place, you can overcome those obstacles and you will be successful in the administering of your elections."
The Thursday before the November election caused Merrill to contact leaders at Alabama Power and other electrical companies as power was lost at more than 1,000 of Alabama's 1,980 polling stations due to a hurricane.
"Why didn't you know it? Two reasons," Merrill said. "No. 1 it didn't impact you because it didn't affect Tallapoosa County. No. 2 is because we didn't make a big deal about it."
Merrill said he was confident the power would be restored to the polling locations in time.
"If we have a problem, we have people with a chainsaw and we are ready and we are good to go," Merrill said. "We will solve whatever problem there is to ensure we are doing what we need to do to make sure things go right and well."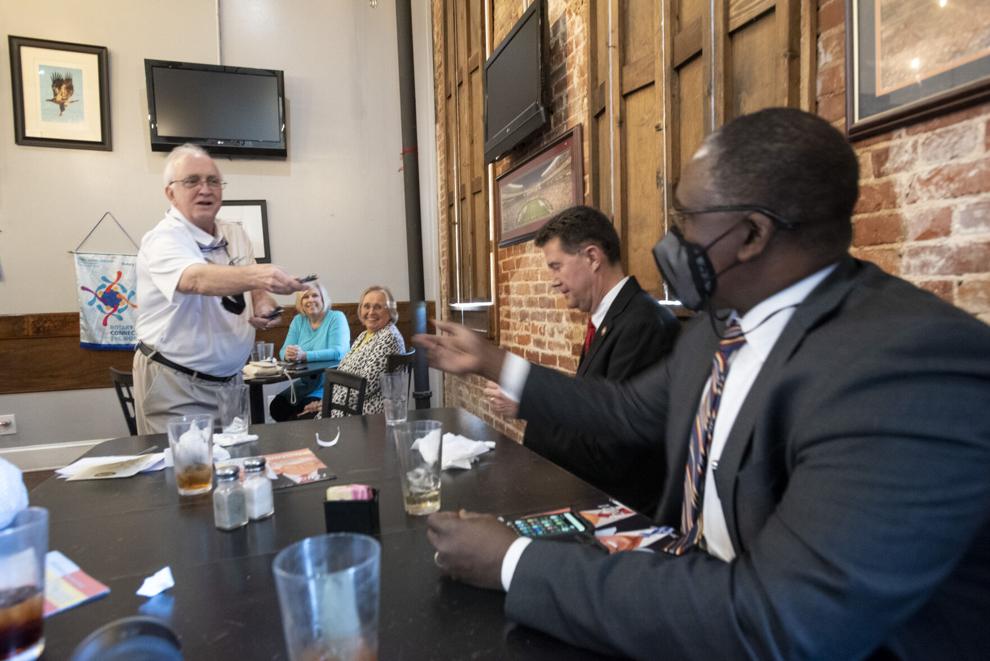 Merrill was proud Alabama had unofficial election results by 10 p.m. and said he found it difficult to believe other states could not do so as well.
"We finished at 10 p.m.," Merrill said. "Within an hour, Florida was through. Now, Florida has 67 counties just like we do. Florida reengineered the election administration, not because they wanted to. It happened because of Bush vs. Gore 2000. They made an intentional effort to have a safe and secure and transparent elections process.
Merrill noted Florida is now the third largest state in the country behind California and Texas, then New York, Ohio, Pennsylvania. Merrill said it was especially concerning that other states took days and weeks to close out elections.
"If Florida can get it done, everyone can get it done," Merrill said. "The biggest problems we saw in the election in 2020, No. 1 is that states did not follow their own laws in the administration of the election. They made them up as they went. They did that because of COVID in most instances or at least that is the excuse they used.
"No. 2, we had too many election officials at the local level, state and federal level who sacrificed security, transparency and accountability in the election process for accessibility and availability of the ballot. You can never sacrifice security, transparency and accountability ever in any part of the election process."
Merrill said states must follow their own laws for a proper election and if issues arise in an election those laws should be reviewed and modified to make sure elections are secure and transparent.
The Concerned Women for America (CWA) is a conservative group that "protects and promotes Biblical values and Constitutional principles through prayer, education, and advocacy," according to its website.
The CWA looked at four areas of focus when determining its rankings of each state's election integrity: voter identification, ballot harvesting, absentee ballots and absentee ballot verification.
CWA gave higher marks to states that require voters to show a government-issued photo id to vote, prohibit ballot harvesting, encourage in-person voting over absentee voting and have strong absentee ballot verification standards.
Only Alabama received an 'A' rating with a score of 94, Arkansas was second with a score of 81. The group noted most states fell below the 50% rating, equivalent to an 'F.'
Texas and Indiana tied for third with a 75.
The CWA is not the only group to recognize Merrill's efforts in election integrity. Merrill was recently appointed co-chair of the Republican State Leadership Committee's group on election integrity. He says they'll come up with policy recommendations centered on empowering states, voter roll integrity, voter ID, securing absentee voting, and increasing public trust of the count.
It's information Merrill said the secretary of state's office has been collecting from other states since he took office more than six years ago.
"We started collecting data before we were asked to do this," Merrill said. "We already had about 12 things of best practices. We had already asked all the secretaries to give us their five or 10 best practices on election administration in your state. We looked at those things and what happens in red states and blue states."
Merrill said the committee would be making recommendations on legislation for election integrity for other states and at the federal level. Merrill, a Republican, noted better ideas don't always come from conservatives or Republicans.
"For me to think a Democrat can't have a good idea or that somebody from a blue state or liberal can't have a good idea is not only foolish on my part, it's really sad and almost stupid," Merrill said. "As an Alabama football fan, look what happened in 2010. Auburn won a national championship. Auburn had a play that year that ran about 12 to 15 times. It was a play where Phil Lutzenkirchen was on the right end and Cam (Newton) was taking the snap. Cam takes the snaps rolls back and comes over, Cam would be standing here and Lutzenkirchen would hold his block for a two count, then release and run a post pattern. As he is back in the corner, Cam would turn and throw the ball to Lutzenkirchen. They got a first down or touchdown every time they ran the play. Last time they ran it, they beat us at Bryant Denney and went up 28-27."
Merrill said just because its an Auburn play doesn't mean Alabama can't run it.
"It's stupid not to consider it," Merrill said. "It's a great play. We ran that play before. Greg McElroy threw a touchdown in the SEC Championship with that play. You run plays that make sense and will be effective in accomplishing goals."
Merrill told the Alexander City Rotary Club Alabama has other things to be proud of in the election process. He said currently 94% of all eligible Alabamaians are registered to vote; 96% of all eligible African Americans in Alabama are registered to vote; and 91% of all eligible white Alabamians are registered to vote.
"I'm very excited about that because it shows the work we have done (in the past six years)," Merrill said. "In the same period of time, no other state in the Union has comparable numbers on a per capita basis. We have exceeded all of them in our efforts. One of the things you should feel a lot of confidence in is in that same period of time, we have removed more than 1.3 million people from the voter rolls. We removed those people because they moved away, passed away or put away. Whenever that happens they need to come off the voter rolls because the basic foundation principles of election integrity begin with the voter rolls.
"It's not an easy process. It's an intentional process that you have to be diligent in ensuring that you are following the procedures and protocols established with voter registration. You can not hope to have a safe secure election if you don't have accurate and up to date voter rolls."
Merrill noted 1,118,555 new voters had registered to vote in Alabama in the last six years, bringing the total number of registered voters 3,514,688, the most ever.
Merrill said recent legislation passed by Georgia lawmakers to modify the elections process is modeled after Alabama's regulations on elections.
"The biggest problems Georgia had was Georgia sacrificed the things we are talking about," Merrill said. "They sacrifice security, transparency and accountability for convenience.One of the biggest problems we saw was that they wanted everyone to have a good time. They wanted everyone to be happy."
Merrill said election results should be known quickly and the process not altered in the days leading up to an election. He said elections should follow established laws with states making decisions about changes to the process going forward. Merrill said certain issues in elections are not up for debate.
"Only U.S. citizens are who are registered and only people living in those jurisdictions in those states can participate in the electoral process," Merrill said. "The gold standard of voting, which is still in-person voting on election day, we want to make sure when people come to the polls to cast their ballot they have a credential that lets us know who they are and that they are eligible to participate in the electoral process through a voter ID process.
"In the area of mail-in ballots, in Alabama we use absentee voting, in other states some use universal vote by mail, whatever process you use in your state, it needs to be safe and secure and transparent. We need to ensure we have signature verification and that we know what we are doing and why we are doing."
Merrill said some the secretary of state's office is working with state officials of both parties to make changes to future elections in Alabama including Rep. Laura Hall (D-Huntsville).
"We knew we had some things to do to make elections stronger in Alabama," Merrill said. "She had a bill that was going to allow for no-excuse absentee voting."
Merrill said for the November election he used a current state law to issue an order due to the COVID-19 state of emergency to allow absentee ballots to be issued for those who didn't want to vote in person due to the coronavirus. Merrill said he is against removing the need for an excuse provision but said that provision is not being followed across Alabama.
"It did not bother us that we were going to introduce that legislation that Laura Hall was taking members despite it provided no-excuse absentee voting," Merrill said. "We have 68 circuit clerks in 67 counties across the state, only one checked the reason."
Merrill said no circuit clerks were comparing affidavit envelopes with excuses and applications., "Since nobody is checking, why do we even have it?," Merrill asked.
Merrill said changes to the election process his office is supporting is related to absentee voting. Merrill said those changes include moving to 7 a.m. from noon the opening of absentee ballots and adding two extra poll workers to help the circuit clerk count the ballots.
Merrill said those changes were necessary to ensure quick results.
"We had more than 331,000 applications for absentee ballots," Merrill said. "That is three times more than ever before. We had 305,000 of those successfully returned."
The proposed changes do not weaken the process according to Merrill. He said the secretary of state's office also goes after those who seek to weaken the election process.
"We have six convictions on election fraud and three elections overturned, five related to absentees," Merrill said. "All overturned elections are related to absentees. We changed the law in 2017 to make it easier to vote and harder to cheat in the absentee process. We did that by requiring you submit an ID."
Merrill said elections are part of the more than 1,000 responsibilities of the secretary of state's office. Those responsibilities also include registering new businesses and changes for other businesses and adoptions.
Merrill said there is a little known fact of the office.
"The office of secretary of state in Alabama is the oldest office in the history of the state of Alabama," Merrill said. "We had a secretary of state before we were a state. In 1818 Henry Hitchcock was appointed to serve as secretary of state. Alabama became the 22nd state Dec. 14,1819."