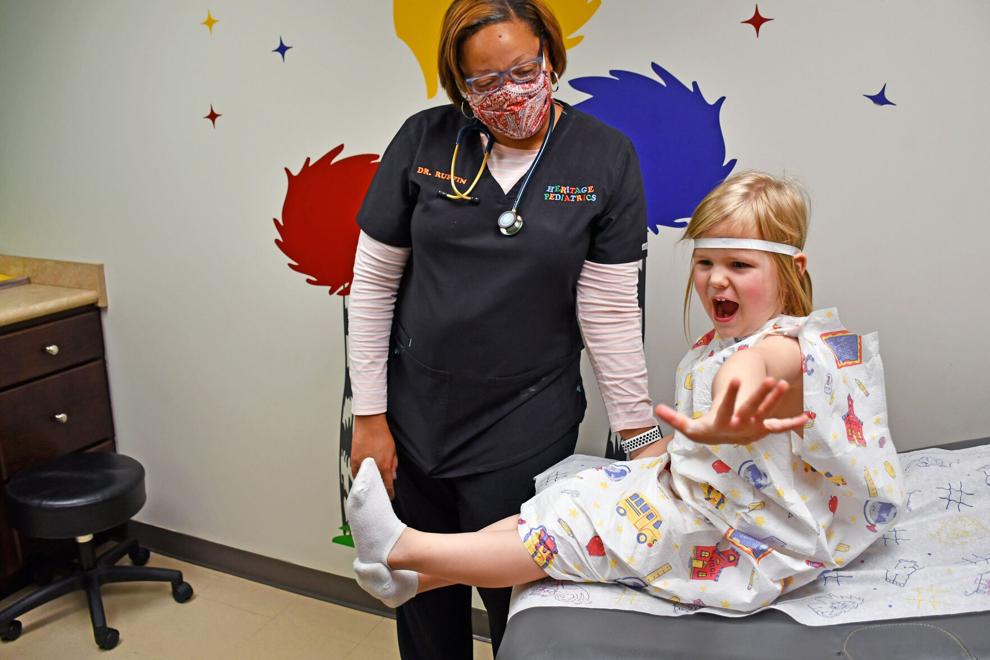 There's no TV in the Heritage Pediatrics waiting room.
Instead, the decoration at Dr. Chante' Ruffin practice is centered around reading, with a book corner at reception and reading-related murals on the walls of the examination room. One quotes Dr. Seuss: "The more that you read, the more things you will know. The more that you learn, the more places you'll go." Another depicts a little girl with a book, captioned, "Today a reader, tomorrow a leader."
As a pediatrician, checking up on her patients' reading and language development is also part of the job.
"I see if they know their colors, see if they can tell me the objects on their gown," she said. "I ask about school, are they reading at home, things like that."
Earlier this month, the Alexander City Board of Education, on which Ruffin serves as vice president, received a more detailed breakdown of the school system's latest standardized testing scores, released in September. The correlation between income and reading ability was stark; where 60 percent of students above the poverty line scored proficiently in English language arts, only 31 percent in poverty scored the same.
But correlation is not causation.
"You have to be careful how you word things," Ruffin said. "And poverty does play a factor. But when I hear that statement I hear 'poor people can't read' ... People don't choose to be in poverty. You have parents that are doing the best they can and some aren't able to find that extra time with their children."
In a district where 64 percent of students were eligible for free or reduced meals last school year, many parents found the "blaming on poverty" of little help. While Ruffin resists the urge to chime in, she's seen the Facebook comments.
"I do read them, and I take to heart what is felt from our parents and our community," she said. "Nobody lives in poverty by choice."
Nor does it determine ones fate — Ruffin, who grew up youngest of four in a single-parent household in Birmingham "not unlike Spring Hill," has proven that is not the case.
"My mom always had a book in her hand," she said. "She was always doing crossword puzzles, she read the newspaper, magazines, watched 'Jeopardy!'"
The common denominator among her patients who score well in reading, Ruffin said, is similar.
"They read," she said. "They're reading something each day, and it actually started before they entered kindergarten. And they have parents or older siblings or even other relatives that encourage reading."
This spring, the Alabama Literacy Act will go into effect, requiring third-graders who do not meet reading requirements to attend summer school and, if that fails, to repeat a grade. Reading scores represent a portion of a student's Alabama Comprehensive Assessment Program (ACAP) English language arts score, a category in which fewer than half of Alexander City Schools students make the benchmark.
What the law doesn't address is the quality of third-grade education that child will have to repeat.
"It sort of bothers me that the child will be punished, but who's holding everyone else accountable?" Ruffin said.
Her policy suggestion is year-round school. Only a handful of public-school districts have a year-round calendar district-wide, The School Superintendent's Association (AASA) reports, though last week, outgoing New York City mayor Bill de Blasio endorsed the whole state going year-round.
"Teachers spend the first nine weeks [each fall] going over what's already been taught," Ruffin said. "I know it's probably not a popular opinion, but it's my opinion."
But off-campus, Alexander City Schools only has so much control.
"We hope to continue to be community partners with the school system, to make sure we're promoting reading and doing our part to help get the reading scores up," Ruffin said, referring to Heritage Pediatrics. "It's not something that's new to us, but we're just going to make sure that we drive it each time they come into the office."