When Hannah Green graduated from Southern Union Community College with a welding degree, she struggled to find a company that would hire a female in her position. Throughout her schooling and time with her current company in Talladega, Green has explored the artistic side of her skillset. Her first official art show was Art in the Park in Dadeville last month.
"I've been welding (professionally) for about two years but it took me about half a year to find a welding job because a lot of people won't hire a woman fresh out," Green said. "I was lucky enough someone gave me a chance where I work now."
During her breaks at work, she started messing around with some of the scrap metal that would have been thrown away. The first thing she created was a rose. Green was so impressed with its outcome she made more and started giving them away as gifts to her family.
"I really enjoy doing flowers a lot more but I've done some fish and roosters and stuff like that," Green said. "This past weekend I made an Indianhead as a gift. I'm slowly branching out but the flowers are the things I enjoy most."
Green had a variety of these metal flowers at her booth at Art in the Park ranging in size from a tabletop decoration to more than 5 feet tall and weighing more than 100 pounds.
"I really haven't mastered the lightweight stuff yet," Green said.
It was her PawPaw who first introduced Green to welding. She grew up around his farm where he would weld things if they broke.
"I've always been around it," Green said. "The first sculpture I ever made was for my grandmother. It was a rooster out of welding I did myself — a stick welding — and it was not pretty at all."
Green said she prefers the MIG welding process to stick welding because it's cleaner and easier to do.
Nonprofit Everything's Art members Rick and Mitzy Hidding helped organize Art in the Park and also were fascinated with Green's work. On behalf of Everything's Art, the couple purchased one of the life-sized sunflowers. The goal is to use is to beautify the city in some way but the plan is still up in the air.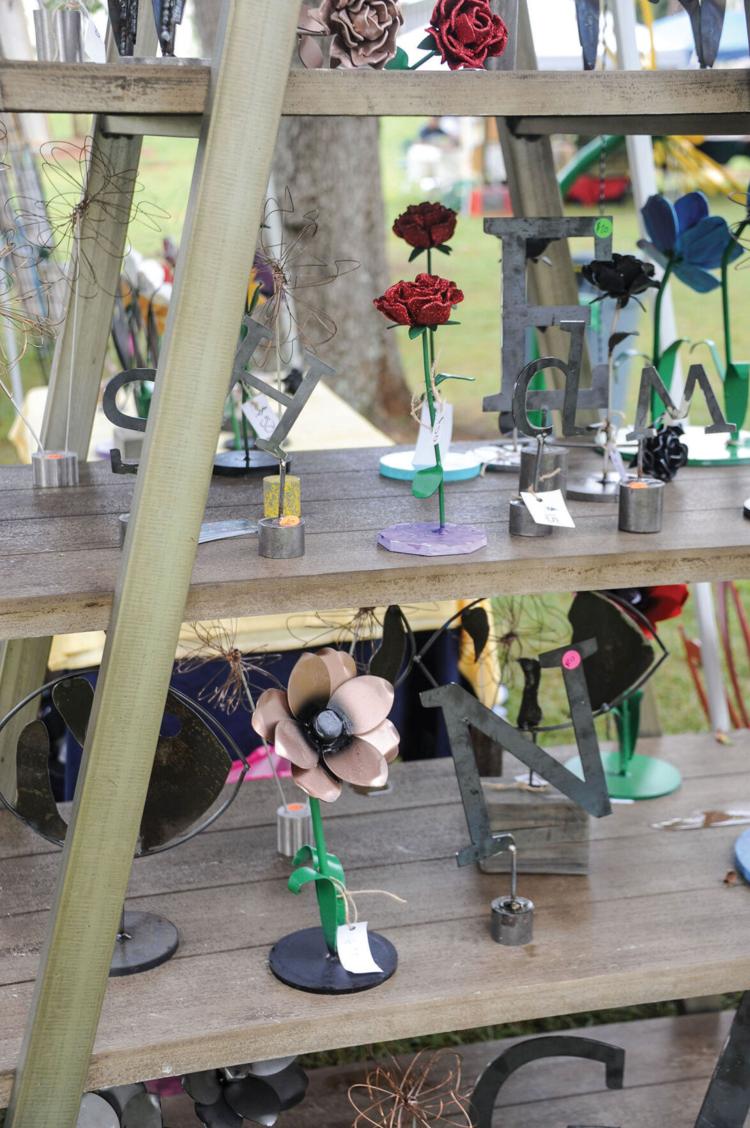 "We want to commission some more flowers from (Green) as well," Rick Hidding said. "She asked us for some different ideas but we said, 'Let's not give her any ideas; let the artist work.'"
Green plans to return to Dadeville to add some finishing touches to the purchased piece.
"It weighs a good bit," she said. "I told them I would just bring my welder up there instead of having to haul that heavy thing around."
The art piece should hold up well in the outdoor elements since it's covered with outdoor metal primer, outdoor metal paint and outdoor polyurethane.
"Our plan is to build a small brick pedestal, maybe at most 18 inches high, and set these flowers on top," Hidding said. "This is Everything's Art doing this. It's part of our mission to bring art to the community."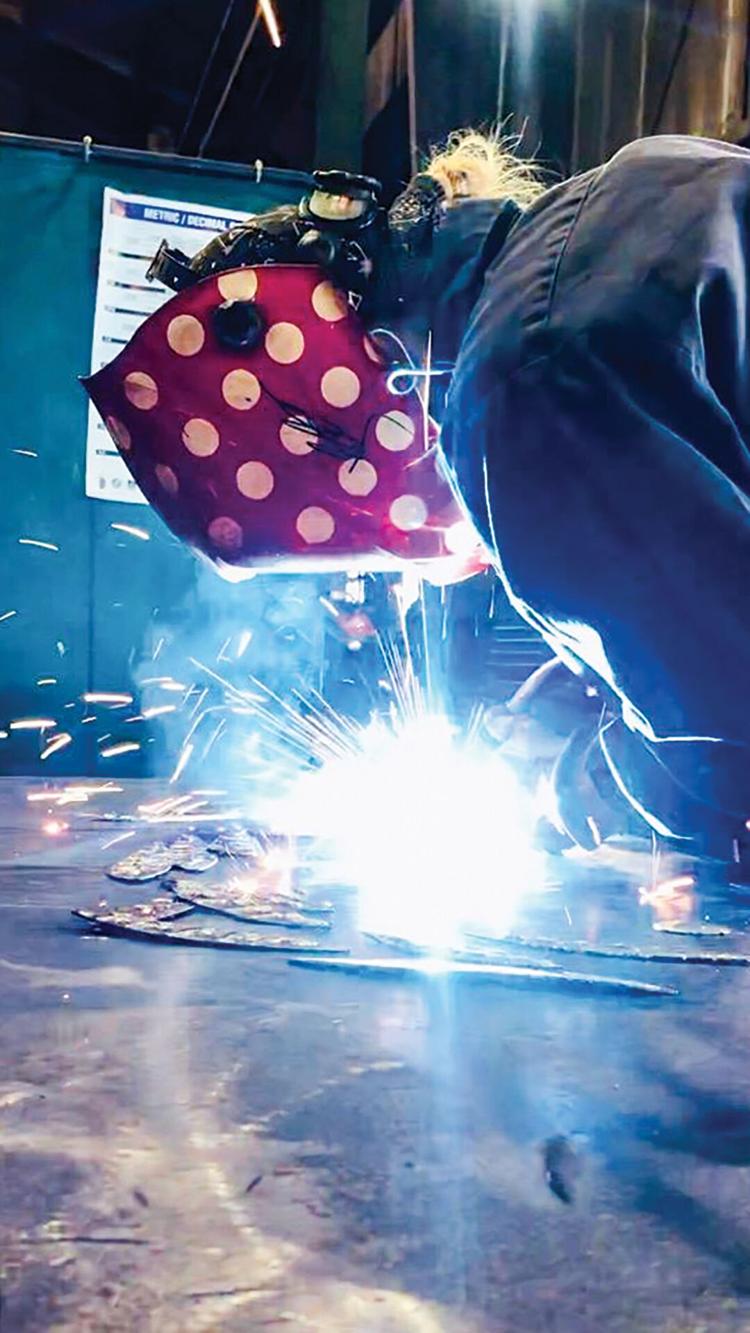 Hidding said he purchased the piece at a fair price and encouraged another local artist at Art in the Park to help Green price her work since it was her very first show.
"I did a lot better than I thought I was going to," Green said. "My grandmother lives in Alex City and her and my momma ganged up together and said, 'Hey we paid your art fees and table, so you better get some stuff made.'"
Green went on to make the vast inventory she had on site in about two weeks and was proud of her successful show.
"I am hoping this kind of takes off," Green said. "I would like to do this kind of thing full time. They always make fun of me at work because I'd rather do the art piece stuff and do the pretty things."
At her job, she works with industrial items suited for larger companies and heavy-duty materials.
Green's husband is in the process of building her a shop where they live in Talladega.
"My work was really good with me," Green said. "They told me if I brought my own materials and stuff, they were OK with me coming in (to work on my day off) and using the materials I brought to make stuff."
Regardless where her pieces end up based on local purchases, Green hopes to continue pursuing her hobby and return to future shows.
"I am super excited to see how it all looks," Green said. "And it makes me want to go to Dadeville more."