Dadeville resident Richard Lucas vividly remembers Mother's Day 2019 when his wife, Wanda, started gasping for breath and went into a full seizure as soon as they got into bed.
Wanda had a brain aneurysm rupture and was rushed to a hospital in Montgomery with not much hope to survive.
"It was scary to be just laying there and talking and next thing you know she's on the helicopter on the way to Atlanta and they don't give her much chance," Richard said.
Wanda's memory from that day is more pleasant and revolves around her cousin visiting, cooking dinner, going for a drive and singing songs
"I didn't know anything was going on," Wanda said. "So I can't tell you how it feels but what I can tell you is the Lord has a purpose for me in life and I hope I can fulfill whatever it is he's wanting me to do."
This was 40 years after Wanda's first experience with a ruptured brain aneurysm and today, she skillfully plays the piano, cooks and walks and talks with barely any physical ailments.
Gov. Kay Ivey declared September Brain Aneurysm Month in Alabama and Richard wants to share his wife's story to spread the message this medical condition does not have to equal a death sentence.
"My wife has survived three of them; two have ruptured; and I want people to know there is hope," Richard said. "She is living like normally after this traumatic experience and I want to spread that message to others going through it."
The Lucas' are well known in the community, so many know Wanda's past but Richard felt it was a good opportunity to remind people of the positive outcome.
"A lot of people know about Wanda's story," Richard said. "I was with the sheriff's department for years and now work with a local law firm. She was a transportation nurse with special needs children every day up until she had her aneurysm. She's just a great person and everybody loves her."
Wanda was 28 years old when she first had a brain aneurysm rupture in the left side of her brain. Doctors at East Alabama Medical Center put a clip in it, which was a solid fix for 40 years.
Wanda said her doctor in Opelika who diagnosed her first aneurysm told her she had a slim chance of ever getting another one.
"After I got better and was at home and did some follow-ups, he said, 'The person next to you will have one before you ever have another one,'" Wanda said.
So she was just as surprised to learn what had happened when she was conscious enough to understand a few weeks after being admitted to the hospital last year.
"It's amazing how it held; she had no problems," Richard said. "Last year, we were in bed and luckily I was still kinda awake. She had another brain aneurysm rupture just below the place she had one 40 years earlier."
Wanda was flown to Montgomery with little hope and transported to Emory University Hospital, where Richard said the doctors saved her life.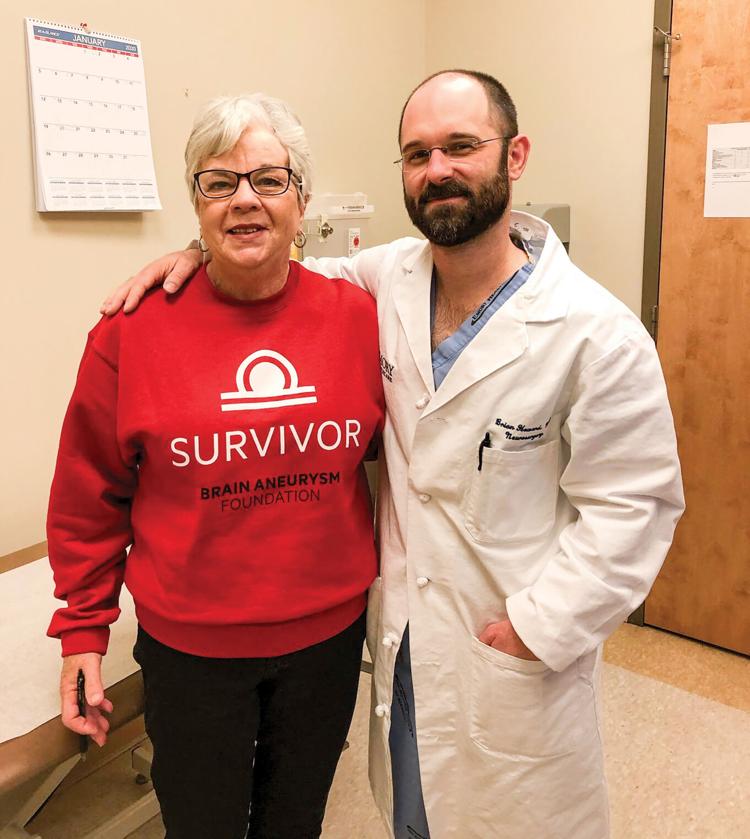 "I knew Dr. Brian Howard was gonna save her for me," Lucas said. "He's so confident with the work he's done (at Emory). The whole team from Day 1 was on top of it."
But this doesn't mean the road was an easy one for Wanda or Richard.
"She stayed almost a month in the (intensive care unit) but she did great," Richard said. "They couldn't repair it so they had to do a wrap, kind of like wrapping a hose pipe. We left it at that for six months and they went back in and saw that one was still holding but she had a third (aneurysm) just below it."
When Wanda returned in December 2019, doctors inserted a flow diverter into the vein in her brain, which is a mechanism that diverts the blood flow away from the aneurysms.
"Low and behold, they did that in December and we went back in May and the diverter had healed in the vein like it was supposed to," Richard said. "It cut the flow off to both of the aneurysms."
Wanda said she was told she was difficult to handle in the hospital as well and after being sent home, the nursing staff made her a poster that jokingly said, "Don't poke the tiger."
She still has that poster to this day, along with all her get well cards.
"It's just been a miracle and I know it has," Wanda said. "I respect God for what he's done for me and He's an awesome God. I really don't know what to say. Everybody has been so good to me with the prayers, the cards, everything I've gotten, calls and I still get them. It's just an awesome thing."
Wanda's father had two brain aneurysms and died from one when he was 56 years old.
"Once you have one, you're prone to it," Richard said.
Ruptured brain aneurysms can be life threatening, according to the Mayo Clinic website. It can cause direct damage to surrounding brain cells and the bleeding can damage or kill other cells. It can also increase pressure in the skull. This can lead to permanent damage.
"Anyone with a brain injury usually has a disconnect but her memory is good," Richard said. "It's a miracle. I don't know anybody else who has had three aneurysms and two rupture and even still be alive much less walking and talking with no physical ailments, no speech impediments."
Richard wants people to be aware how quickly a brain aneurysm can rupture and without warning.
"She didn't have any symptoms; (the aneurysm) just blew," Richard said. "There are all kinds of indicators and some are hard to find but both of hers ruptured and actually just blew out and bled into the brain. They've had to go in twice and open up her skull. They couldn't clip the second one because it was too close to the previous one but it held for those six months until they went in and put the diverter."
Thankfully, many people are diagnosed with aneurysms and can be treated before it becomes a larger medical issue.
"It's not a death sentence like a lot of people think," Lucas said. "The blood pressure is the main thing. Naturally, it's like a stroke or anything else, when blood pressure is high, veins and vessels expand and sooner or later it's like a hose pipe and something will blow."
Wanda was in rehabilitation for roughly nine days when her aneurysm ruptured last year before heading home. However, it was still a slow recovery.
"When we got her home, it was a long process," Richard said. "It's been 16 months. I don't want anyone to think you just bounce back like having your tonsils out. She struggled a lot of days; it's been tough."
However, Wanda was playing the piano as she loved to do by her second day in rehab.
"She still struggles sometimes with looking for the right words but we can live with that," Richard said.
Wanda's last angiogram on July 27 produced a positive report and her doctor told her to just come back in 18 to 24 months for another check up.
Wanda is just thankful for her family and friends' support, especially from her husband.
"He has been very sweet and does everything he can," Wanda said. "He checks on me every so often when I'm home by myself. He really is better than me. He's my better half."
According to Mayo Clinic, symptoms of a ruptured or leaking aneurysm can include sudden, extremely severe headache.
A ruptured aneurysm can also produce symptoms including nausea and vomiting, stiff neck, blurred or double vision, sensitivity to light, seizure, dropping eyelid, loss of consciousness or confusion.
An unruptured aneurysm may produce no symptoms if small but a larger one could possible cause pain above or behind one eye, a dilated pupil, change in vision or double vision or numbness to one side of the face.
The causes of brain aneurysms are unknown but a range of factors may increase your risk including: older age, cigarette smoking, high blood pressure, drug abuse, heavy alcohol consumption and some may occur after head injuries or from certain blood infections. Some people are born with conditions that may also elevate their risk of developing a brain aneurysm.