After four decades working for the City for Alexander City, Robbie Atkisson has decided it's time for her to hang up the phone and silence the voice that has greeted thousands of callers and visitors to City Hall.
Atkisson has seen eight Alexander City mayors come and go from two city halls as she has held several positions in the city in her 40 years working for Alexander City, the last 10 as receptionist. April 1 will be Atkisson's first day of retirement but it will take her a while to adjust to a new routine.
"I'm probably going to wake up at the same time," Atkisson said. "I'll think OK, 'I need to hurry up, get ready and get up the road.' I might just have to get dressed, ride up the road and turn around and go back home. I don't know."
It's a routine 40 years in the making.
"I'm just thankful I walked in that day and Jessie Smith was personnel director; he hired me that day — Feb. 9, 1981," Atkisson said. "I have been thankful ever since to be a part of the city."
Forty years means Atkisson worked with several mayors. She has her favorite mayor but won't share a name.
"He is no longer with us," Atkisson said. "He was a very good mayor, very sweet."
Atkisson has worked for eight former and current Alexander City mayors, Charles E. Bailey, 12 years; Ben Cleveland, 4 years; Don McClellan, 8 years; Barbara Young, 8 years; Charles Shaw, 4 years; Jim Nabors, 2 years; Tommy Spraggins, 2 years; and Woody Baird since November.
"Each one has their own personality and each one has their own hope to make the city better; that is what it's all about," Atkisson said. "I'm loyal to whoever I'm with. That is the way it should be."
Atkisson started as an accounting clerk and made the move from the old city hall in the courthouse to the current city hall in 1997 while still working in the accounting department.
"It was kind of traumatic moving from that building to here," Atkisson said. "Once we got here, we settled in. I started out back here in an office that didn't have a window. One of the girls at the fire department, she made me a fake window to put up on the wall."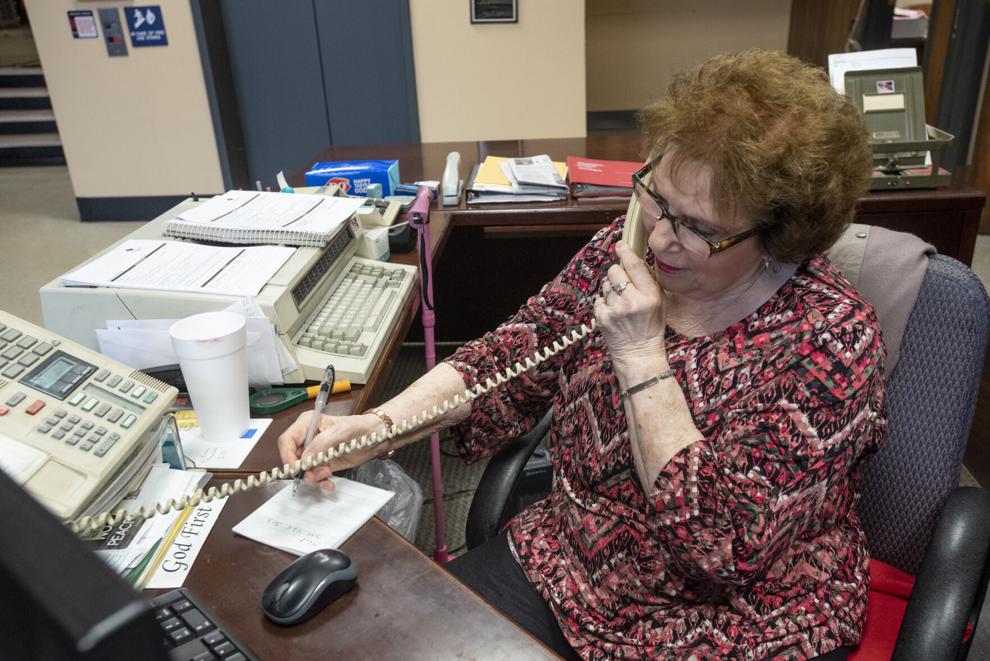 Atkisson moved to the city clerk's office 10 years ago and started answering the phone full time.
City clerk Amanda Thomas said Atkisson knows a lot of what the city does and who is responsible for what.
"She has worked her way through almost everything," Thomas said. "She has a lot of knowledge of who does what. What happened in the past and where to go."
It's enough knowledge to lead the city. Some joke Atkisson has the knowledge to be mayor.
"Pretty much," Atkisson said jokingly. "I have been around the block but it has been fun."
On the phone Atkisson has things down pat, but people say some of the strangest things.
"It's, "Good morning, city hall or Good afternoon city hall," Atkisson said. "You wouldn't want to hear some of the things I have heard on the phone. Sometimes people get a little agitated. I try to calm them down and talk to them, explain to them I can't help them if they don't listen to me. Sometimes they will use a little bold language. I will tell them I can't help them if they talk like that. It's not my fault, I'm trying to help you.
"You just have to learn to be patient and help people the best you can. That is what I hope I have always done."
Work didn't let Atkisson take any long breaks on workdays.
"You might go a few minutes without a phone call," Atkisson said. "Then all four lines will be busy, just going as fast as you can answer. Some people think you should always be able to answer in three rings. Sometimes you can't handle everybody but they usually will call back.
"We will try to direct them where they need to go. People call from out of town, out state and I will take the time to find a number for them. A lot of our calls are not city business."
Along the way Atkisson's unofficial family has grown.
"The whole city family is family to me," Atkisson said. "Forty years is a long time to come to the same place and just work. You cry with your work family and laugh with them and pray that everyone is going to get along well and work together well."
Four decades at the same workplace means she is looked up to.
"I'm sort of the moma and the grandmother to everybody," Atkisson said. "Everyone is either 'hun or darling,' 'you be good now,' 'you be sweet,' 'behave.'"
Interacting with coworkers is nothing new for Atkisson.
"I love to work; I have had a job since I was 13," Atkisson said. "I have only had two full-time jobs in my entire career. I worked 10 years for the board of education before I came here to work for the city."
Atkisson has held a full time job for five decades but her 50 plus years working is not indicative of her age.
"I'm just 39," Atkisson said with a smile. "When I got to be 39, I decided that was just a good place to settle, so I'm 39 and holding. I've been holding a little while on that."
There were no electronic records when Atkisson started in accounting.
"We did everything by hand back in the day," Atkisson said. "Then I had to learn to use a computer and other things as time went on.
"Amanda taught me how to do a lot of things. I told her, 'I can't do this.' She said, 'Yes you can. You can't break it.' I told her I would mess something up. She said, 'No you can't. Just keep trying and experiment with things.'"
Atkisson does have a honey-do list for her husband Byron.
"Bless his heart, he has had a honey do list every weekend," Atkisson said. "I will just make it a little longer.
"He's very good about doing lots of things for me and for our son Bartley," Atkisson said. "He takes good care of us on a daily basis, not just the honey do list."
Atkisson will miss working for Alexander City and would like to visit the new municipal complex when everyone gets moved in.
"It has been a great ride," Atkisson said. "I'm going to miss everybody. I told them I would have to come back and visit.
"I would love to go over there. I felt like maybe it was just time to not make that big move."
Thomas understands why Atkisson is retiring but it doesn't mean Thomas has to like it.
"She's worked all her life," Thomas said. "I'm going to miss her. I'm really at a lost for words. It is bittersweet."
The veteran city employee has no plans for the next stage of life.
"I'm just going to take it one day at a time," Atkisson said. "I like to stay on a schedule or else I just stay in my sleep clothes and nap and be lazy. I need to stay busy. I will probably not do anything for a little while, then I might talk to Jim Peace or someone where I might can do some volunteer work to stay busy. I'm a people person. I love people, love to interact."
Anything Atkisson might do in retirement will always have the mission of sharing God's love.
"Each day is a gift and we are supposed to love each other and be kind to each other and help each other along the way," Atkisson said. "There is this song I just love. Part of it is, 'Drinking from my saucer cause my cup has overflowed.' There is a part of the song that says to never be too busy to help someone along life's way. That is what I hope to do as long as I can."
Atkisson will volunteer and serve in her a church and she is comfortable with any plans God has for her life
"I get tickled at a friend of mine," Atkisson said. "He says, 'You think you are going to live forever.' I said, 'Maybe forever won't be that long.' You never know. You just got to be ready. I would love to be caught up in the rapture, just flap my little wings and here I go. I think that would be the best way to go.
"One day the car would just be going along and I would be gone. That would be great."