All schools within the Alexander City Schools system are temporarily making the move to virtual learning.
According to a Wednesday evening announcement, school will be conducted in the traditional, face-to-face model Thursday and Friday and virtual learning will be effective Monday, Nov. 16. Alexander City Middle School students remain on the plan set in place earlier this week.
The remote learning will be conducted through Tuesday, Nov. 24 then the schools will observe the Thanksgiving holiday for the rest of that week and return to traditional, face-to-face learning Monday, Nov. 30.
"The health and safety of our students, teachers, staff and community are most important to us," superintendent Dr. Keith Lankford said in a statement. "After consulting with the Alabama State Department of Education lead nurse and reviewing our data related to COVID-19, we have decided that it is necessary to move all schools to remote learning effective Nov. 16.
"Over the past three days, Alexander City Schools has seen a surge in positive cases among our faculty and student populations. Additionally, the number of students and faculty considered close contacts has increased exponentially over this same period. As of the time of this correspondence, ACS has 17 positive students and 15 positive teachers. Currently quarantined for close contacts, we have 18 faculty members and 241 students."
During this period of remote learning, extracurricular activities will be suspended at Alexander City Middle School through Nov. 30. Extracurricular activities will continue at Benjamin Russell unless that activity is impacted by COVID-19 protocols. 
"It is our intent to make up any activities affected by this decision," Lankford said. 
Lankford said the school board and administration believes this is the best decision to protect the health and safety of staff, faculty and students in order to slow the spread of the virus.
"This decision was not easy and is not one taken lightly," Lankford said.
Students without an electronic device will be issued one during the remote learning period. Students who don't normally bring their devices home each day or who do not have access to a device will be issued one before they go home Friday. If they are absent on Thursday and Friday, parents are asked to call the school to arrange a time to pick up a device.
Breakfast and lunch will be provided for all students during the remote learning period. Pickup will be each day from 11 a.m. until 12:30 p.m. A meal can be picked up by coming through the parent pickup are at Stephens Elementary School. Because ACMS will be on remote learning the rest of this week, those students will need to have meals picked up at the middle school Thursday and Friday then at Stephens from Nov. 16-24.
Read Lankford's full statement below: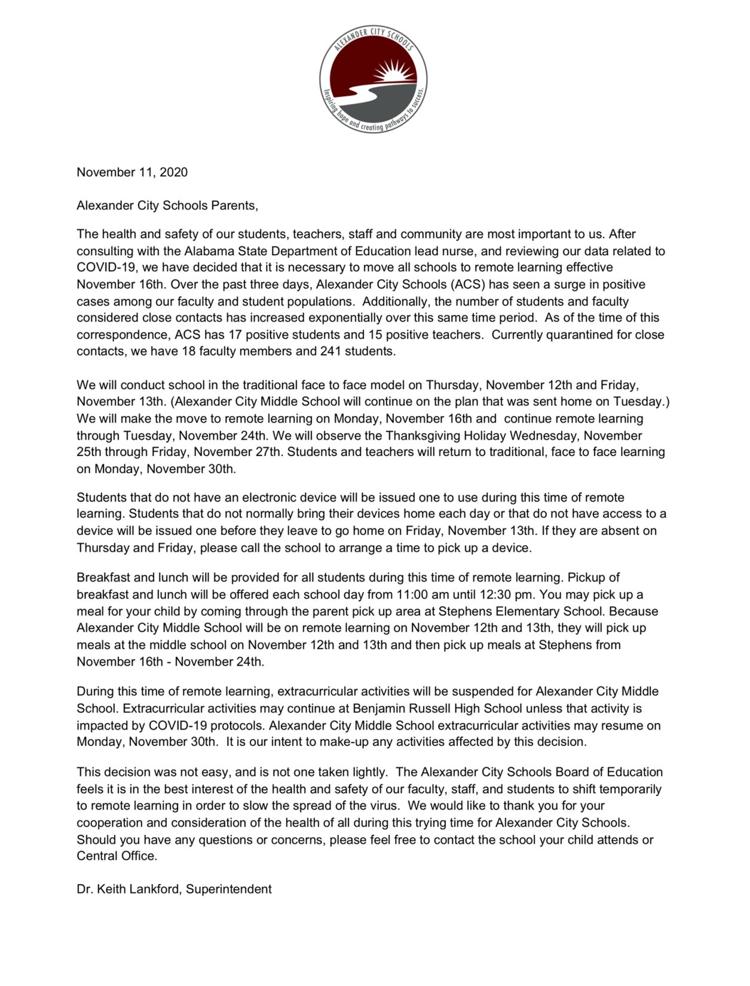 Tallapoosa County Schools has not announced anything similar at this time. View all Tallapoosa County Schools COVID-19 data here.