Their smiles may have been hidden underneath their masks, but it was evident public works employees were ecstatic this morning.
The Alabama Department of Environmental Management was at the Alexander City Recycling Facility on Thursday to present the city $20,334 in grant monies as reimbursement for a new baler at the facility.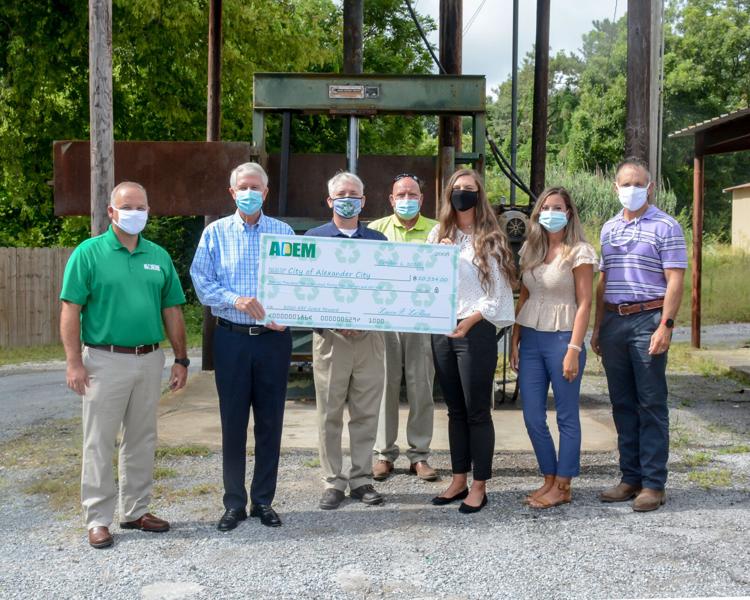 This is part of the 2020 Alabama Recycling Fund Grant Reward. Fifteen other government agencies are being awarded monies through this program, totaling $1.4 million from ADEM across all 16 agencies. The money is being used to purchase equipment such as balers, compactors and collection vehicles to help promote recycling in each area.
At its most recent meeting July 20, the Alexander City City Council authorized the mayor to execute this grant with ADEM to purchase a vertical baler. The agreement allows for the fully reimbursable purchase of a new plastics baler for the recycling facility.
Vertical balers use a single ram to compress material from top to bottom. Vertical balers can be very useful at small recycling operations like the one in Alexander City, so this money will go a long way to benefit the recycling center and city as a whole.
The 16 recipients of the 2020 grants and their amounts are:
City of Huntsville - $200,000
Madison County Commission - $200,000
City of Madison - $100,000
City of Montevallo - $38,313
Scottsboro Solid Waste Department - $146,535
City of Florence - $113,208
West Alabama Recycling Partnership - $207,898
Athens-Limestone Recycling - $116,014
Clay County Commission - $25,302
Lawrence County Commission - $48,926
City of Northport - $151,474
City of Montgomery Clean City Commission - $7,500
East Alabama Recycling Partnership - $40,377
City of Alexander City - $20,334
City of Millbrook - $20,587
City of Eufaula - $30,907
The recycling facility accepts plastics, cardboard, aluminum cans and tin cans. The sewer department also takes grease. It's all free and available 24/7. The center does not accept paper products but does take Nos. 1 and 2 plastics.
"Drink bottles, soda bottles and water bottles are No. 1 plastics," public works' Kristin Joiner said in a previous interview with The Outlook. "Heavier jugs like milk bottles, laundry detergent bottles and coffee containers are No. 2 plastics."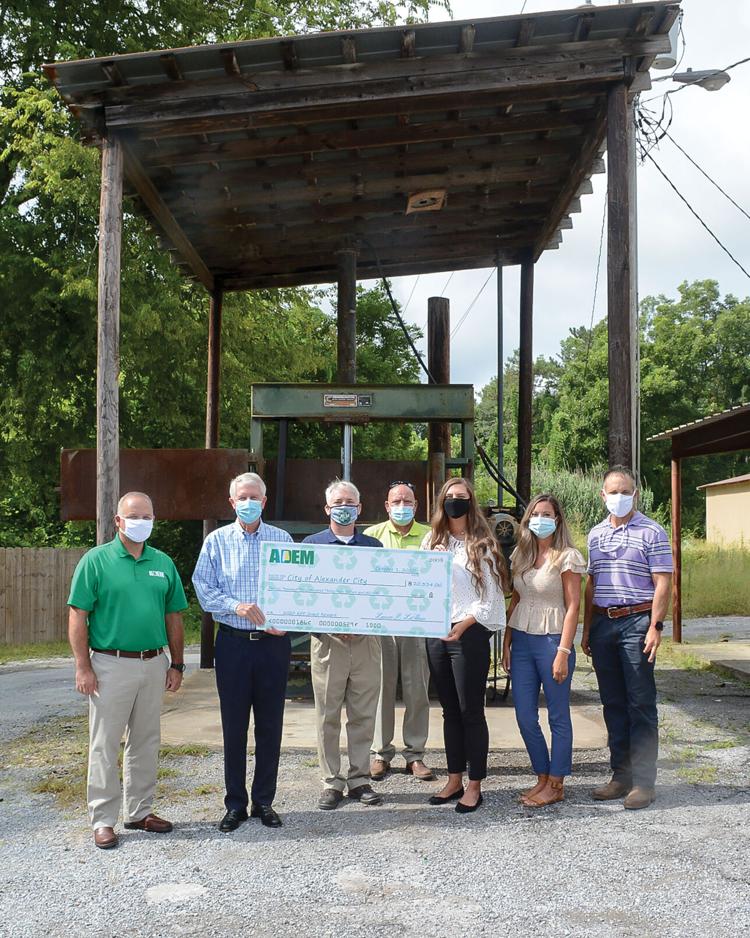 The center doesn't take items like televisions and other electronics or tires, appliances or items with coolants like air conditioners or refrigerators. Furniture or mattresses can be picked up curbside for residents in city limits. The brush truck runs a route and passes by homes every two weeks. For more information, search "brush truck" under the public works section of the city's website at www.alexandercityal.gov.
The facility is located at 824 Railey Rd. and open 24/7 for drop off. It is staffed from 7 a.m. to 3:30 p.m. Monday through Friday.
Public works employees, Mayor Tommy Spraggins and councilmember Bobby Tapley were present at Thursday's check presentation along with ADEM representatives.