Tallapoosa EMA director Jason Moran has worked hard to spread the word about emergency alert system Tallapoosa Alert since announcing it in early 2017. And it looks like his hard work has paid off.
Tallapoosa Alert typically sees about 10 people sign up as severe weather approaches. But Moran said that number escalated as 200 people signed up prior to Saturday's severe weather. 
"That's really good that citizens are being proactive in that respect," Moran said. "I think the severity and the notification everyone was given prior to the event five or six days out (caused the sign-ups)."
Tallapoosa ALERT emails, calls and texts people when there is severe weather. 
Because there were so many people calling the EMA's office to sign up, Moran advises those who do sign up via phone to call 256-825-1078 instead. 
According to a National Weather Service Birmingham report, 40 to 50 mph wind gusts were observed and some gusts were over 58 mph. There were three fatalities and seven injuries in Pickens County. 
"Most likely, several locations received straight-line wind gusts of 75 to 80 mph," the report stated.
No injuries were reported but some trees and power lines fell due to wind damage Saturday.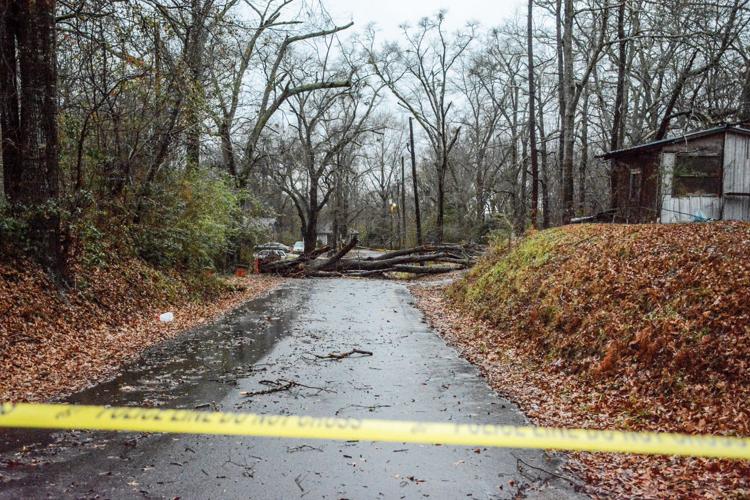 The NWS Birmingham issued a severe thunderstorm warning for Tallapoosa County around 2:30 p.m. Saturday and a tornado watch was issued before 1 p.m. 
Moran said a tornado warning was issued near the east central part of the county a radar indication instead of a physically-spotted tornado.
Moran said the department received reports of trees falling on top of houses near Trussell Road. Some other areas where trees were reported down include Lake Circle, Mayfair Lane, Whitetail Trail and Parrish Hills, according to comments on The Outlook's Facebook page.
Alexander City resident Kelli Blank's car's windshield shattered from a fallen tree branch during the storm, causing about $200 to $300 worth of damage. Glass was found in the car's passenger seat at Blank's Lakeland Avenue address. 
"My windshield is destroyed," Blanks said. "The inside looks worse than the outside. I've never seen anything like it before. It was crazy."
In downtown, Lake Martin Area United Way's awning blew down on Main Street and some tables were knocked over on Broad Street, according to Main Street Alexander City director Stacey Jeffcoat. The power was on when Jeffcoat checked Main Street's office after the storm passed Saturday afternoon.
"We were very lucky that we didn't have any more damage than we did have," Jeffcoat said.
Moran said there was minor flash flooding in the county but it quickly subsided. 
Many were without power but it was restored for most residents throughout the county by Saturday night. 
Tallapoosa County resident Heather Forbus said straight-line winds knocked over a cedar tree, which hit her family's power line. Forbus also witnessed a second power line get hit by a pine tree and catch on fire across her street.
Forbus was without power from 2:45 p.m. Saturday to 11:15 a.m. Sunday. Her family decided to stay at their lake house in Dadeville.
"We've had a couple outages but it's been a long time since we've been without power overnight," Forbus said. 
Moran is appreciative of first responders who cut down the trees that were in roadways during the storm.
"I would like to thank everyone for their preparedness," Moran said.