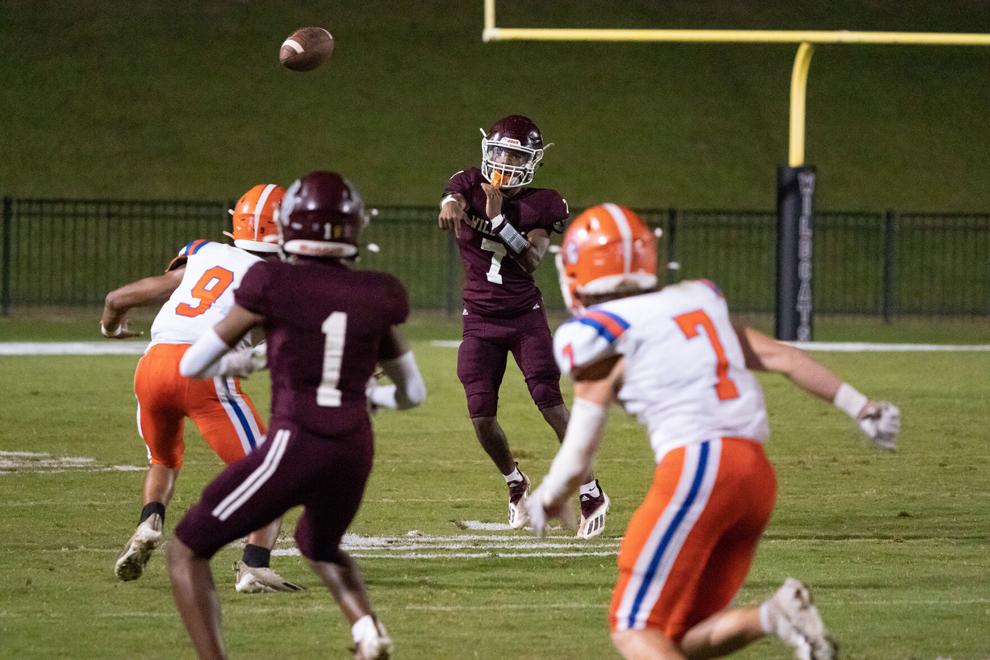 When Benjamin Russell's offense has looked like a masterpiece this season it's usually with broad strokes. Sophomore quarterback Gabe Benton hurling bombs downfield, wide receivers Corri Milliner, La'Bronski McKinney and Chris Foster making plays.
The Wildcats' offense proved a winning art form Friday, but this painting was far more abstract. 
As much is defined by their eventual game-winning play, which featured third-string quarterback Ty Williams, who is typically a defensive back, rolling out and flipping the ball for a 10-yard score to wingback DeMarcus McNeal, who is typically a pure running back.
Benjamin Russell led 21-14 after a two-point conversion in the fourth quarter following that play and used an incredible effort from its defense alongside its offensive creativity to notch a 28-14 victory at homecoming against Chilton County Friday. All that in the absence of star quarterback Gabe Benton.
"They're just tough," Benjamin Russell coach Aubrey Blackwell said. "We've built a great base. Our offensive staff, coach Atkins has done a great job preparing for the worst. Those kids have worked their tails off for this."
PHOTOS: Benjamin Russell Wins Homecoming Football Game
Williams finished with 118 rushing yards and three total touchdowns as the Wildcats defense forced three turnovers and four three-and-outs.
When one is forced to play the backup's backup at football's most important position, it's a good time to get experimental on offense.
The Wildcats did exactly that Friday, rolling out a selection of creative formations and play designs with varying degrees of success.
Perhaps the most genius and effective play call came from a lineup Benjamin Russell unveiled in the second quarter, one it had employed for a time when Benton was out against Wetumpka. 
The alignment was a heavy shotgun formation with no wide receivers. Linebacker Jy Hicks stood next to Williams at running back. Defensive tackle Gavyn Vickers entered as a wingback, in a two-point stance behind the offensive tackle, and occupied the right side next to regular running back DeMarcus McNeal, also at wingback. The offensive line was unbalanced to the right side.
"It felt comfortable, running the offense," Williams said. "Coach Atkins, he's a great coach, he helped keep me motivated. And the offensive line blocked like they've never blocked before. I just love them to death, our offensive line. Our offensive line, man."
Benjamin Russell scored a game-tying touchdown the second play it ran from this set. Its name is simply "wing."
Hicks kicked out an edge defender on the left side, Vickers pulled and led through the hole Hicks created while McNeal took the ball on a counter in a gorgeous bit of misdirection. He sprinted untouched 24 yards to the endzone to make it a 7-7 ballgame with 4:46 to play until halftime.
"It's just something that we've been studying and looking into, Fyffe ran it against us (at Montgomery Catholic) in the state championship game last year," Blackwell said. "Coach Atkins did a great job studying Fyffe, what they do offensively. We added an additional something to it.
"We knew we were gonna be better at it (than against Wetumpka), because every single day we've worked it, knowing it was gonna be our backup plan if something happened to Gabe."
Hicks took direct snaps from the same look as an extra changeup; one such play picked up 46 yards in the fourth quarter.
The Wildcats opened the game with a wide variety of triple option looks from shotgun, often using Foster as a third choice to run the ball. Foster opened the game in a two-back shotgun set with McNeal, another wrinkle added by Benjamin Russell's coaching staff.
Chilton County took its initial lead on its first drive following a failed fourth-down try from the Wildcats.
Running back Rashard Childers opened by carrying the ball four times for 49 yards before quarterback Cannon Miller found a wide open Carter Emmerich over the middle for a 17-yard score.
That first drive turned out to be no indication how the game played out defensively for Benjamin Russell. The Tigers wouldn't score again until less than five minutes remained in the third quarter, with the Wildcats forcing three three-and-outs, recovering a fumble and intercepting a pass in the meantime.
Cornerback Dontarious Thomas came away with the pick. He was outdone by linebacker SaVon Spradley, who recovered a bad snap and ran it 20 yards to set up the offense's second touchdown, a 14-yard quarterback keeper by Williams the next play. The Wildcats led 13-7 with 6:09 remaining in the third quarter.
"It took the first quarter for us to figure out what they were trying to do to us, make some adjustments, and they did," Blackwell said. "These kids just play for a lot of grit. For the first time tonight though, I want to say that was the first time we had more than six negative plays, and we had all those turnovers."
Miller found wide receiver Jakeveon Bolding for a 35-yard touchdown on a curl route after the junior slipped a Benjamin Russell defensive back after the catch to give Chilton County a 14-13 edge. Safety Ensley Goggins, who already had a sack on the contest, responded with an interception the next drive to set up McNeal's go-ahead score.
From there it was a smackdown. Spradley and Williams both laid big hits on the Tigers' next two drives, both of which went three-and-out.
"(Defensive coordinator Kendall) Lacey brings it every day. He just tells us, 'You've gotta put money in the bank during the week so you can take it out on Fridays,'" Williams said. "He brings all that energy man." 
Vickers also proved his usual backfield-wrecking self on the interior defensive line, coming up with a strip sack prior to the Wildcats' first scoring drive and chasing down a few ball carriers in the open field despite his position close to the ball.
Williams picked up a seven-yard rushing score on third-and-2 to extend Benjamin Russell's lead to 28-14 and ice the game with 7:46 to play. It could have piled on with a first-and-goal at the 1-yard-line late in the fourth quarter, but chose to let time expire.
Benjamin Russell hits the road to take on Calera next week.
"Win. Win, win, win, win. That's all. That's all the focus is. Win," Williams said.