Tallassee senior wrestler Russell Phillips knew his team was going to win the AHSAA Region 2 wrestling championship before they even started their most important match on Friday night.
With Tallassee sitting in the Region 2 tournament with a 2-0 record after beating Russell County and Beauregard, the Tigers were set to face Benjamin Russell in the de-facto region championship.
As the team warmed up, Phillips turned and said "Tallassee will win the region championship. Mark my words."
Two matches later, Phillips' words came true as Tallassee clinched the Region 2 championship with an undefeated night.
The Tigers went 4-0 on the night with wins over Benjamin Russell, Beauregard, Russell County and Opelika to clinch a No. 1 seed in the playoffs next weekend. Benjamin Russell finished as the No. 2 seed.
Tallassee will face No. 2 seed Spanish Fort out of Region 1 while Benjamin Russell faces No. 1 seed Gulf Shores from Region 1.
"As a whole, from the second match on, it seemed like our kids really turned the corner and hit a different gear," Tallassee coach John Mask said. "We've had a great year. We have tremendous leadership and hard workers. Since we came back Monday, we've been really getting after it. I thought it was a great tournament and the kids exceeded any expectations that we had."
Phillips' statement could have seemed cocky or overconfident, but he backed them up with one of the best performances of the night. The senior won all four of his matches, and was one of six Tallassee seniors who went undefeated on the night.
He was named All-Region in the 138 pound weight class for not losing. And while he beat his opponent from each team, his most important win came against Benjamin Russell, shortly after making his championship statement.
Russell was the third wrestler to face Benjamin Russell, and he began his match with Tallassee trailing 6-3 in the team score.
He quickly gave his team their first lead of the match, 9-6, after a dominant pin in the second round, and Tallassee never looked back after that.
The Tigers pushed their lead out to 19-9 after three more wrestlers, then cruised to the 52-18 victory over the No. 2 seed.
"Russell is a senior and has been wrestling for a while," Mask said. "It's great to see those guys who have been with you for a while have success. A lot of them fought through for a spot in the lineup, and now it's really clicking for those guys. It's great to see them have success."
Tallassee was pretty dominant both in individual and the team scores all night long. The Tigers beat Russell County in the opening round, 51-30. They then beat Beauregard, 72-9, and closed the night with a 69-12 win over Opelika.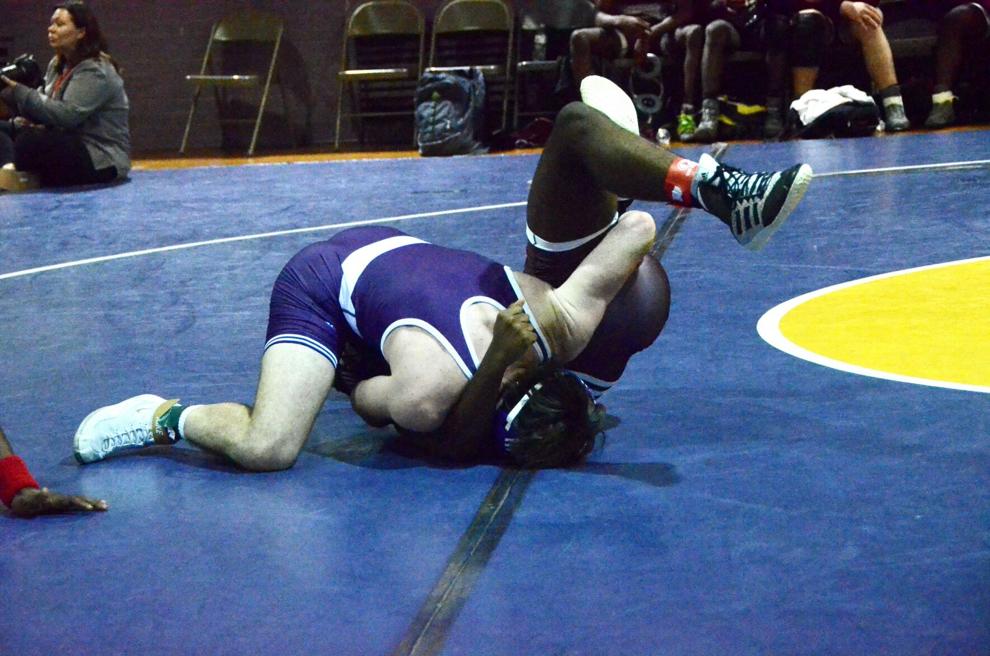 Six Tallassee wrestlers earned All-Region honors after going undefeated on the night. Those wrestlers were Rutland Phillips in the 106 weight class, Brendan Emfinger in the 120 weight class, Land Bell in the 132 weight class, Phillips in 138, Christian McCary in the 160 weight class and Caden Griffith in the 182 weight class.
Benjamin Russell also had a very successful night on the mats.
The Wildcats went 2-2 on the night, with wins against Beauregard (44-36) and Opelika (39-36) and losses to Tallassee (52-18) and an upset loss to Russell County (39-31).
Their most important match of the night and the one that sent them to the playoffs was their opening match against Opelika. The match was back and forth, but Opelika took a lead after winning four consecutive weight classes.
That didn't matter, however, as Benjamin Russell stormed back to take the last weight class of the match and took a slim 39-36 victory to the playoffs.
"We had a big, emotional win over Opelika," Benjamin Russell coach Michael Ransaw said. "We had given up four weight classes, and it's hard to make up those points after giving up that many weight classes. I told the guys they did a great job and did what they were supposed to do. I had some seniors and juniors that knew exactly what they had to do and they did it."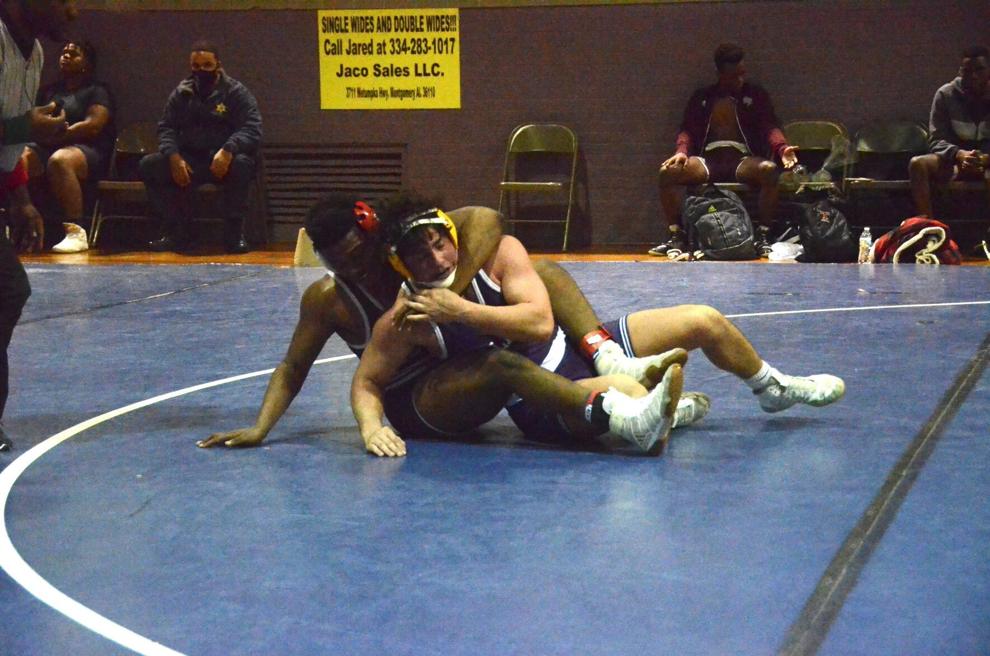 Following the big win over Opelika, Ransaw said his team let a match against Russell County, that they should've won, slip out from under them. Russell County won the match, 39-31, after a pin and a forfeit gave them 12 points in the last two weight classes.
After losing to Tallassee in the their third match, the Wildcats had to cap off the night with a win over Beauregard to punch their ticket.
They did just that, winning 44-36, after holding on for the win. The Wildcats led, 38-30, going into the final two weight classes. A Beauregard wrestler pinned a Benjamin Russell wrestler to cut the lead to 38-36, but a late forfeit in the final weight class gave the Wildcats a comfortable win.
Four Benjamin Russell wrestlers were named to the All-Region team with their undefeated performances. Those wrestlers were Sandlin Pike in the 126 weight class, Jamarion Whetstone in the 152 weight class, SaVon Spradley in the 170 weight class, and Trace McCaleb in the 220 weight class.