Through two tournaments this fall fishing season, Benjamin Russell's top duo of Stihl Smith and Slade Davis lived up to their billing. 
At both the Lake Martin and Logan Martin tournaments the anglers returned the best individual result as part of two first-place team finishes for the Wildcats.
While the partnership landed high atop another tournament leaderboard, placing fifth out of 86 boats Saturday on Lake Eufaula, it was a first-year Benjamin Russell boat manned by two sixth graders that produced the team's top individual finish.
Grant Sheffield and Carson Pearce hauled in 7.31 pounds worth of bass to come in fourth place as Benjamin Russell landed in third as a team Saturday.
"We were hopeful that that was going to happen for them soon," Benjamin Russell fishing coach Josh Williams said. "They've done really well this year. They finished in the top 20 for Lake Martin, our first tournament, they finished 15th on Logan Martin for our second one. So they were always around that top area, kept advancing, kept getting closer and closer."
Jackson Kelly, half of a duo that went to nationals last year for Benjamin Russell, captained the boat Sheffield and Pearce fished from.
"He's been working with the guys, taking them out on weekends that we don't have tournaments, letting them practice," Williams said. "They've been pre-fishing. So they've been putting in a lot of work."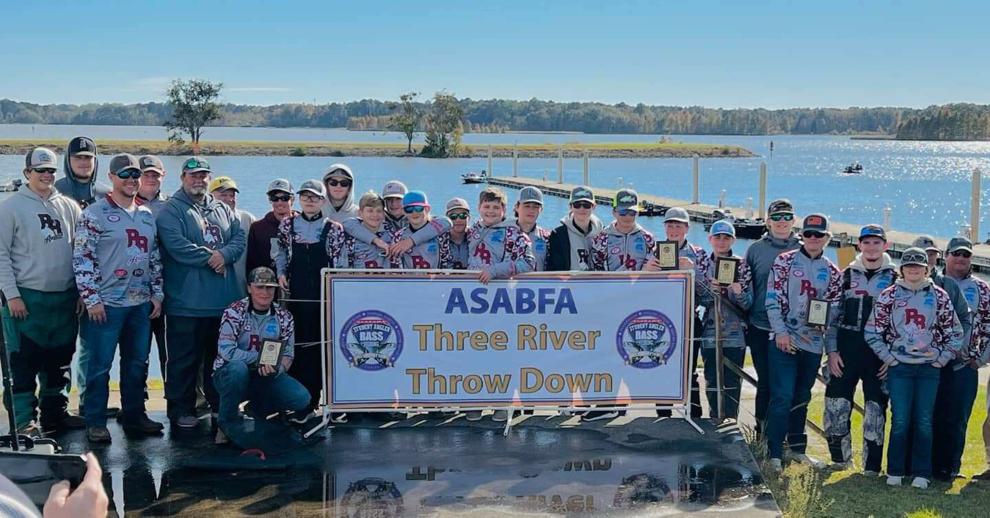 Dadeville and Reeltown both had one boat in the tournament as well, although neither caught any fish.
Only three boats in the competition caught enough bass to meet the six-fish limit. Temperatures hovered around the 40s with winds gusting in at 10 to 20 miles per hour throughout the day, conditions not conducive to a lot of good bites.
Less than half the boats brought in any fish at all.
"It was one of the hardest fishing days that we've had in years, probably," Williams said. "There's always some tournaments like that throughout the year where conditions are not ideal."
While two top-five finishes placed the Wildcats in a good position to capture a third-consecutive tournament win to open the Three Rivers Throwdown fall trail, Eufaula proved too much to handle on its home waters. Its three scoring boats placed third, sixth and seventh.
Smiths Station edged out Benjamin Russell for second place by a single point after a 17th-place offering from Jody Lumpkin and Ricky Patterson rounded out the Wildcats' scoring. Lumpkin and Patterson reeled in two fish weighing a total of 3.73 pounds.
A multitude of more boats competed for the Wildcats in the tournament, with three others reeling in at least one fish. Davis Barnett and Jackson Fuller came in 21st with a weight of 2.97 pounds, Dawson Barnett and Jackson Padgett followed close behind in 23rd and the pair of Cooper Spears and Harleigh Tidwell added a 27th-place result.
Benjamin Russell currently leads the Three Rivers Throwdown standings by 43 points, beating out Smiths Station's second-place total of 2,602 with two tournaments to play. The lowest tournament score is dropped from a team's results when the final standings are decided.
The next tournament will occur on Lake Jordan Nov. 19 and 20.