It was Homecoming night from Nix-Webster-O'Neal Stadium in Reeltown on Friday. The Rebels played host to regional foe Beulah, with Reeltown celebrating its homecoming with a dominating 48-7 win over the Bobcats.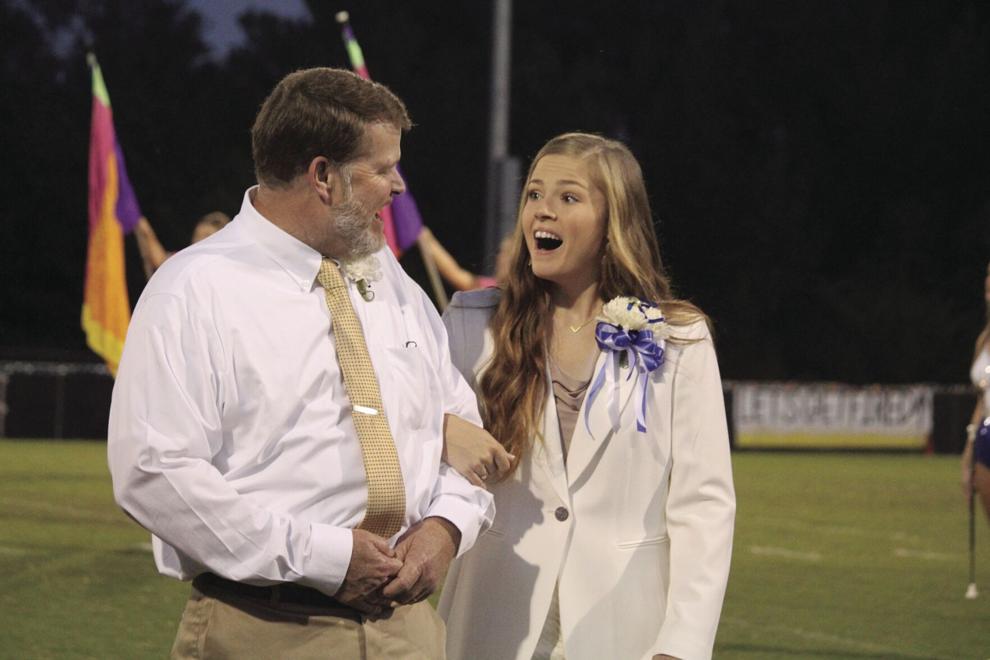 The victory marked the 22nd win over Beulah in 23 games between the two schools. It was a bounce-back victory after an "emotional" loss against Trinity Presbyterian last week.
"What I'm most impressed with is the emotional game that we played last week and how we played that. We came up a little bit short after we felt like we laid it all on the line," Reeltown coach Matt Johnson said. "Then to come back this week and be able to start like we did, that's what's impressive to me about this group."
Reeltown's Dakaraian "Juicy" Hughley had a house call on the opening kickoff, returning it about 90 yards for the Rebel touchdown. It set the tone early for the Rebels and foreshadowed a long night for the Bobcats.
"Anytime you can return the opening kickoff for a touchdown to immediately get the momentum — it's a game of momentum, so when you start off having the momentum on a non-offensive touchdown, that's huge," Johnson said.
All drives were relatively short-lived in the first half for both teams but were polar opposite in results. Beulah picked up just one first down in the first half on five possessions, as Reeltown's defense swarmed the ball with multiple tackles for loss.
Any attempt by Beulah to run the ball was stuffed almost immediately by the Rebels. Beulah running backs Jacori Tarver and T.J. Washington received praise from Johnson, who called them "really good running backs."
But when his defense took the field, Johnson's game plan to stop the duo was put into action.
"That was our key, this week we really preached on how physical [Tarver] is, he's a big back," Johnson said. "And [Washington] is the same. And then you've got [Noah Higdon] back there at quarterback, who can also run the ball. Really you've got three running backs back there that can run. I'm very impressed with our box play. Our defensive line is starting to gel, starting to play really well."
 Meanwhile, the Bobcats' passing attack, while successful at times, was consistently interrupted in the backfield.
Reeltown, on the other hand, had no problem reaching the end zone on its offensive possessions. The Rebels reached the end zone on every offensive possession they had in the game.
"Majority of that starts upfront," Johnson said. "We've got a core group of offensive linemen that are finally jelling. They're playing very physically up front, they're communicating and that's what we got to carry into next week."
Hughley added his second score of the night on a 5-yard rush nearly five minutes into the game. Senior Sedarico Brooks got in on the action near the end of the first quarter with his 5-yard touchdown run, pushing the score to 20-0 at the end of one.
On the third play of the second quarter, the Rebels added another special teams touchdown when Marcus Haynes fielded a punt at the Beulah 45-yard line. He maneuvered the field, dodging defenders before accelerating into the end zone for a score.
"The punt return for a touchdown, what's great is you have two dynamic players back there," Johnson said. "Marcus fields the punt and the block that sprung it was Arthur Woods, so that shows the selflessness on his part and a team attitude. As a head coach, that's what you love to see."
It pushed the score to 28-0.
Beulah showed a little life on its ensuing possession, with its biggest play of the game on a second-and-14. Quarterback Noah Higdon connected with his receiver T.J. Washington for a 46-yard gain, putting the ball at the Reeltown 27-yard line.
The Bobcats' drive stalled with a chop block penalty, and four plays later, Reeltown took over on downs.
It wasn't long before Reeltown found the end zone again on a five-play, 63-yard drive. The drive was capped off by Hughley, who broke free and found green grass for a 34-yard rushing touchdown.
"[Hughley]'s just an all-around great player," Johnson said. "He's explosive. He looks good."
The game was all Reeltown by halftime, with the home team leading 34-0.
It didn't change much in a shortened second half, with Reeltown adding two more scores and Beulah finally reaching the end zone.
Most of Beulah's yards came in the second half, tallying 185 total yards on the evening. Reeltown finished with 298 total yards and seven touchdowns.
Reeltown (3-4) will travel to Dadeville (5-2) next week in another regional game.
"The team we're playing next week is a very physical bunch," Johnson said. "And we've got to match their physicality upfront. Next week's game is gonna be played in the trenches."