Fall fishing season is underway in the state of Alabama.
Lake Martin played host to 14 regional high and middle school fishing teams this past weekend, the first tournament of the fall for each squad. The lake will also host the final tournament of the fall season.
Benjamin Russell took home first place to open its campaign with a three-boat total of 879 points, while Reeltown and Dadeville finished 10th and 12th, respectively.
"It's pretty nice to be able to start and finish up on what we consider home waters for us," Benjamin Russell fishing coach Josh Williams said. "But with saying that, there's a lot of other schools that consider Lake Martin their home lake. Dadeville considers Lake Martin their home lake. Reeltown considers Lake Martin their home lake. Same for Tallassee."
It came as no surprise which boat performed best for Benjamin Russell in the event.
Junior Stihl Smith made up half of a boat that made it to nationals in 2020-21, the first boat ever to make it beyond the state level for the Wildcats' fishing program. His partner Jackson Kelly graduated in May from Benjamin Russell and now fishes for Central Alabama Community College, but Smith picked up a new partner in fellow junior Slade Davis for 2021-22.
The duo reeled in a total weight of 9.92 pounds across six bass, giving them a fourth-place finish for the 110-boat tournament.
"Slade Davis, he's been on the fishing team since he was in eighth grade," Williams said. "He's one of my most experienced anglers. They're both just juniors, so they'll actually have two years together. They did great, finished fourth out of 110 this weekend. They're good buddies, fish a lot together, spend a lot of time on the water together."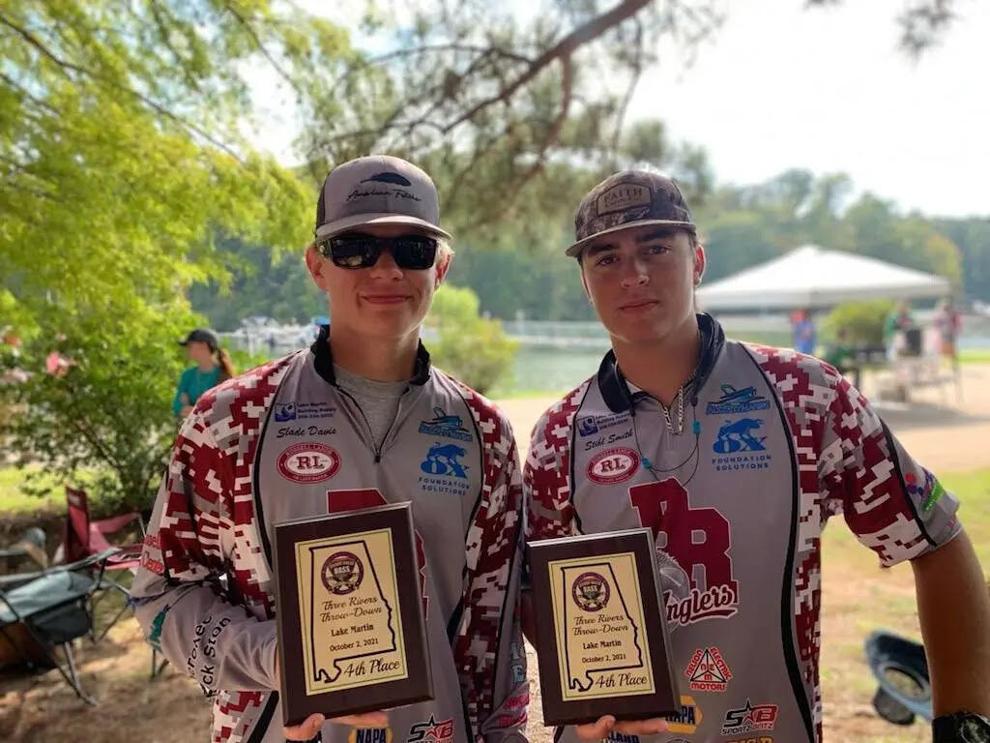 Kelly is still involved with the team, however, serving as boat captain for one of the Wildcats' middle school pairings.
"He's helping out, passing along the information that he's learned over the years and trying to help train some of our middle schoolers," Williams said.
Cooper Spears and Harleigh Tidwell gave Benjamin Russell another top 10 finish, coming in ninth with a weight of 8.9 pounds. Jackson Hutto and Davis Barnett followed close behind in 11th with a weight of 8.71 pounds.
Two Dadeville pairings recorded the lone other top 10 individual results for teams covered by The Outlook, with Ruskin Gold and Buster Coker taking seventh at 9.06 pounds and Hunter Ward and Austin Barry reeling in 8.9 pounds of fish to come in 10th, losing the big fish tiebreaker to Spears and Tidwell.
Reeltown's top boat was occupied by Brody Ledbetter and Jacob Glass, placing 19th with a weight of 6.91 pounds.
All 14 teams who competed this weekend will have their scores counted toward the standings for the Three River ThrowDown, a championship of local teams that serves as a training ground for state championship competition, which starts in 2022.
"Our fall season is more of a localized tournament trail," Williams said. "In our ASABFA platform, we actually have four or five different tournament trails in the fall that are all localized. We've got a lot of schools in this area, and then we pick up some schools to the south, from us down we all compete against each other in the fall." 
The ThrowDown continues at Logan Martin Lake Oct. 16.