Pam Robinson powered her car down a desolate road, thinking back on her latest frustrations trying to grow Benjamin Russell's softball and volleyball programs.
It was 1995. The WNBA wouldn't be founded for another year. Local softball teams still played slow pitch. Women's athletics sat on the backburner in the eyes of the public, and as such, raising even the most basic of funds for her teams presented an infuriating challenge for Robinson.
"When you're trying to raise funds for volleyball, it's football season," Robinson said. "I used to say that people will throw money at football and then go, 'What? You need 25 dollars?' Then in softball you're trying to raise money and people would say, 'We already gave money to baseball, isn't that the same thing?'"
On that road, for some reason, on this day, after coaching women's sports for almost a decade, she reached a boiling point.
She contemplated her career choice aloud, shouting a question she thought was rhetorical. The quandary rang out, "Why do I do this? It's like taking your head and beating it against a brick wall. Nothing ever happens except you get bloodied up."
A tiny arm rose through the pane of her rear-view mirror, that of her then 5-year-old daughter Paige. "What," Robinson inquired.
"For me. And for people like me," Paige replied. Robinson then told herself to quit ranting because she knew the kindergartener was right.
There are few people in Tallapoosa County, and perhaps Alabama in general, who have done more to pull women's high school sports from a practically non-existent entity to the organized, competitive environment it enjoys today. 
Robinson's immensely successful career as a coach and administrator spans more than three decades, and in the words of colleague and Benjamin Russell baseball coach Richy Brooks, the honor she received at the Wildcats' football game against Pelham Thursday doesn't do nearly enough to capture what she's done for local girls sports programs.
In his mind and that of many others, she deserves a spot in the AHSAA Hall of Fame.
"I don't want to make it sound like she only cared about women's sports, she certainly didn't. She was a supporter of all of them," Brooks said. "But she was the leader as far as making sure that women's sports had a voice."
A graduate of Reeltown, when Robinson took up softball as a teenager, she didn't even have the option to do it for her high school.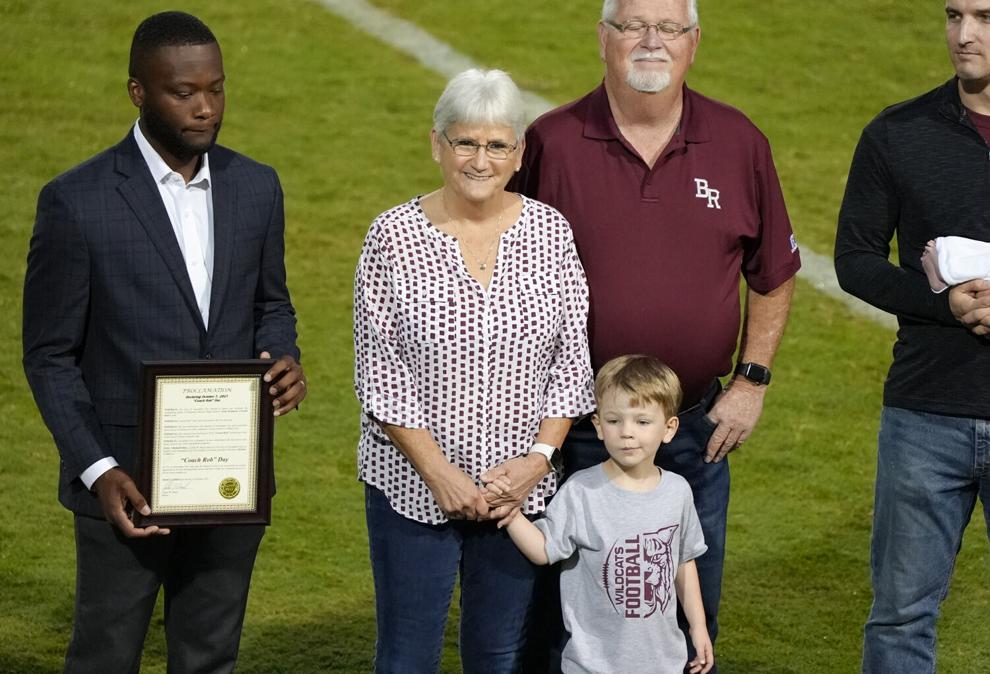 That was in the 1970s. The only high school sport-related activities offered to her at that time were cheerleading and marching band, Robinson said.
"I actually started playing softball with a women's travel team right out of high school," Robinson said. "I wanted to play stuff. I used to shoot basketball in the yard, but there just weren't many opportunities for girls at the time I came through."
As her playing career concluded, she completed her degree at Auburn University-Montgomery. She married and moved back to Alexander City to start teaching at Goodwater High School. She didn't originally plan on coaching but the administration said they were looking for a girls basketball coach, so she took the opportunity and her coaching career began in 1987.
That spring, high schoolers began calling for a softball team.
The school said it would be possible but that it didn't have any money to spare for the team. Robinson volunteered to coach for free to make it happen.
Goodwater would consolidate with Central Coosa the following year, but its only ever softball team posted a winning record under Robinson at 7-6, one of the few records she remembers from her time as a coach.
"Probably one of the most fun years I've ever had coaching," Robinson said. "Once I started coaching, it was just — you know when you start doing something and you just know, 'This is what I want to do?' The first time I stepped on a field or court coaching, I was like, 'Yes, this is what I want to do. This is what God meant for me to do.'"
After consolidation Central Coosa was a Class 5A school, three divisions above its current Class 2A placement. Robinson's second softball team for the Cougars featured a hodge-podge of girls from three combined high schools, some of which hadn't even picked up a glove before.
They made it all the way to the state championship game before losing in the finals.
Kim Moncrief, now the head volleyball coach at Elmore County High School, played third base on that Coosa team. She still vividly remembers the miraculous nature of that season.
"We just came together even though we were from different schools," Moncrief said. "I was from Rockford, then coach Rob came from Goodwater, then we had some girls from Weogufka. The three communities were able to come together our senior year, this team."
Robinson led Coosa to two more state elite eights before departing for Benjamin Russell in 1992. She coached year round at that time, overseeing the Cougars' softball, volleyball and girls basketball programs.
"She just had an influence on my life in that I knew she enjoyed what she did, she always looked like she was having a good time, and I knew that's what I wanted to do one day too," Moncrief said. "I have a lot of very fond memories and I respect coach Rob in every aspect."
Hired in 1992 to coach softball for Benjamin Russell, Robinson picked volleyball up again in 1993 and began expanding the school's programs from there. Softball wouldn't move to fast pitch for another couple years.
Brooks entered around the same time. Her immediate impact reverberated around the Wildcats' athletic circles.
"She took a really strong role in women's athletics and the promotion of women's athletics," Brooks said. "I think at the time Benjamin Russell didn't do as good a job having things equal for women's athletics and someone promoting women's athletics, and it was very needed that you had someone like her. She really stood up a lot for our girls' sports around here."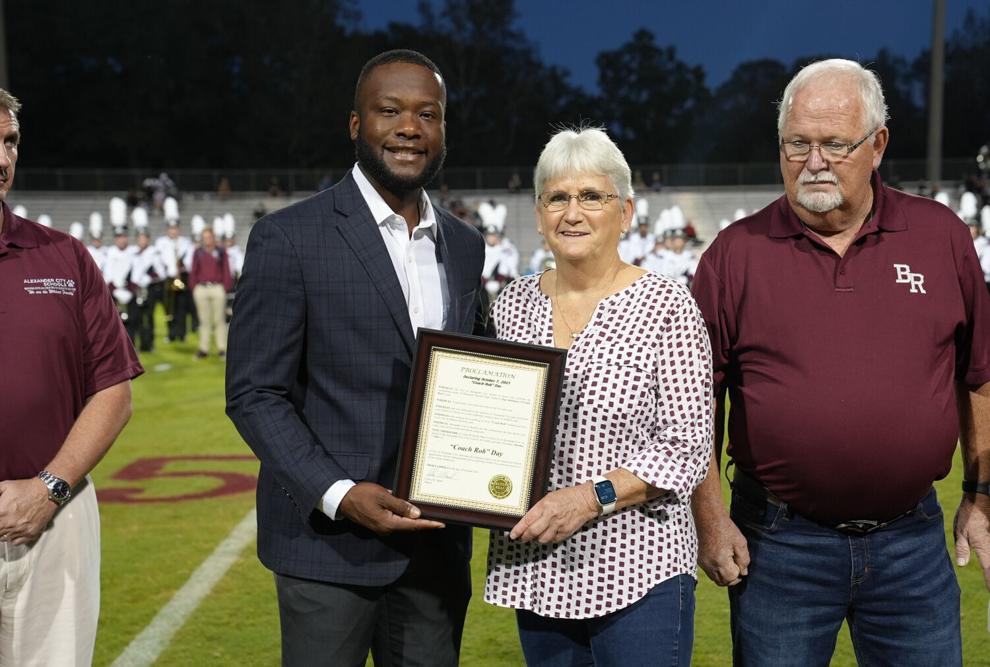 Robinson coached softball for the Wildcats for 19 seasons, retiring in 2011, and volleyball for 25, retiring from that sport in 2017. She's recently been coaxed back into becoming Benjamin Russell's bowling coach this season. 
She accumulated more than 600 wins in her days as a coach.
Benjamin Russell made the state elite eight for softball every single season from 2000 through 2006 under Robinson's stewardship, grabbing a couple runner-up finishes in the process. 
Paige, who has since married and is now Paige Bierman, got the opportunity to play for her mom on a couple of those teams.
"Definitely as a freshman, I just wanted to blend in with everyone else," Bierman said. "I didn't want to be known as the coach's daughter or anything like that. I remember for a couple volleyball practices actually calling her coach Rob, I'd be like 'Coach Rob, coach Rob,' to get her attention. Then one time not getting her attention, I was like 'Mom!'"
Bierman said being Robinson's daughter won her no special treatment. She'd get the same criticism or praise other players got.
The mother and daughter used to watch the state volleyball tournament after Benjamin Russell's team had been eliminated. One time, Robinson pointed out a mother coaching her daughter at the championship event.
Several years later, Robinson coached her own daughter's team to the state tournament.
"It was just really cool when, my freshman and sophomore year, we made it to the state tournament in volleyball and softball," Bierman said. "I remember being like, 'We get to do this. You're gonna coach me at state. That's what we always dreamed of.'"
Robinson was named Benjamin Russell's athletic director the summer after she stepped down as softball coach. She only retired from that role this past spring.
"I see the role of athletic director as, 'I'm gonna do what I can to help the coaches in their job, to be able to do their job better,'" Robinson said. "To clear paths for them. To help them secure things they need to be successful."
Getting equal treatment for her athletes was of paramount importance for Robinson. She cited how involvement in athletics has been shown to benefit high schoolers in many areas of life, athletes tend to see their grades improve, have lower rates of drug use and lower rates of teen pregnancy.
It started within her own locker room.
Robinson's players were never coddled, even in the earliest pioneering days at Central Coosa. She held them to a high standard of excellence, demanding the same commitment an elite coach of any sport would.
"She always made us feel, as it should be, that we were just as important as the guys' sports were," Moncrief said. "We felt, and she made it clear that we should get the same treatment. We needed to compete. We needed to put forth the effort. But she proved that we were athletes too."
That's not to say she wasn't caring.
Every former player The Outlook spoke to echoed the same sentiment about what made Robinson such a great coach. While she was a phenomenal competitor with a desire to win, she also stood by her players and was there for them when needed.
One great example of that is Amanda Bryant, still saved in Robinson's phone under her maiden name, Amanda Reed.
The two have remained inseparable even after Bryant's playing days were over, her kids even call Robinson "Granny" and their families often go on vacation together.
"She took me under her wing, and she just kind of became family to us," Bryant said. "She's been a great friend for my mom, she's been a mentor for me. Sometimes things happen in high school and you might steer off that path a little bit, she was there for me to help keep me focused."
Bryant added that playing for Robinson taught her a great deal about discipline and to always represent the team you play for, whether it's in athletics or in your future career.
"Those are the main things that I can think of, being close to her, playing under her, knowing her for so many years, that I wake up every day and am able to apply those things," Bryant said.
Robinson's coaching tree has sprouted more branches than a giant sequoia.
Scattered among her former players are a litany of current area high school coaches, including head volleyball coaches such as Moncrief, Benjamin Russell's Magan Ford, Reeltown's Kelli Hilyer, Holtville's Alison Franklin and Alex City Middle School's Deshunda Whetstone.
Benjamin Russell softball coach Jessica Johnson, Ford's sister, is another former player of Robinson's. Both played on multiple state tournament teams for softball in the early 2000s.
"The amount of women who have come back to give back in the way that coach Rob did, that just shows the impact coach Rob had," Ford said. "She was so important in our lives, and we have made the commitment to try to do the same thing that she has done."
Ford and Moncrief both stated Robinson had an immeasurable impact on their own respective coaching styles, each adopting some of her demanding yet caring style. She's also there as a mentor and they often call on her for advice.
"She showed me that every single athlete has something to give, and it's our job to find that in them, what can they give," Ford said. "It may not be the same thing. One athlete may give something on the field, the other may give something in the dugout or on the bench. So it's really about helping the athletes find their role and embrace their role. She does an amazing job of reaching her athletes and bringing the best out of them."
Oct. 7, 2021 was declared "Coach Rob" day by Alexander City. Many of those former coaches looked on as Robinson was honored at Benjamin Russell's football game against Pelham Thursday, likely planting their own trees of players who will coach one day.
"I would say I did it for the kids, but I did it for me too because it was absolutely fun," Robinson said of her career. "Especially when you look back, you forget all those times you had to count money or wait on rides or all that other stuff. But looking back it was fun. It was fun being with the kids, the kids become like your family."
It's been 26 years since that conversation Robinson had with her daughter in their family car. All the frustrations and troubles have faded from her mind.
There's little doubt she's helped clear a path for Paige and others like her.