After taking an 11-7 advantage in the third set of a best-of-three against Horseshoe Bend, Dadeville's volleyball team found itself on the backfoot in a 12-12 game.
At that crucial point, it was none other than D'Aja Caldwell who found space on the attack for the Tigers, spiking a kill into the hardwood court at Dadeville High School and giving her squad a 13-12 advantage. Two errors by the Generals sealed a 15-12 third-set win and match victory for the Tigers.
Having already beaten Reeltown to start the three-team Tallapoosa County Championship tournament, Dadeville secured a bit of hardware just two weeks into its young season at its home gym Saturday.
"I had some of the girls push forward, some push back. Communication was always key," Dadeville head coach Ashley Henderson said about the victory over Horseshoe Bend. "Serves are what really cost us, so I told them when we were breaking, 'Hey ladies, we've gotta get these serves in.'" 
"Other than that, they just pulled it together. They're really good about that. There's a lot of leaders on that team."
Caldwell was joined by middle blocker Layla Grace and all-around stud Tess McKinley as the primary drivers behind Dadeville's tournament win, with Grace and McKinley taking home first-team All-County honors for their play across both matches.
Brekia Riley and Lauren Mask took home first-team All-County honors for Reeltown, who finished 1-1 in the tournament, while Cara Johnson and Greenleigh Key grabbed the same recognition for Horseshoe Bend.
Grace stood as a thunderous powerhouse throughout the tournament for Dadeville.
She gained momentum early for the Tigers in the first set against Horseshoe Bend, collecting two kills and two aces across a span of six Dadeville points to help boost her side to an early 12-7 advantage.
After the Tigers rattled off six straight points, including three aces by Kaniyah Wilkerson, their 25-17 set win was a foregone conclusion.
Grace also made big impacts with her blocking, stuffing several shots throughout the contests.
"As long as the pass from the setter is good, she's making those attacks," Henderson said. "She's pulling her weight. We're getting those passes in, we're hustling, that makes a difference."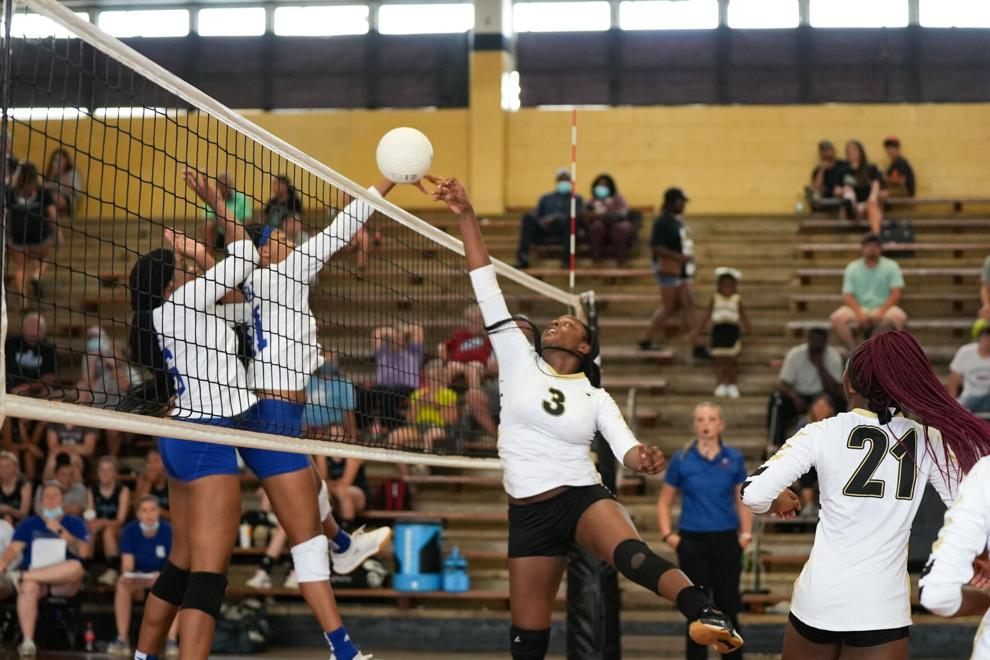 Caldwell and McKinley gave Grace plenty of support, both against Horseshoe Bend and in the team's earlier match against Reeltown.
Caldwell recorded three aces in an opening set win against the Rebels as Grace warmed up her hitting with four kills and two blocks. 
"She's just a natural-born athlete," Henderson said of Caldwell. "She's good at everything. She's one of those versatile players I can put anywhere, I can expect anything, and she's gonna get the job done."
McKinley was all over the floor for Dadeville, digging out opposing attacks, setting her teammates up on second hits, providing an effective service game and even knocking home a few kills for herself. 
"Her serves were on point, her passes were on point, she just brought the energy," Henderson said. "Really we won that first set (against Horseshoe Bend) because of her serves."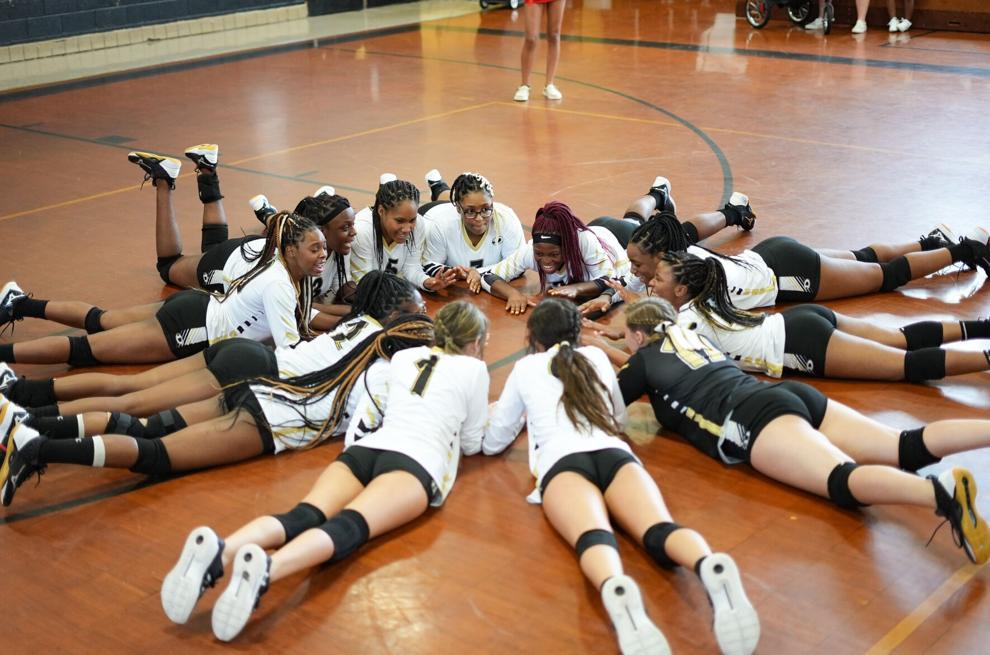 Speaking of the service game, it seemed to be one of the main factors behind Dadeville's results Saturday.
The Tigers' lone set loss came in a service-error-filled 25-21 defeat at the hands of Horseshoe Bend, while all four of their set victories seemed to feature a cavalcade of aces.
"I think the best way to keep the consistency is not to get too excited, not to get too down," Henderson said. "Maintain that moderate area of consistency. Kaniyah just came back, so she's a little nervous, but after she warmed up, she was in her groove."
Dadeville continues its season Thursday against Vincent. Reeltown plays at Coosa Tuesday, while Horseshoe Bend will return home for a matchup with Benjamin Russell.
Photos: Dadville, Reeltown and Horseshoe Bend Compete for Tallapoosa Trophy