Dadeville's football team showed up to play in back-to-back games for the first time all year as the Tigers came out hot from last week's victory, firing on all cylinders to beat Prattville Christian, 45-14, in Class 3A Region 3 action. It couldn't have been a better way for 20-year head coach Richard White to close out his career, as he officially announced his retirement Friday night.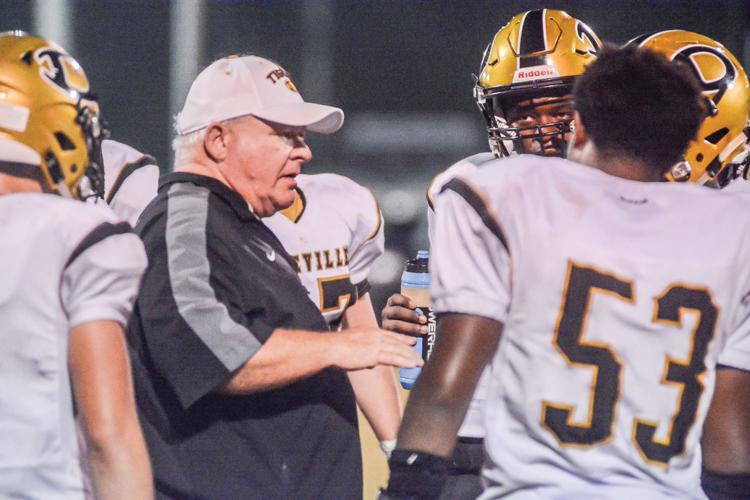 "The future of this program is going to be in someone else's hands; this is my last game," White said. "I think they're gonna be OK ... The future is there for them to build off and to be good in a couple years. Two or three years down the road they're gonna be back to winning football games and doing what they're supposed to do.
"This program is going in the right direction. Of course we wanted to win more ballgames but that's just how the ball bounces sometimes, and boy does it bounce."
The Tiger defense was suffocating the entirety of the first half, forcing punts on all but one drive while accumulating two sacks and a handful of tackles for loss, killing drives and putting the offense on short field. 
For the second straight week the Tigers (3-7, 2-5) have played a pass heavy and effective offense. Lane Smith stood in the pocket with poise and delivered a number of nice throws including a 25-yard touchdown to Alex Walker. Walker was a handful for the Panthers (0-9, 0-7) on offense and defense all night. 
It was a rough night for the winless Prattville Christian. Unable to stop the run or pass from Dadeville, the game didn't get out of hand until self-inflicted loss of yardage and a blocked punt for a safety opened the flood gates. 
"I'm proud of my seniors," White said. "They worked their tails off the last couple weeks. They bought in the last two weeks and it's a testament to them and what they can accomplish." 
Jamarion Wilkerson was special for the second straight week, catching a wide open 43-yard touchdown before catching a quick out and taking it 55 yards to the house on back-to-back drives for Dadeville, putting it up 30-7 before the half. Wilkerson finished his senior season with four touchdowns in his final two games combined.
"We didn't do anything different from all year in the passing game," White said. "We just gave (Smith) time the last couple weeks and he's getting better every game." 
The second half consisted of Dadeville controlling the clock and running the air out of the ball, scoring on two huge running plays to make the game unreachable for the Panthers. Prattville Christian scored its second touchdown of the game with two minutes left.
The Tiger seniors showed out for their final high school football game, as Alex Sims hit a field goal in the second half to end his career; Jamauri Chislom had a sack and was dominant on the defensive line; Walker caught a receiving touchdown and made plays everywhere on defense; Andre'vious Giles was a stonewall on the defensive line, maintaining gap control the whole game; and Max McClendon had several tackles while emotionally leading his team. 
White couldn't help but grin when he started to think about what he'd miss about high school football. 
"I'm gonna miss these kids and the Friday night lights," White said, "but I'm at that point in my life and career that it's time to move on." 
White has won 137 of 226 games during his 20 years at the helm of Dadeville football.