Central Alabama Community College picked up another tournament win this past weekend by an impressive 45-stroke margin over Wallace State Community College.
"The Trojan Golf Team has won a lot of golf tournaments over the 20 years I've been coaching for CACC but never have we won by this large of a margin," CACC head coach David Jennings said.
CACC finished first over second place team Wallace State Community College by 45 strokes and 55 strokes over third place team – Snead State Community College.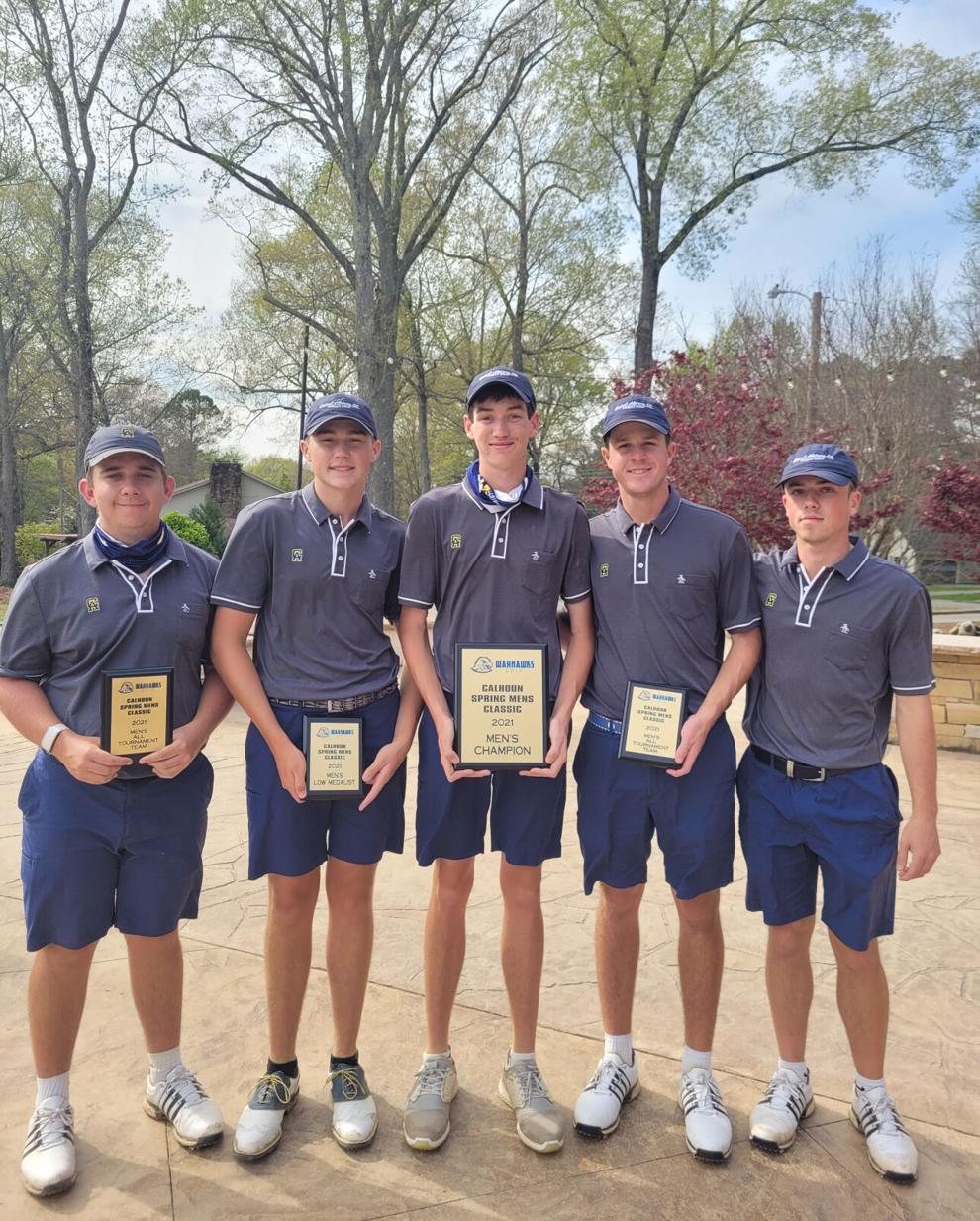 The program's five-man roster is comprised of Hayden Carner, Tanner Guthrie, Jarod Edwards, Ken Goforth and Keith Watkins.
Watkins was hurt throughout the tournament and finished at the back of the field while Carner, Guthrie, Edwards and Goforth led the team. Carner took home the individual low medal for shooting 70, 70 and 73.
The tournament was held at Burningtree Country Club but on Sunday when the Trojans arrived, the course received heavy rains hindering the practice round according to Jennings. Even so, the maintenance crew at Burningtree made it playable for the 54-hole tournament.
"These four golfers of ours will be with us again next year and I suspect after that all of them will be offered spots on top-ranked NCAA D-1 golf teams," Jennings said confidently. "The improvement that they have made since the fall semester is tremendous and a tribute to their hard work. I'm not only proud of their athletic accomplishments but also in their efforts and attitude in overcoming the online and hybrid college class situation over these past 13 months. I have a nine-man roster of golfers. In the fall semester, seven of them were Honor-Roll student athletes with four of them earning President's List honors and three Dean's List honors, with the other two being very close to achieving these high-level grades."
The golf season isn't over yet for the Trojans.
From April 12 to 13, the Trojans will host the conference championship at Lagoon Park Golf Course in Montgomery. All nine NJCAA College teams from Alabama will be competing.
The NJCAA District-4 Championship closely follows at Arrowhead Country Club in Montgomery, which CACC will also host. The district championship is the qualifying tournament to decide what teams and players move on to the National Championship.
Fourteen D-1 college golf programs from the Eastern United States will compete at this year's District Championship. Two weeks later CACC plans for another trip to the NJCAA National Championship to be played at The Rawls Course in Lubbock, Texas, May 10-13, 2021.
 "If someone would have asked me last fall if we could successfully defend our National Championship this coming year, I would have had to say that I wasn't too confident in that happening," Jennings admitted. "However, watching how this team has progressed and seeing their desire to bring another national title back to Alexander City, my answer to that same question has changed to a definite yes. We do indeed have a very good chance to win another National Tournament."
The National Championship is a four-day, 72-hole golf tournament.
"The National Tournament is a totally different atmosphere and dynamic than any other tournament we play throughout the year. There are 24 teams, versus the 9-15 teams competing. We play 18-holes each day for four days, versus 36 and 18 over two days for our regular-season tournaments," Jennings explained. "The time period of when and when not to put your foot on the throttle is different than in a 36 or a 54-hole tournament. It's not easy staying patient for this extended length of time for athletes, but it is crucial in order to earn the victory. We just need to have a chance on that last day and finish the final nine holes like there's no tomorrow in order to win. We will work on that mentality before we head out West."