It took four sets for Marbury to down Benjamin Russell in volleyball Tuesday, but it could just as easily have been a straight-set loss for the Wildcats.
Down 2-0 after a rough 25-17 defeat in set two, Benjamin Russell fought back in an air-tight third set to stave off the sweep.
While it wasn't enough to deliver the Wildcats (1-3) a victory against Marbury (1-0) in their first match at home, it demonstrated the team's never-say-die mentality, even though there will be plenty of errors for it to review Wednesday.
"That's the character of this team," Benjamin Russell head coach Magan Ford said. "I don't think they're ever gonna give up. They had not given up when it was 24-12 that last game point. We know that, we know that's our identity. We just have to fix the little things."
Perhaps the greatest example of that character Tuesday was senior middle blocker Zaria Roberson.
Roberson made a mark in multiple phases of the game, gathering at least seven kills, stuffing three Marbury attacks and digging up balls her teammates couldn't get to. She added three service aces to her stat line.
Her biggest impact came in the third set for the Wildcats. A back and forth affair where neither side seemed able to grab an advantage of more than one point, with her team down 22-21 Roberson blocked a Marbury shot up the middle, recorded a kill the next point to put Benjamin Russell ahead then, after the Bulldogs evened the score at 23-23, registered an ace to set up set point.
She dug out a powerful attack from Marbury's hitters, who gave Benjamin Russell fits all evening, paving the road for a game-winning kill by senior opposite hitter Laura Thames.
"She brought that senior leadership," Ford said. "That's what we expected of her and she delivered today with her energy, with her play. And then, this is really her first year that she's served. She's stepped up and has gotten a lot of good serves for us. So I've just been proud of her all the way around."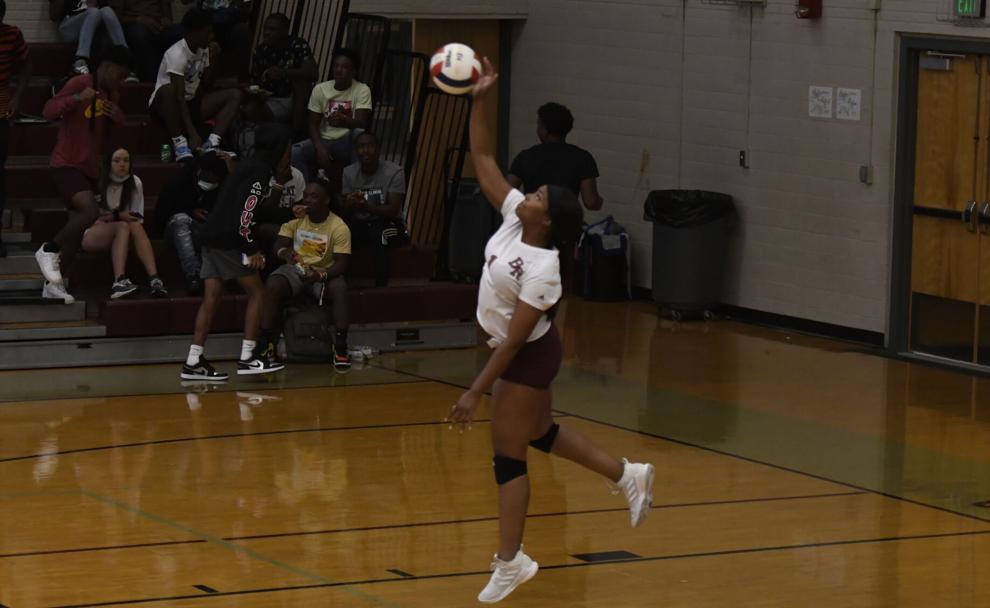 Senior opposite hitter Leah Leonard proved to be the Wildcats' most effective attacker Tuesday, recording 12 kills, including an important spike that cut what was a 20-17 third-set lead for Marbury to 20-18. 
Leonard is a player Ford is excited to watch grow throughout the year. Volleyball is a fairly new sport for the attacker, whose primary focus has been softball the majority of her athletic career.
"Leah Leonard is one of a kind," Ford said. "She's gonna cover the floor, even if she has to run through a brick wall to do it. I'm serious. Like we have to stop her sometimes. That's something you can't teach. She's never gonna slow down, she's never gonna stop."
The Bulldogs hitters were often too great a challenge for Benjamin Russell's defense to deal with, though.
Emphatic kills were recorded throughout by Marbury's Dalyce Sanders, and she had plenty of help from Makayla Quillman, Erin Nelson and Sara Vinson. That front line helped close the fourth and decisive set in dominant 25-12 fashion.
It also paved the way for a 25-19 victory in game one.
"They pointed out some holes we've got," Ford said. "We know what we need to go to work on tomorrow. They have a really good, disciplined front row."
The Wildcats didn't do themselves any favors. Several communication breakdowns allowed passes to hit the floor untouched as service and attack errors also hindered their efforts.
"We just need to go back to work. We know what we're supposed to do," Ford said. "That is very much uncharacteristic of us. We looked better Saturday than we looked today. So we've just gotta go back to work tomorrow."
Regardless, Ford said the fight shown by her team in the third set should be an indicator of how the team responds to adversity.
Benjamin Russell returns to action at home against Beauregard Wednesday.