Sometimes there's no answer for complementary football.
Antonio Trone led the way for Stanhope Elmore against Benjamin Russell Friday night, picking up 170 yards and two touchdowns on 24 carries, but the passing game and defense around him played a large part in propelling the Mustangs over the top against the Wildcats.
It served as plenty of fuel for a 42-20 Stanhope victory on the road at Martin-Savarese Stadium.
"This is the first game we actually played together, played a complete game," Stanhope Elmore head coach Brian Bradford said. "We played good the first game but it wasn't characteristic of us, it was the weather and all that."
Sophomore quarterback Gabe Benton provided the biggest spark for Benjamin Russell, going for 325 yards through the air and three touchdowns. He relied most on junior wide receiver Corri Milliner, who hauled in 13 passes for 142 yards and a score. La'Bronski McKinney added five receptions for 118 yards and a touchdown.
Stanhope defensive back Pat Williams picked off two of Benton's passes to limit the aerial assault.
Trone's biggest display of dominance came in the third quarter.
After Benjamin Russell cut Stanhope's lead to 21-14, Trone picked up 63 yards in five carries, the last of which was a five-yard scoring jaunt to re-extend the lead to 28-14 in the third quarter. It started a string of 21 unanswered points that sealed the game for the Mustangs.
Trone set up the play with a 31-yard pickup in which he broke five tackles.
"He is a physical, physical runner," Bradford said. "He was banged up a little bit last year, but that was his coming out right there. If you watched the game, he was an animal. We ran off tackle pretty much all night, feeding him, and he told me, 'Just keep giving me the ball.'"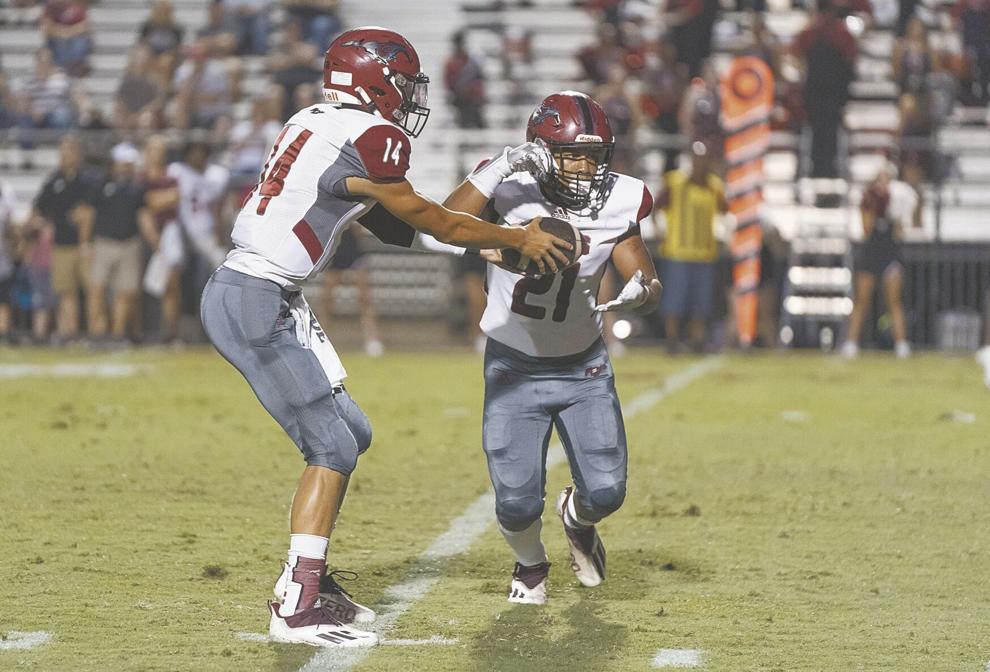 Trone served as the main catalyst behind the final scoring drive of the first half.
First he knifed through the Wildcats' defense for an 18-yard run to convert on fourth-and-1, then got the ball twice more for 11 total yards and another first down.
Benjamin Russell forced another fourth-and-short in the redzone, but bit on a hard count to hand the Mustangs a free first down via offsides penalty.
Trone glided into the endzone from seven yards out the next play. Stanhope led 21-7 at halftime.
"We lost the battle in the box," Benjamin Russell head coach Aubrey Blackwell said. "We lost the battle at the line of scrimmage. We knew they were much bigger and they were, they were huge. On our side we're 205, 215 and 230. We're tiny. We knew we were gonna have to slant, gonna have to move, add some pressure to the box, but at the end of the day we still could not slow them down."
While Trone set the tone for Stanhope on the ground, quarterback Josiah Scott and the Mustangs' passing weapons maintained a balance that was hard to defend.
Wide receiver Jackson Thomas took a jet sweep 47 yards to put Stanhope in the redzone its first drive of the game, then hauled in a spectacular one-handed catch for a 16-yard touchdown to put the Mustangs ahead 7-0.
"He's a highlight player, every single week," Bradford said. "He's 6-foot-3, 190 pounds and when he makes catches like that, he adds a whole new element to us. If we can make catches like that and run the football like we did we'll be pretty tough to beat."
Next drive it was Knei'ka'o Jackson who found himself with a stride of separation on a post route, which he took 35 yards for the Mustangs' second touchdown. Stanhope led 14-0 with 7:03 to play in the first quarter.
Of course, such balance isn't possible without solid offensive line play. The Mustangs' front five of Alejandro Barajas, Jacob Reeves, Davion Brown, Aveon Johnson and David Fields were up to the challenge.
"The offensive line did outstanding tonight," Bradford said. "I don't know how many pancakes they had tonight, but it was a lot."
Meanwhile for Benjamin Russell, it was the passing game that seem to be working exclusively, as it finished the game with 325 yards through the air as compared to a meager 12 on the ground.
The size and ability of Stanhope's defensive line prevented Benjamin Russell's offensive line from opening spaces up for its backs.
"We average about 220 on both sides (of the line)," Blackwell said. "It's tough. Their three big interior linemen played really well, those guys are some monsters and we couldn't run the football. We knew we needed to run the football, but still couldn't run the football. Every time we put the ball on the ground we ended up with a negative or we got behind the chains."
With the Mustangs' linebackers often blitzing, there were one-on-one matchups for Benton to expose with his arm.
Offensive coordinator J.D. Atkins set a trap for Stanhope on one such rush. Running back DeMarcus McNeal slipped out of the backfield on a screen pass, made two defenders miss in space and dove into the endzone for an 11-yard score that cut the Mustangs' lead to 21-14 with 8:56 to play in the third quarter.
Benjamin Russell gathered 67 yards through the air that drive. On the ground it found -6.
Stanhope ran a zero blitz in the first quarter and the Wildcats' top weapon made them pay. Milliner took a short completion, made one defender miss and outsprinted the safety-less secondary for a 58-yard scoring play.
"There's only so many times you can go to the Corri Milliner and Nuke McKinney well," Blackwell said. "At some point you've gotta be able to balance up on offense."
McKinney added a long touchdown catch in garbage time.
Benton had one great play beyond his quarterbacking as well.
Benjamin Russell ran a toss play on fourth-and-goal at the 1-yard-line late in the first half, but McNeal was met in the backfield with a thunderous hit and the pitch careened off his hands and into those of Stanhope defensive back Dashaun Caffee.
Caffee looked like a shoe-in to scoop 'n' score from there, but Benton came from the opposite side of the field to run him down all the way at Benjamin Russell's 9-yard-line.
It wasn't for nothing. Three plays later sophomore defensive back Caiden Hyde intercepted a pass to keep Stanhope off the scoreboard.
"One of the gutsiest things I've seen in a long time," Blackwell said. "That's a testament to his character. Gabe does a lot of things right on and off the field. He's a leader, and that was an extremely gutsy, gutsy effort on that."
Stanhope Elmore will look to extend its record to 3-1 against Pelham Sept. 10. Benjamin Russell hits the road for the first time this season with a matchup at Helena.