It was just days before Christmas and all it brings.
I was looking forward to time off from work. I was looking forward to time with my son and family. I was looking forward to the food — mainly mom's red velvet cake.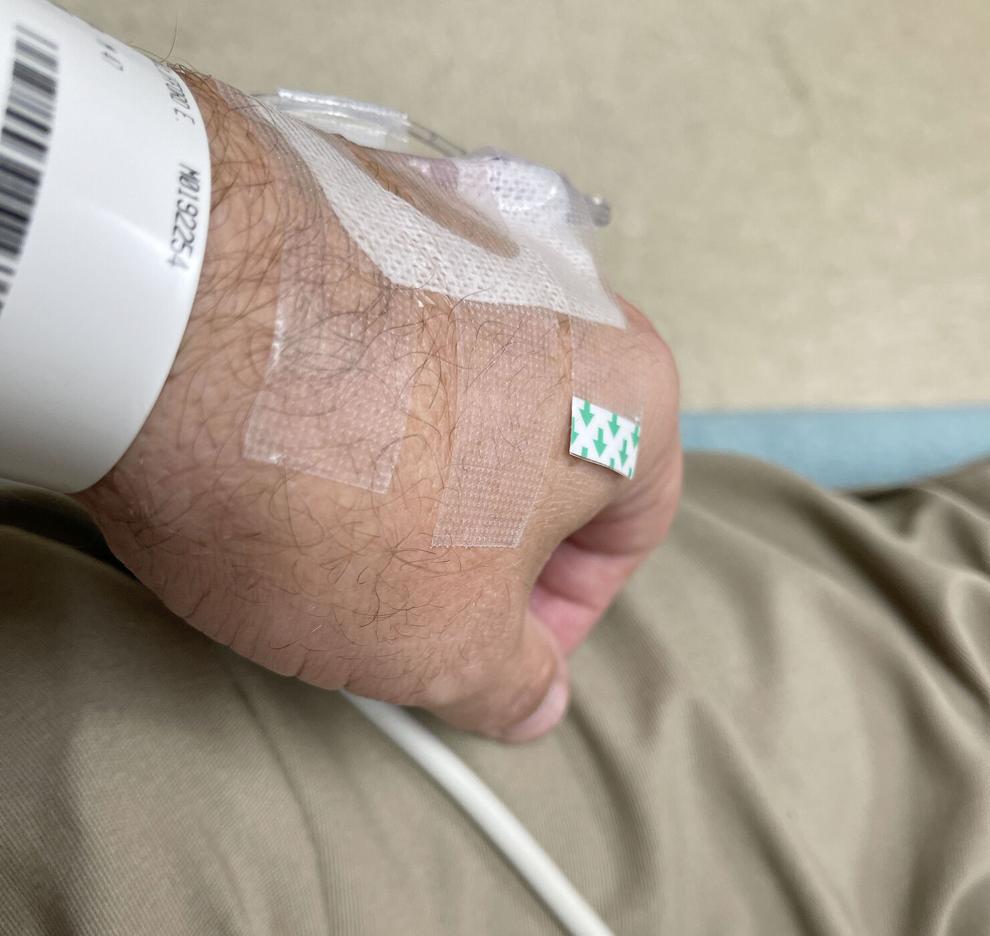 I know I have been around the coronavirus. Several subjects at events or stories I covered have tested positive in the days after but I have been lucky — even before becoming a Moderna man.
After reporting on the COVID-19 pandemic for two years, I knew the symptoms: fever or chills, cough, shortness of breath, fatigue, muscle or body aches, headache, sore throat, congestion, nausea, diarrhea and loss of taste or smell.
Fifty and sixty hour work weeks will lead to many of these symptoms as will circulating the community to cover stories. It's kind of like a child at school or daycare, you will pick up whatever the common bug is.
Two years in and I have been tested for COVID-19 more times than I can count — always negative.
I'm used to holding my head slightly tilted back against the wall when at the doctor's office to allow the swab to scratch my brain.
I'm used to the at-home tests too.
The clock was already ticking for the Christmas break.
My body was telling me it needed the rest too.
My smell was shot already. I knew I had a sinus and ear infection issue from a visit to the doctor just days earlier. But this morning, just two days before a glorious 10 days off from work, something prompted another visit for medical care — I couldn't taste my eggs scrambled with cheese.
I knew to go ahead and get medical help.
A few hours later I heard the dreadful words I already knew were coming.
"I'm sorry. You are positive for COVID," the nurse said.
I wasn't worried. Two years of reporting on the pandemic I knew the medical professionals would take care of me — they've been in the trenches fighting it almost everyday.
COVID-19 is now normal enough there is almost a standardized list of treatment for it.
I can tell you the list of pills.
I can tell you I didn't react to the monoclonal antibody infusion.
But the list doesn't answer all the questions.
"Where did I get it?" I asked myself.
No one in my family got it. Not one of my friends. Not one of my co-workers. No one I associate with outside of work had it about the time I got COVID-19.
It left one place — the community I cover on a daily basis — much like the child who brings home a bug from school.
I know there is much debate about COVID-19 and the debate extends much beyond our corner of Alabama. Numbers are hard to dispute. The Alabama Department of Public Health (ADPH) has been keeping up with them for the pandemic.
So far in the pandemic ADPH tells us 921,175 of Alabama's 5,024,279 residents or 18.3 percent have tested positive for COVID-19. In Tallapoosa County almost 19 percent of the county's 41,311 residents have contracted COVID-19.
That's just for those who have tested at a medical facility. It doesn't account for those positive tests for those brave enough to swab at home.
ADPH tells me I'm one of 18,187 residents of Tallapoosa County to have at least two shots of vaccine or 44 percent. It's a similar situation across the state.
The only thing the COVID-19 treatment list had in common with what I wanted to do for Christmas was rest.
Gone was the family gathering and making memories with my son.
ADPH tells me there were 22 others in Tallapoosa County to test positive the same day as me. ADPH tells us since I have tested positive more than 500 others have tested positive in Tallapoosa County.
It was a lonely Christmas but I know others went through the same thing too.
There are only so many ways to lay on the couch and in the bed. As large a selection as Hulu and Amazon Prime have, there are still not enough for more than a week alone.
It's been more than two weeks and my brain is still trying to figure out what is the normal COVID-19 experience.
I wonder if others in isolation felt as stir crazy as me?
I wonder if others have coughed up the pasty congestion?
I wonder if others slept as much as me?
I wonder if others missed the taste of the food?
The new year has started and I'm out of isolation.
I'm fine now — back at work and rested.
But I wonder if others are missing the Christmas that could have been too.