Rosemary Emilia Suriano Sellers
July 9, 1938   - July 20, 2020
 At four thirty in the afternoon, on July 20, 2020, Rosemary answered her Savior's call to Heaven.  Her loving family bid her a fond farewell.  Born in the Bronx, New York and raised by Doctor (Pop) and Mrs. (Momma) Succorso A. Suriano at 2333 Tiemann Avenue in the Borough.   In August 1957, prior to graduation from college, Rosemary accompanied a longtime friend on a visit to the US Naval Academy in Annapolis.  A blind date with Midshipman 2/c Lester H. Sellers culminated in a most wonderful sixty-five-year adventure together.  On June 6, 1959, Rosemary and Les were wed at Saint Patrick's Cathedral in New York and departed on their honeymoon to his first military assignment in the Air Force.  Rosemary's professional career transitioned from commercial artistry to Air Force Wife and Mother.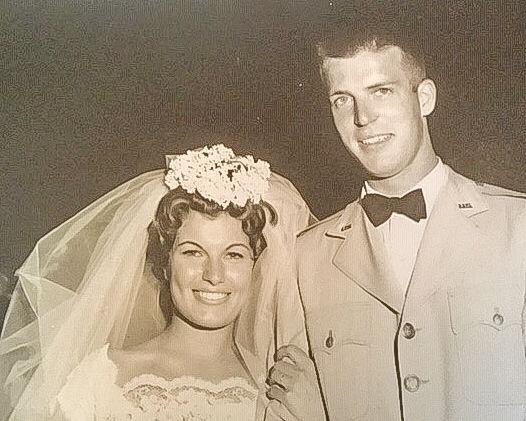 Rosemary served thirty years as Air Force Wife, Mother, companion, confidant, coordinator, and, most importantly, the strong backbone of her all-inclusive military family.  She kept Les focused on the troops and their families and found time for all.  When Les retired in 1989, Rosemary did not.  We loved living in Equality, Coosa County, Alabama, and Rosemary continued her habit of doing nice things for nice people. Sufficient to say, a sign in our home reads "We know we weren't born here; but we got here as soon as we could". 
Rosemary is at peace now, retired finally in her new home with God. Her pain left far behind.  Her retirement benefits: five loving children, Sooz, Kat, Matt, Chris, and Alli; ten wonderful grandchildren; two marvelous great granddaughters; and Les.
"Love grows where my Rosemary goes; and nobody knows like me" 
To plant a tree

in memory of Rosemary Sellers

as a living tribute, please visit Tribute Store.