Updated
Recent scanner activity prompted these "unofficial" investigations.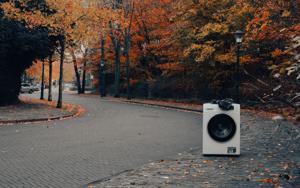 Re-enactment photo
"Caller reports there's a washing machine in the middle of the road." We have "unofficially" confirmed the washer was full of clothes, and they were clean but not dry, indicating the incident was fairly recent. An eyewitness, speaking off the record, said at first sight the washer "looked like a tiny portal to another dimension or somethin' sittin' rat thar in the middle of the road." An immediate forensics test on the contents of the washer determined Tide Pods were not involved. We understand the dryer is still on the run.
"Caller says a man with a mullet crossed through her backyard into the woods." As frightening as this may be, luckily and according to rumor, a neighbor with a set of hedge clippers took pursuit. It is unsure the condition of the mullet man. Everyone involved has refused comment.
"Caller says someone left a litter of puppies on her front porch." Generosity abounds when it comes to unexpected pet reproductions. Free to a good home? Perhaps. Keep an eye out in our classifieds if you need a furry friend.
But remember having a puppy is a big responsibility. Here's what could happen if your pup swallows your TV remote battery.
---
Looking for something to do this weekend? Check our calendar!
We have other newsletters.

Check them out.