One of the greatest wonders of Tallapoosa County is the seasonal arrival of the rare, picturesque Cahaba Lilies. These blossoms belonging to the amaryllis family live in a very specific environment and the county is lucky to have them in its backyard.
Every year in late spring, thousands of nature lovers eagerly anticipate the arrival of the Cahaba Lilies, which can be found in shallow, rocky creeks and rivers with moving water. A remote portion of the Tallapoosa River upstream of Lake Martin is conducive to the growth of the lilies in spectacular fashion — but there are only a few weeks left to enjoy their wonder.
The lily patches can be accessed only by kayak or canoe as they grow in rocky shoal areas of the river that receive lots of sunlight. Harold Banks recommends paddling Section 3 of the Harold Banks Canoe Trail to see the panoramic beauty.
"If you put in at Horseshoe Bend National Military Park's ramp and go to Jay Bird Creek Landing, you can't miss them," Banks said. "They are in the shoals and several places along that stretch."
Banks suggests driving to the boat ramp off Highway 49 inside Horseshoe Bend and dropping the canoes or kayaks then driving the cars to the take-out at Jaybird Creek landing at the end of Boone Valley Road in Jacksons Gap. 
"Just drive back to Horseshoe Bend in the fewest number of cars possible," Banks said. "Or sometimes I will drop my truck at the end and bicycle back to the put-in ramp."
The length of the trip is about 6 miles and the time it takes really depends on a number of factors, including how long a group wants to stop and admire the scenery.
"It can be done in about two to three hours but I recommend taking longer to stop and play in the shoals," Banks said. "It also depends on the flow. If it's real fast, you can get through it faster."
With many patches of lilies along this section, Banks said, the best areas are in the shoals of Fox Creek at the base of Peter's Island and at the beginning of Irwin Shoals. While the tour is a must-see attraction in the area, Banks cautioned lily-gazers to paddle safely.
"Always bring a (personal flotation device), sunscreen, a hat and shoes that cover your toes — no flip-flops," he said. "There will be times you'll have to get out and wade and the bottom (of the river) is real rough and rocky. You want shoes with closed toes such as water shoes or tennis shoes. I am against wearing open sandals. I've seen many flip-flops floating down the stream before. You'll lose them if you turn over."
Banks said the river is fairly safe with some light rapids but it's always best to paddle in groups.
"It's enough to be fun but not something dangerous as a novice," Banks said. "It's always safest to go in groups."
For anyone wanting to make the trip, Banks recommends checking out the Tallapoosa River Kayak Club Facebook page.
"You'll see when people are going out and can easily find someone to go with you," Banks said. "You can connect with people that canoe and kayak all over and get someone who knows what they're doing."
Off the Beaten Path owner Chuck Browne offers a commercial shuttle service for the area as well.
"He is a retired extension agent from Lee County and has canoes and kayaks for rent, provides shuttle services and has everything you need," Banks said.
The ideal time to view the Cahaba Lilies is its peak-growing season between Mother's Day and Father's Day. Sometimes the lilies will be in bloom through July 4.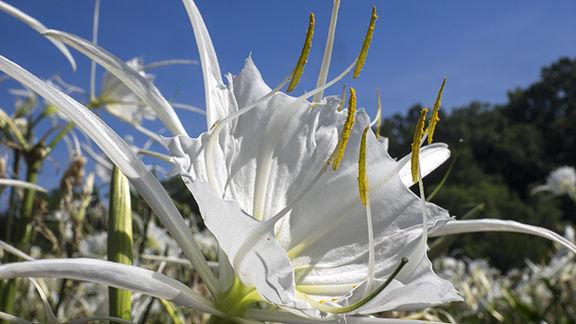 A map of the Harold Banks Canoe Trail can be downloaded from the Alabama Cooperative Extension System website. A waterproof copy can be picked up at the ACES office in the basement of the Tallapoosa County Courthouse located at 125 North Broadnax St. in Dadeville.