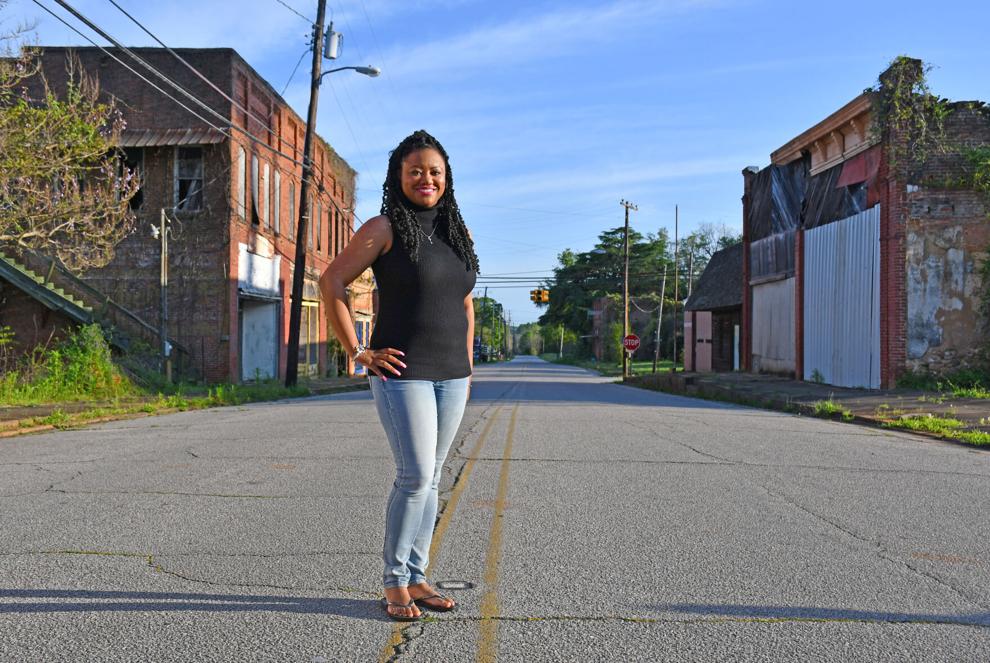 Camp Hill's South Main Street is a charming central business district with century-old brick facades and pre-automobile walkability. Only two storefronts are occupied, however, and only one is open, a store that sells factory clothing.  
Everything else sits in various stages of decay. One multi-story building, once home to a grocery store and theater, is now a red-brick shell with vines growing out of its windows and roof.
Emberly Zellars, 32, was raised by her grandfather in Auburn but has been visiting Camp Hill as long as she can remember. Her grandfather, John Zellars, has owned many of the properties on South Main since the '80s but has yet to see a return on his investment.
"I've been here for over 30 years and haven't made a dime out of this area," John said.
Emberly has since left Alabama, earning a degree at Spelman College and a job in the federal government. Still, she's always wanted to see Camp Hill succeed.
"It's always been kind of close to me, just this childhood connection," she said. "So even though I'm an adult now and living in Maryland and working in D.C. for the government, Camp Hill is another place that I call home, even though I'm from Auburn."
In July 2020 Emberly started thinking seriously about her family's Camp Hill investments. By September she'd set up two LLCs, and last month, she secured license to operate on two of her grandfather's less-dilapidated properties from the Camp Hill Town Council.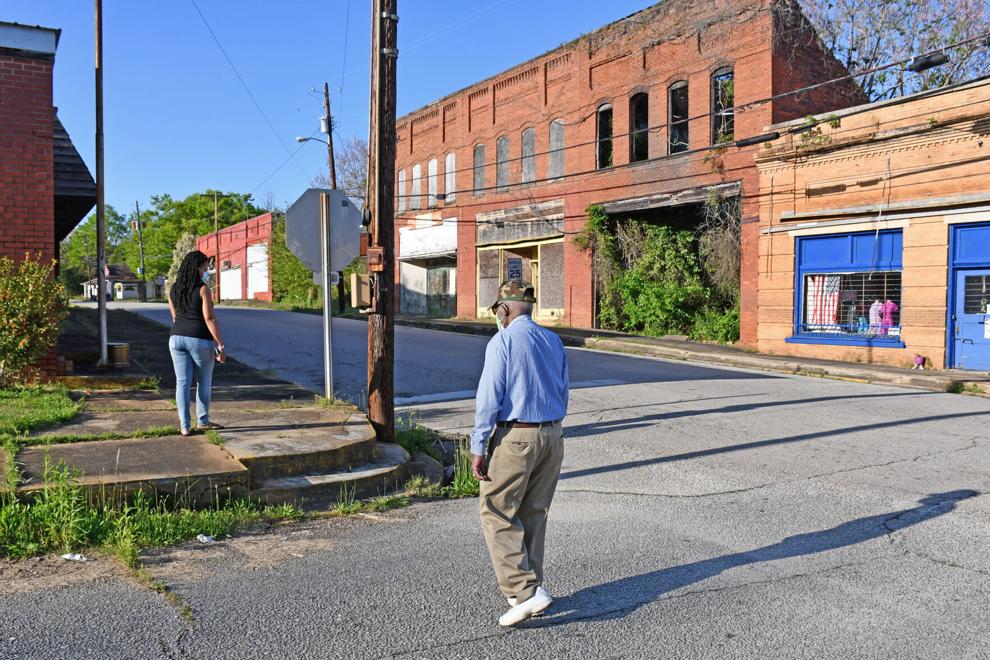 The first business, which she expects to be open by March 2022, is called Joi's Suites, a salon Emberly plans to rent out to independent stylists. Located in an old dentist's office on the corner of Holley Avenue and South Main Street, the three patient rooms will turn into three hairdresser suites, with two smaller booths in the lobby for twisting or braiding.
The other business, Emmy Jae's, (named for Emberly and her twin brother) will be a snack stand Emberly hopes to open soon after, a business that will employ five people. She also plans to set up a scholarship program for each business, which will award college-bound locals one $1,000 scholarship per year.
For John, also from Auburn, the ventures were a labor of love. John first came to Camp Hill in 1952 with his school band to play at then-Edward Bell High School's homecoming football game.
"I came back to Camp Hill on a regular basis because I admired this town," John told the council in support of his granddaughter during last month's meeting. "It was a vibrant town then, not that there were any Black businesses here. They were all white down in this area."
After that homecoming game, John visited frequently in high school, despite it being a longer journey at the time before four-lane U.S. Highway 280 was built.  
"We would come here for a couple of games of basketball during the season and then we'd come back and go out with some of the young ladies we met," John said. "And again, 18 miles away from Auburn was a long way in the '50s."
Thirty-five years later, John returned to invest in commercial property. By then, he was the successful owner of three different eating and drinking establishments in the Auburn area and hoped to replicate that success in Camp Hill.
"But it never materialized," John said. "I ran into opposition in all corners in trying to get it started."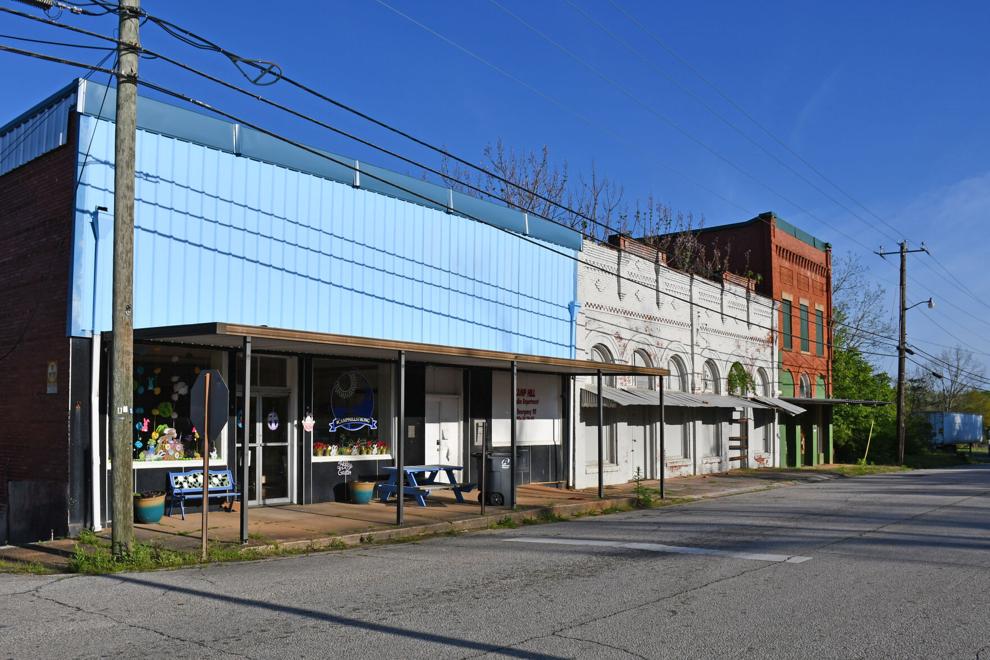 John bought his first two side-by-side storefronts — what was then Davis Dry Goods and Tucker's Pharmacy — in 1987, followed by Henderson's Insurance next door. Over the next few years, John continued to acquire half the units on South Main Street. When it got time to securing business licenses, however, the town refused.
"Each time I came to the city council meeting they had some objection to what I was trying to do," John told the current Camp Hill council, adding they could check the old minutes. One business, an old furniture store he intended to turn into a restaurant and private club complete with live entertainment, was rejected owing to what John surmised to be a "religious bent" among several of the councilmembers.
Then came "white flight." It all happened in less than a decade, John said — white-owned businesses, once the entirety of South Main Street, closed down one by one as the town's white population left en masse in the mid- to late-1980s.
"It wasn't a 10-year period," he said. "It was an overnight thing."
As John continued to purchase units, other mainstay businesses vacated theirs, including the place he banked with that's now Camp Hill Library, the other occupied storefront on South Main today. The library has been closed for the past year.
The final nail in the coffin was in 1993, when one of John's newly purchased storefronts burned to the ground. The only thing keeping his whole row of shops from going down like dominoes was the solid brick wall between the units. Though never officially declared so, John is convinced the fire was no accident.  
"It was obvious that when some of the citizens — I say citizens, but some of the white community — discovered that a Black person bought this, they set arson to it," he said.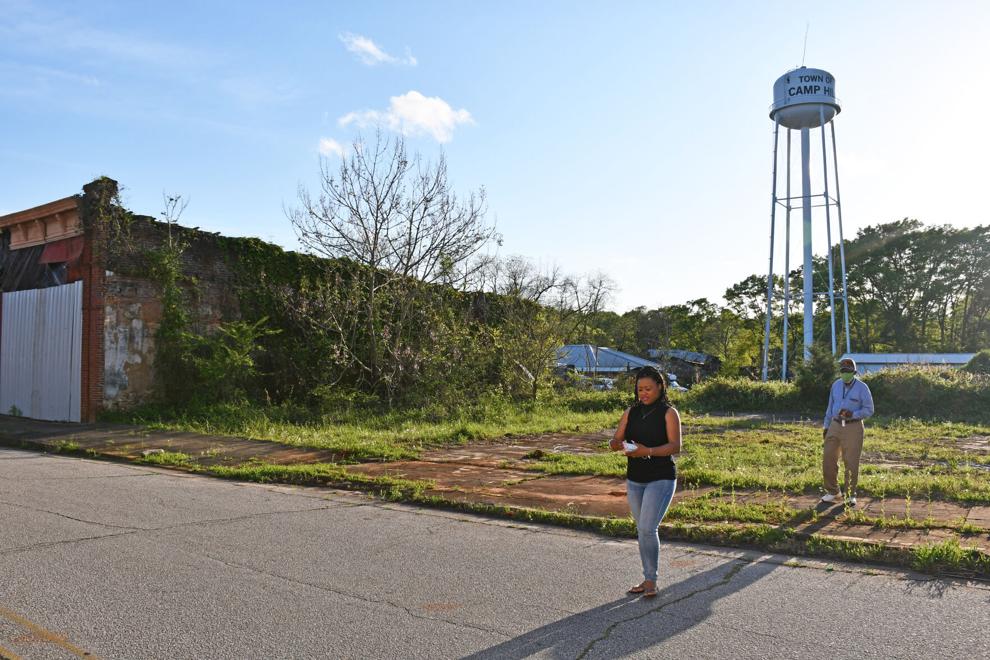 After that, John cut his losses, but he still owns every unit he ever bought. Aside from the inevitable deterioration, little has changed. For Emberly and Jae, South Main's present state goes as far back as they can remember.
"Ever since I've been alive he's always had them, and it's always looked like this. The mayor's 21, so as long as he can remember it's looked like this as well," she said, referring to Mayor Messiah Williams-Cole, elected in November while still an undergraduate at Auburn University. "And I'm not going to lie, it's ugly."
But for a town many dismiss as "dead," Camp Hill has a fair amount of traffic. Auburn, Opelika and Alexander City are all within commuting distance. Meanwhile, South Main Street sits perpendicular to Highway 50, a thoroughfare for the growing number of Atlantans buying second homes on Lake Martin.
In addition to her small business ventures, Emberly is trying to get downtown Camp Hill deemed a historic district by the Alabama Historical Commission, which would make her refurbishment efforts eligible for preservation grants. Emberly points to Dadeville, with its preserved downtown and historical markers, as one such success story.
"I would like to see the same thing done to Camp Hill," she said. "I feel like (the town) deserves it. It's been here a long time like the other ones, it's just in disrepair and I guess nobody really took the time to look into preservation projects."
However, the main affliction, Emberly says, has been the lack of capital. Part of it goes back to the white flight John described. While Camp Hill has long had an African-American majority, according to U.S. Census data, 45.7% of the town was white in 1950. In 1980, the white population fell to 35.6%. In the latest Census estimate, Camp Hill is less than 10% white.
"When they moved out, they took the money with them," Emberly said. "Black people stayed but they didn't have the resources to keep things going so the infrastructure fell. Also, you have to keep in mind it was more difficult for Black people at that time to get business loans, loans for mortgages, so it was really difficult to keep the area going."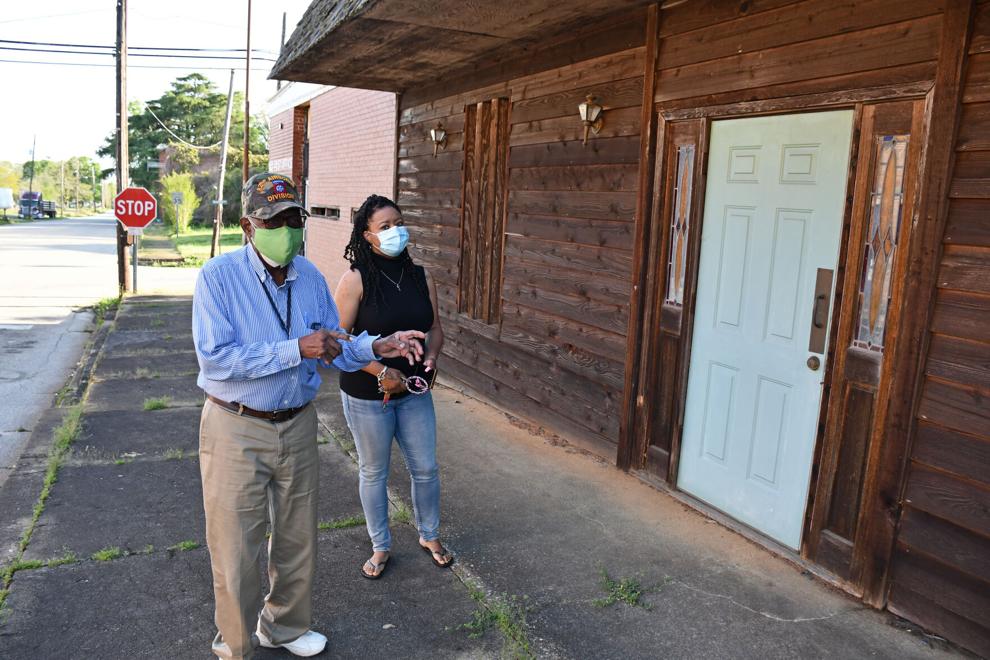 In a town that's had to look at John's dilapidated buildings for 30 years, however, Emberly's ideas haven't gone without pushback. While supportive of her intentions, Williams-Cole was skeptical of how easy it would be to restore things.  
"It's a lot easier to find demolition grants than it is to find a restoration grant, especially in businesses that technically don't exist," he told Emberly after her presentation to the council last month.
At present, Camp Hill has no demolition plans, though previous mayor Ezell Smith had taken the first step of sending letters to commercial property owners, including John, whose properties were deemed hazardous. As such, Camp Hill has "the legal go-ahead to knock it down," Williams-Cole reminded the Zellarses.
"Talking to citizens, they just want it cleaned," he said. "It's been umpteen years since they've seen Camp Hill in that former glory. It's just reached a point where they don't really care what happens, they just need it to happen."
The council ultimately approved the two businesses, though Williams-Cole requested constant updates.
While Emberly understands some of the town's discontent, she hopes to show how their relationship could be symbiotic. 
"That commercial building could help increase jobs, city revenue, local foot traffic, so it actually needs to be a partnership between local government and commercial property owners," she said. "Because everyone benefits from that."
Emberly said the Alabama Historic Commission meets in June, at which point they'll be reviewing her application. After that, it'll be a matter of building the capital to restore each unit, from least in need of repair to most in need of repair. 
"We have a lot of units, so my plan is to really go one-by-one," she said. "And for the ones that we're not interested in turning into businesses ourselves, I would be interested in leasing them."
The first location, soon to be Joi's Suites, is a detached building that's probably the newest building on the street. For Emmy Jae's, Emberly plans on moving the retro pink-and-white snack shack John owns across the street to the empty space created by the 1993 fire. After that, she's already set her sights on the old furniture store John wanted to turn into a nightclub, a dark, wood-paneled building she dreams of turning into a brick-oven pizzeria.
"In my head, it would be salon, snack stand, then we get into the restaurant and the other buildings further up the street," she said.
For John, it's some final hope in recovering some of his investment and restoring the vibrant town he fell in love with in 1952.