A cell phone is an essential tool for many and a new app on one is helping patients heal faster at Russell Medical's Wound Care Center.
The technology from Healogics is speeding up the recovery process through quick, accurate measurements and photographs of wounds straight to a patient's chart. It will allow staff and medical director Dr. Regina Phillips to start planning what is next for a patient's recovery before Phillips even steps into a room.
"I get an idea of what we are dealing with," Phillips said. "I can start planning out treatment and determining what tools I might need before I see a patient."
Staff members at the wound care center greet patients by getting a medical history and photographing wounds using a locked iPhone loaded with Healogics Clinical Optimization app. The app connects to a patient's chart which can only be accessed by staff. Before the app, staff had to physically measure wounds. With the odd shapes most wounds are, measurements were not as precise as with the app.
"The idea is consistency," nurse Olyvia Clayton said. "It takes a picture of the wound with a sticker we apply for scale."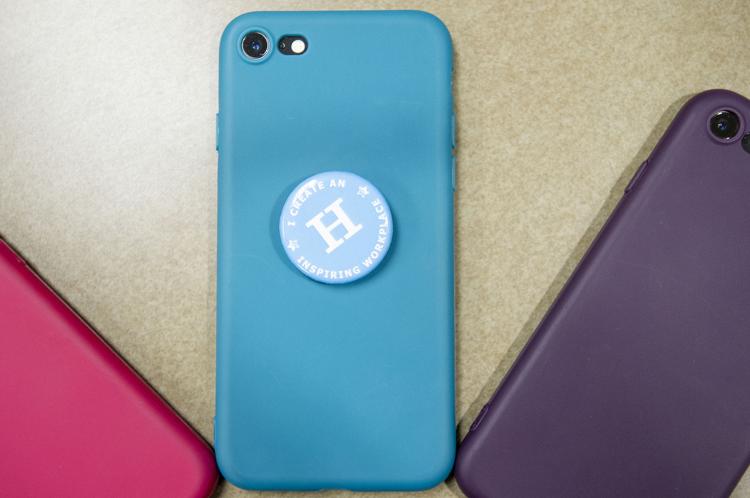 With a little help finding the edges of the wound in a phone photo, the app instantly measures the wound down to a square millimeter and inputs all the information directly into a patient's chart. The staff currently has to measure the depth and input it.
Previously Phillips relied on patient chart notes which included measurements. Photographs often had to wait until the end of the day to be saved and uploaded to patient charts.
The app even prompts staff to make sure things are done.
"It makes sure all the boxes are checked," Clayton said. "It reminds you, 'Hey, you haven't done this.'"
The app might slow things down a little bit as staff assesses a patient, but the extra time is not lost.
"It takes a little more time in clinic," nurse Melissa Abrams said. "Now at the end of the day, we are done. We used to have to spend time saving and uploading photos to charts. Mistakes could be made. This clears that all up."
Phillips said it saves her time with patients when making notes on a chart.
"It makes documentation more efficient," Phillips said. "All I have to do is record tissue removed and tools used."
The goal of the Russell Medical Wound Care Center is to fully treat a patient in 21 days.
"We are judged on heal rates," wound care center program director Karen Treadwell said. "Its how quickly and timely we treat wounds. Ideally it's 14 days. We are aggressive."
Even though Healogics has been in place since only Jan. 5, Clayton said patients are highly interested in the technology.
"They are all coming in and asking how it works," Clayton said. "Some ask how their numbers are referring to the wound getting smaller."
Some patients are getting to see their wounds for the first time in photos as some aren't visible to a patient such as a wound on a patient's back.
Phillips said the progression of photographs and measurements from the app help educate the patient.
"We tell them what they need to do at home to help with healing," Phillips said. "The measurements tell the story of if the patient did what they were supposed to do."
Treadwell said the Russell Medical Wound Care Center is one of few centers in Alabama using the technology and it is just in time as the center saw 400 new patients last year.
"We asked for this technology," Treadwell said. "Not all wound centers get it."
Clayton hopes the center sees more new faces.
"There are a lot of patients that could use the centers services," Clayton said.
The center even has a hyperbaric chamber to help with healing wounds.
All of the services and new technology are being noticed by referring physicians.
"Many of them get their patients' charts," Treadwell said. "It's nice to go to a physician that has trusted us with their patient and be happy."
Phillips sees great potential for the technology to get even better with advancements in the camera to allow zooming in to see more structure of wounds, a depth measurement and hopefully more such as blood flow.
But it's the telemedicine potential Phillips is most excited to see. She was part of a study in which she was given photographs of wounds made with the new technology to make determinations about the type of wound and treatment.
"I only missed two out of dozens," Phillips said. "That was pretty exciting. This could help a rural clinic determine if a patient needs further treatment at a wound care center without having to make a visit."