The state saw more than 300 positive COVID-19 cases added to its count in the last 24 hours.
As of noon Sunday, there have been 7,695 confirmed cases of the novel coronavirus across the state, according to the Alabama Department of Public Health. This is an increase of 313 cases across the state which is one of the highest one-day increases the state has seen since mid-April. 
Tallapoosa County remains one of the top counties in the state for positive COVID-19 cases. Mobile County leads the state with 1,192 cases. As of today, Tallapoosa County remains eighth in the state with 291 confirmed cases. It is second in the state per capita.

Tallapoosa County added four cases in the last 24 hours to be at 291 cases. Coosa County added one, now at 30 confirmed cases. Elmore County saw the highest increase locally with an increase of six, now at 94 confirmed cases.
Statewide, the ADPH is reporting 91,933 total tested. ADPH's website states the total tested number for the state also includes test results from persons who were tested in Alabama but do not reside in Alabama. This is the only data provided on the dashboard that includes persons from other states. There are zero confirmed cases or deaths that are out of state.
In Tallapoosa County, there have been 1,470 tests counted by ADPH, 150 in Coosa County and 1,354 in Elmore County.
There are still 18 coronavirus deaths in Tallapoosa County, two deaths in Elmore County and one death in Coosa County. Statewide, there have been 289 COVID-19 deaths.
ADPH reports only confirmed COVID-19 deaths. The criteria for death counts now include people who died with a positive COVID-19 laboratory test as well as individuals whose death certificates list, as the cause of death, COVID-19 or an equivalent.
ADPH said as of Friday morning more than 2,300 confirmed cases across the state have recovered or are no longer ill, according to spokesperson Dr. Karen Landers. Read the full story here. ADPH is hoping to have a recoveries category added to its dashboard at some point in the future.
ADPH still shows Tallapoosa County as the second highest confirmed case rate per capita of all 67 counties with a rate of 720.9 per 100,000 persons, following behind only Chambers County, which has 295 confirmed cases, at 887.1. Lowndes County, which has a population 9,726 and 70 confirmed cases, has nearly caught up to Tallapoosa County with a rate of 719.7 per 100,000 persons. This per capita rate allows a county-by-county comparison as if each population was the same.
Coosa County's confirmed case rate per 100,000 is 281.3 while Elmore County's is 115.8 per 100,000 persons.
There have been 1,033 hospitalizations across the state since March 13, according to ADPH.
Since March 13, there have been 403 patients in intensive care units and 242 on a ventilator. In the medical field, 1,103 healthcare workers in hospitals and doctor's offices have tested positive. When it comes to long-term care facilities, 492 employees and 764 residents have tested positive for COVID-19. A total of 2,359 of the state's 7,695 confirmed cases have been healthcare workers or long-term care employees or residents.
As of Friday, 18 veterans at Bill Nichols State Veterans Home in Alexander City have died due to COVID-19. A total of 85 veterans have been diagnosed with the illness since April 8 — many asymptomatic and this does not include staff. An investigation into the outbreak has been completed. Read the full story here.
See the latest case and death demographics below: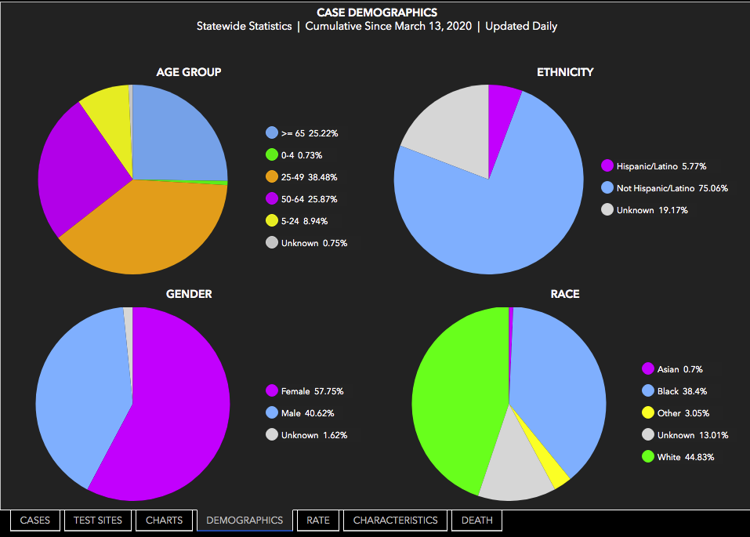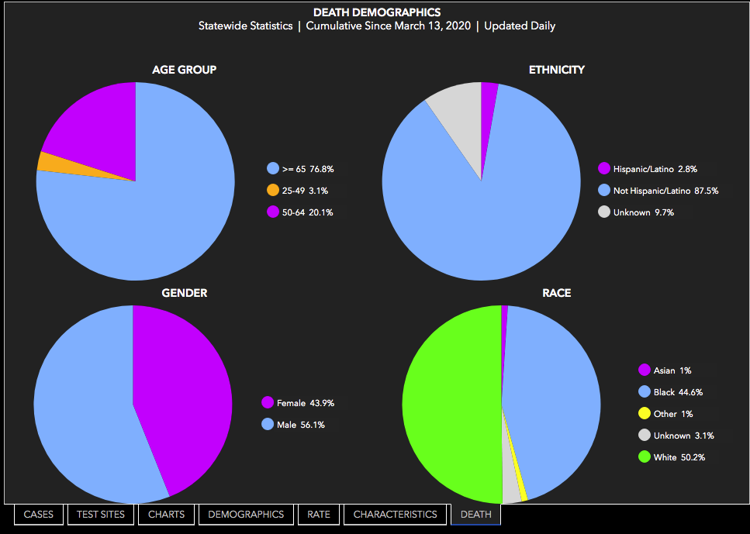 See all counties and their in-depth information according to ADPH as of noon Sunday below:
Autauga County: 
45 confirmed cases
871 total tests
3 deaths
Baldwin County: 
182 confirmed cases
3,300 total tests
4 deaths
Barbour County: 
43 confirmed cases
363 total tests
1 deaths
Bibb County: 
42 confirmed cases
803 total tests
0 deaths
Blount County: 
40 confirmed cases
712 total tests
0 deaths
Bullock County: 
14 confirmed cases
105 total tests
0 deaths
Butler County: 
97 confirmed cases
429 total tests
1 deaths
Calhoun County: 
100 confirmed cases
1,581 total tests
3 deaths
Chambers County: 
295 confirmed cases
1,070 total tests
21 deaths
Cherokee County: 
15 confirmed cases
290 total tests
0 deaths
Chilton County: 
56 confirmed cases
674 total tests
1 deaths
Choctaw County: 
49 confirmed cases
176 total tests
0 deaths
Clarke County: 
38 confirmed cases
435 total tests
1 deaths
Clay County: 
22 confirmed cases
265 total tests
1 deaths
Cleburne County: 
12 confirmed cases
103 total tests
1 deaths
Coffee County: 
120 confirmed cases
883 total tests
0 deaths
Colbert County: 
37 confirmed cases
988 total tests
2 deaths
Conecuh County: 
9 confirmed cases
132 total tests
0 deaths
Coosa County: 
30 confirmed cases
150 total tests
1 deaths
Covington County: 
43 confirmed cases
485 total tests
1 deaths
Crenshaw County: 
23 confirmed cases
273 total tests
0 deaths
Cullman County: 
58 confirmed cases
1,444 total tests
0 deaths
Dale County: 
29 confirmed cases
507 total tests
0 deaths
Dallas County: 
50 confirmed cases
637 total tests
3 deaths
DeKalb County: 
77 confirmed cases
1,079 total tests
2 deaths
Elmore County: 
94 confirmed cases
1,354 total tests
2 deaths
Escambia County: 
30 confirmed cases
578 total tests
2 deaths
Etowah County: 
142 confirmed cases
1,980 total tests
10 deaths
Fayette County: 
6 confirmed cases
305 total tests
0 deaths
Franklin County: 
110 confirmed cases
712 total tests
0 deaths
Geneva County: 
10 confirmed cases
256 total tests
0 deaths
Greene County: 
55 confirmed cases
218 total tests
1 deaths
Hale County: 
52 confirmed cases
333 total tests
2 deaths
Henry County: 
26 confirmed cases
224 total tests
1 deaths
Houston County: 
94 confirmed cases
1,289 total tests
4 deaths
Jackson County: 
50 confirmed cases
1,238 total tests
2 deaths
Jefferson County: 
958 confirmed cases
16,115 total tests
48 deaths
Lamar County: 
11 confirmed cases
259 total tests
0 deaths
Lauderdale County: 
59 confirmed cases
1,656 total tests
2 deaths
Lawrence County: 
13 confirmed cases
365 total tests
0 deaths
Lee County: 
398 confirmed cases
3,119 total tests
28 deaths
Limestone County: 
45 confirmed cases
1,320 total tests
0 deaths
Lowndes County: 
70 confirmed cases
223 total tests
1 deaths
Macon County: 
38 confirmed cases
316 total tests
2 deaths
Madison County: 
234 confirmed cases
8,321 total tests
4 deaths
Marengo County: 
56 confirmed cases
514 total tests
3 deaths
Marion County: 
82 confirmed cases
842 total tests
6 deaths
Marshall County: 
337 confirmed cases
2,144 total tests
7 deaths
Mobile County: 
1,192 confirmed cases
8,699 total tests
62 deaths
Monroe County: 
13 confirmed cases
232 total tests
1 deaths
Montgomery County: 
383 confirmed cases
3,072 total tests
6 deaths
Morgan County: 
74 confirmed cases
1,866 total tests
0 deaths
Perry County: 
11 confirmed cases
309 total tests
0 deaths
Pickens County: 
54 confirmed cases
486 total tests
2 deaths
Pike County: 
73 confirmed cases
686 total tests
0 deaths
Randolph County: 
74 confirmed cases
443 total tests
4 deaths
Russell County: 
60 confirmed cases
532 total tests
0 deaths
Shelby County: 
325 confirmed cases
4,183 total tests
13 deaths
St. Clair County: 
73 confirmed cases
1,340 total tests
0 deaths
Sumter County: 
72 confirmed cases
321 total tests
3 deaths
Talladega County: 
64 confirmed cases
1,346 total tests
2 deaths
Tallapoosa County: 
291 confirmed cases
1,470 total tests
18 deaths
Tuscaloosa County: 
216 confirmed cases
4,465 total tests
2 deaths
Unknown or Out of State County: 
0 confirmed cases
6,735 total tests
0 deaths
Walker County: 
98 confirmed cases
970 total tests
0 deaths
Washington County: 
38 confirmed cases
213 total tests
2 deaths
Wilcox County: 
72 confirmed cases
241 total tests
3 deaths
Winston County: 
16 confirmed cases
422 total tests
0 deaths