Alabama has added nearly 300 COVID-19 cases in the last 24 hours, according to the Alabama Department of Public Health.
As of noon Saturday, ADPH is reporting 9,486 confirmed cases of the novel coronavirus in the state which is an increase of 298 cases in the last 24 hours.
Tallapoosa County now has 315 confirmed cases of COVID-19, an increase of one in the last 24 hours. The number of COVID-19-related deaths is 42 which is an increase of two in the last 24 hours.
Elmore County had an increase of five cases in the last 24 hours and now has 133 confirmed cases with four COVID-19-related deaths. Coosa County still has 31 cases and one related death.
Tallapoosa County has the fifth highest rate per capita in the state at 780.3 per 100,000 persons. Chambers is still ranked No. 1 at 938.2 per 100,000 persons. This per capita rate allows a county-by-county comparison as if each population was the same. Coosa County's confirmed case rate per 100,000 is still 290.7 while Elmore County's is now 163.8 per 100,000 persons. 
Statewide, there have been 388 COVID-19 deaths. ADPH reports only confirmed COVID-19 deaths. The criteria for death counts now include people who died with a positive COVID-19 laboratory test as well as individuals whose death certificates list COVID-19 as the cause of death.
Statewide, the ADPH is reporting 122,976 total tested. ADPH's website states the total tested number for the state also includes test results from persons who were tested in Alabama but do not reside in Alabama.
In Tallapoosa County, there have been 1,717 tests counted by ADPH, 196 in Coosa County and 1,603 in Elmore County.
There have been 1,225 hospitalizations across the state since March 13, according to ADPH.
Since March 13, there have been 459 patients in intensive care units and 271 on a ventilator. In the medical field, 1,360 healthcare workers in hospitals and doctors' offices have tested positive. When it comes to long-term care facilities, 625 employees and 994 residents have tested positive for COVID-19.
See case and death demographics below: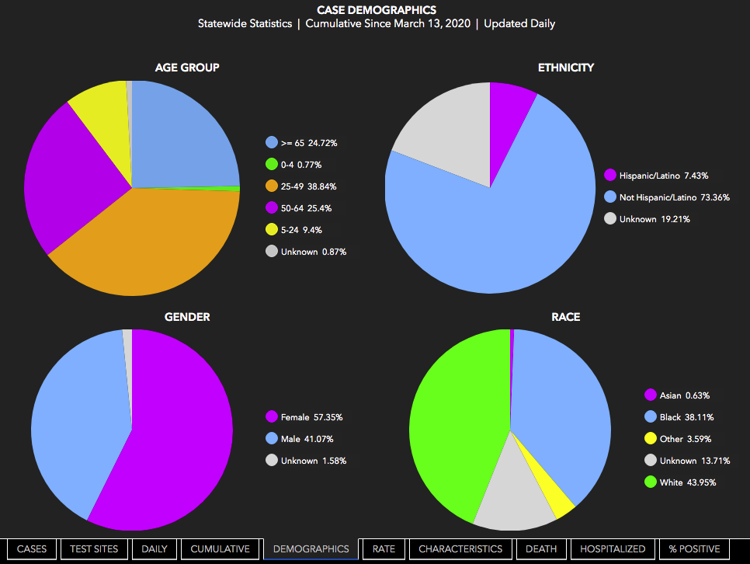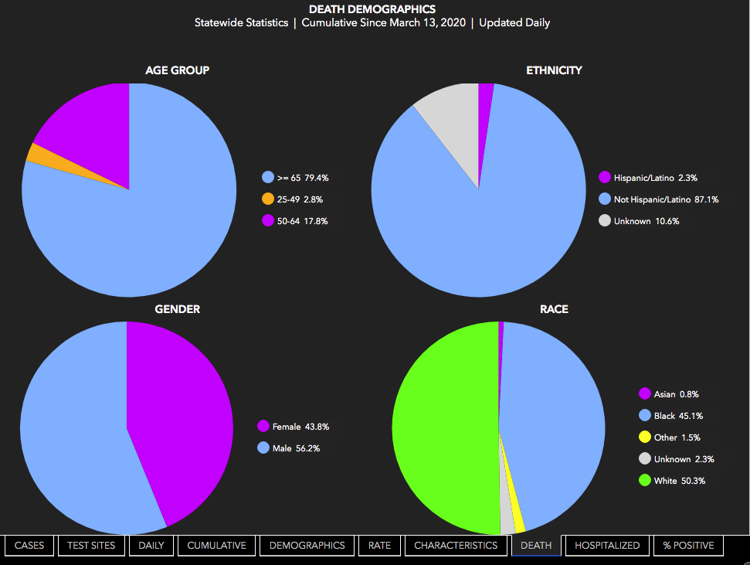 See all counties and their in-depth information according to ADPH as of noon Saturday below:
Autauga County: 
67 confirmed cases
1,127 total tests
4 deaths
Baldwin County: 
210 confirmed cases
4,295 total tests
5 deaths
Barbour County: 
55 confirmed cases
428 total tests
1 deaths
Bibb County: 
44 confirmed cases
910 total tests
1 deaths
Blount County: 
44 confirmed cases
917 total tests
0 deaths
Bullock County: 
21 confirmed cases
146 total tests
1 deaths
Butler County: 
162 confirmed cases
665 total tests
5 deaths
Calhoun County: 
123 confirmed cases
2,117 total tests
3 deaths
Chambers County: 
312 confirmed cases
1,214 total tests
21 deaths
Cherokee County: 
21 confirmed cases
399 total tests
0 deaths
Chilton County: 
63 confirmed cases
826 total tests
1 deaths
Choctaw County: 
60 confirmed cases
229 total tests
0 deaths
Clarke County: 
53 confirmed cases
539 total tests
1 deaths
Clay County: 
26 confirmed cases
332 total tests
1 deaths
Cleburne County: 
13 confirmed cases
131 total tests
1 deaths
Coffee County: 
145 confirmed cases
1,068 total tests
0 deaths
Colbert County: 
63 confirmed cases
1,289 total tests
2 deaths
Conecuh County: 
12 confirmed cases
185 total tests
0 deaths
Coosa County: 
31 confirmed cases
196 total tests
1 deaths
Covington County: 
50 confirmed cases
644 total tests
1 deaths
Crenshaw County: 
33 confirmed cases
359 total tests
0 deaths
Cullman County: 
63 confirmed cases
1,704 total tests
0 deaths
Dale County: 
40 confirmed cases
630 total tests
0 deaths
Dallas County: 
97 confirmed cases
952 total tests
3 deaths
DeKalb County: 
140 confirmed cases
1,457 total tests
2 deaths
Elmore County: 
133 confirmed cases
1,603 total tests
4 deaths
Escambia County: 
35 confirmed cases
718 total tests
3 deaths
Etowah County: 
168 confirmed cases
2,600 total tests
10 deaths
Fayette County: 
7 confirmed cases
363 total tests
0 deaths
Franklin County: 
205 confirmed cases
1,010 total tests
1 deaths
Geneva County: 
12 confirmed cases
307 total tests
0 deaths
Greene County: 
70 confirmed cases
319 total tests
3 deaths
Hale County: 
64 confirmed cases
442 total tests
2 deaths
Henry County: 
27 confirmed cases
255 total tests
1 deaths
Houston County: 
102 confirmed cases
1,536 total tests
4 deaths
Jackson County: 
59 confirmed cases
1,641 total tests
2 deaths
Jefferson County: 
1,107 confirmed cases
21,178 total tests
60 deaths
Lamar County: 
13 confirmed cases
320 total tests
0 deaths
Lauderdale County: 
89 confirmed cases
2,163 total tests
2 deaths
Lawrence County: 
22 confirmed cases
415 total tests
0 deaths
Lee County: 
420 confirmed cases
3,726 total tests
30 deaths
Limestone County: 
55 confirmed cases
1,493 total tests
0 deaths
Lowndes County: 
92 confirmed cases
277 total tests
5 deaths
Macon County: 
46 confirmed cases
375 total tests
2 deaths
Madison County: 
244 confirmed cases
9,616 total tests
4 deaths
Marengo County: 
76 confirmed cases
650 total tests
4 deaths
Marion County: 
95 confirmed cases
997 total tests
7 deaths
Marshall County: 
536 confirmed cases
3,657 total tests
8 deaths
Mobile County: 
1,432 confirmed cases
11,471 total tests
82 deaths
Monroe County: 
15 confirmed cases
293 total tests
1 deaths
Montgomery County: 
542 confirmed cases
3,971 total tests
15 deaths
Morgan County: 
88 confirmed cases
2,180 total tests
0 deaths
Perry County: 
18 confirmed cases
344 total tests
0 deaths
Pickens County: 
63 confirmed cases
563 total tests
2 deaths
Pike County: 
87 confirmed cases
833 total tests
0 deaths
Randolph County: 
101 confirmed cases
588 total tests
6 deaths
Russell County: 
74 confirmed cases
664 total tests
0 deaths
Shelby County: 
359 confirmed cases
5,235 total tests
17 deaths
St. Clair County: 
79 confirmed cases
1,710 total tests
1 deaths
Sumter County: 
93 confirmed cases
475 total tests
4 deaths
Talladega County: 
72 confirmed cases
1,701 total tests
2 deaths
Tallapoosa County: 
315 confirmed cases
1,717 total tests
42 deaths
Tuscaloosa County: 
270 confirmed cases
5,417 total tests
4 deaths
Unknown or Out of State County: 
0 confirmed cases
4,985 total tests
0 deaths
Walker County: 
106 confirmed cases
1,315 total tests
0 deaths
Washington County: 
49 confirmed cases
289 total tests
2 deaths
Wilcox County: 
78 confirmed cases
276 total tests
4 deaths
Winston County: 
20 confirmed cases
529 total tests
0 deaths