Just what does the surface of the moon look like? How about Saturn and its rings?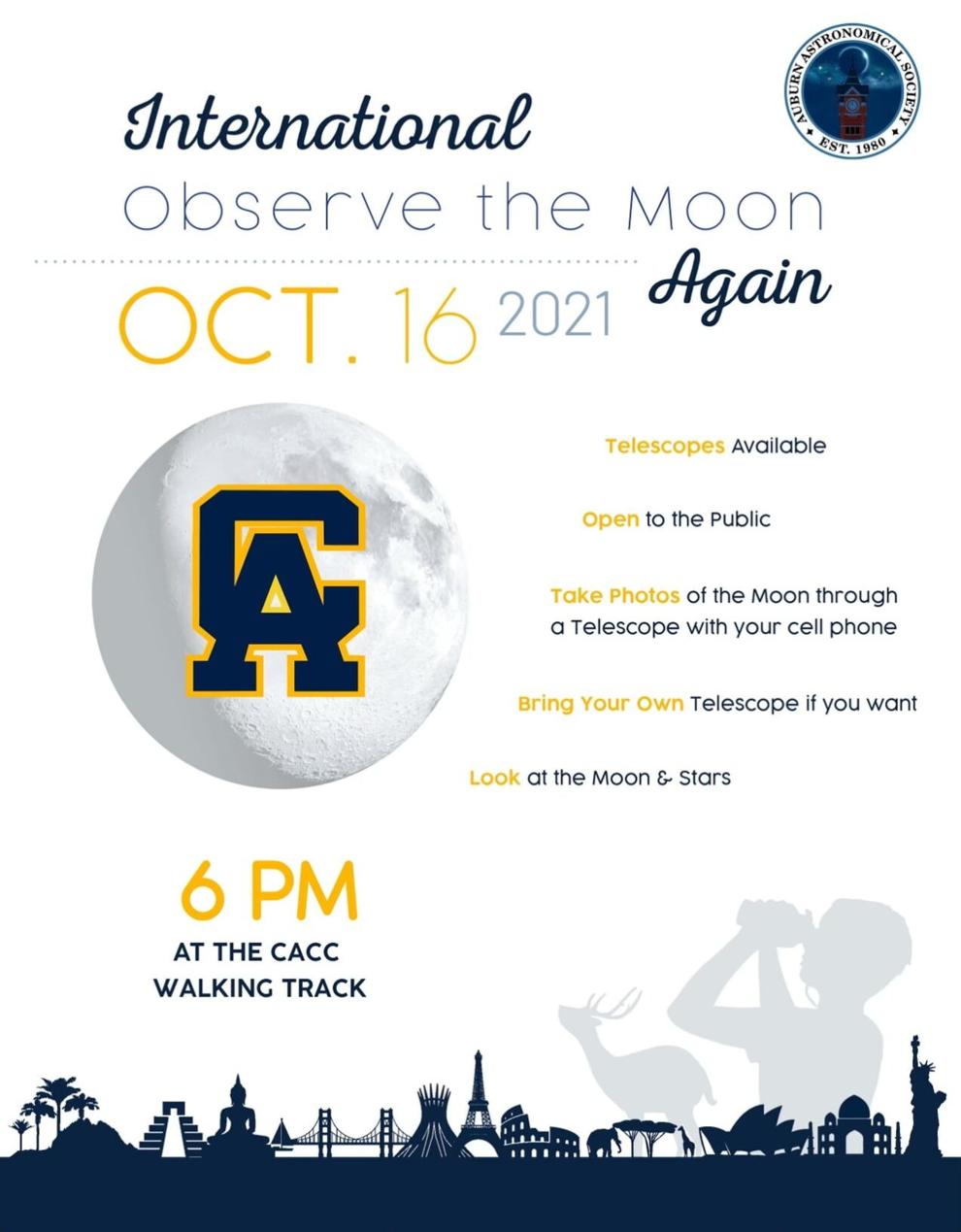 Central Alabama Community College (CACC) and the Auburn Astronomical Society (AAS) are teaming up offering a free, collaborative event Saturday to let the public see.
"We are going to be focusing on getting a good image of what the moon looks like," CACC instructor Jeremy Carr said. "It is going to be a waxing gibbous. We want to be able to see in pretty good detail. A full moon won't give you too much detail. It will illuminate the whole moon but it is the shadows you want to be able to start to see a lot of those geographic features in a lot of more detail. It is the exact same thing Galieo did when he was making his observations of the moon with the first telescopes he invented."
The CACC-AAS stargazing event coincides with the Apollo 11 lunar mission anniversary and the international "On the Moon Again" public astronomy weekend. The event starts at 6 p.m. Saturday at the CACC track. It's the best time to view the celestial sky. The moon isn't the only object Carr has his sights on as other planets and celestial objects should be able to be viewed.
Carr said the stargazing event can help build bonds in a family.
"You talk about formative experiences — this is one of them," Carr said. "My daughter and I several years ago, this is in 2017, we have a small telescope at our house. We were able to visualize the sun during Mercury's transit. It looked like Mercury cast a shadow on the sun. We got an image of it on my cell phone. Eventually one of them turned out."
The event is designed to spark interest in science.
"My hope is that this event encourages the public to fall in love with science," Carr said. "That's the key to STEM education — capture their attention and the learning will follow."
Carr said AAS members will have a half-dozen or more telescopes of different sizes and types to view the sky.
"Some of the astronomers who are coming are bringing pretty heavy duty telescopes," Carr said. "They are encouraging people to bring their cellphones too. You can actually take pictures through their telescopes with cell phones."
Carr said CACC students will be there to help and to answer questions about the school.
"We will be printing out a bunch of star maps too or sky maps so people can identify what they are looking at in the sky," Carr said. "The Auburn society will be there to show people how to use their telescopes and offer guidance."
Carr said he and others at CACC have been working for a while to get next week's program organized.
"Since taking the helm last year, (CACC) president (Jeff) Lynn has encouraged our faculty to build creative community relationships," Carr said. "We've wanted to work with AAS for a while, and now we have the opportunity to collaborate and encourage STEM education, all for the public's benefit."
AAS president Allen Screws is happy the organization can help educate the public on the skies.
"Our club members are excited to join CACC in presenting an educational public stargazing program for residents of Alexander City," Screws said. "We plan to offer close-up views of the heavens. It's more fun to see the solar system with your own eyes than through a computer screen. We appreciate CACC inviting our members to share in this fun learning opportunity with the community."
Those attending the stargazing event are encouraged to bring folding chairs.