Audience members demanded updates on Dadeville High School's gym and field house, Horseshoe Bend School building maintenance and bus driver pay at the Tallapoosa County Board of Education annual meeting Tuesday.
Donald Kizziah addressed the board on the progress of capital improvements in Dadeville — in particular, the new gym, field house and weight room.
"It seems like I open up the paper (and) we have some good things going on in Reeltown; we got some groundbreaking going on in New Site and that's great," he said. "But it seems like there's a sluggishness to get anything done at Dadeville."
Kizziah said student athletes were having to wipe water off the floor of the gym during games.
"It's just plum embarrassing is what it is," he said.
Tallapoosa County Schools superintendent Joe Windle said the gym and field house project was the first the board bid to construction companies but came out $2 million over their estimated cost, so they tabled it to renovate Dadeville Elementary School.
Kizziah acknowledged the elementary school renovations but reminded the board construction was supposed to start in January 2020.
New Site councilmember Christy Cook had similar concerns, but this time over building maintenance at Horseshoe Bend High School. Cook said she represented several Horseshoe Bend parents.
"We all know our school is almost 30 years old," Cook said. "You walk around the outside, you see mold, mildew."
Cook said Horseshoe Bend parents appreciated the new auditorium being built but asked the board also address general maintenance and upkeep.
Windle said the board voted Oct. 26 to address the drainage problems at Horseshoe Bend.
"It's always been one of the 22 projects to get done but there were reasons it didn't make the No. 1 list," he said.
Cook said it went further than that. 
"We can't power smartboards; we have plumbing issues all the time up there — it's just constant," she said. "We've got to upgrade things."
Board member Michael Carter said many of these items had been identified in a countywide needs assessment.  
"Those things that you're asking about were at the very top of that needs assessment," he said. "The efforts went toward the auditorium instead of the maintenance items and then now, you're here for the maintenance items. Well, Donald (Kizziah) is going to be looking for the money for the gym and more money is going to go to the maintenance items that we should've gotten in the first place before we did the auditorium."
Carter said these allocations are not made on a whim — an outside company makes the assessments and the board votes on them. Cook asked why maintenance wasn't a standing project.
"Ours shouldn't even have to be a big million-dollar project," Cook said. "Ours is just stuff that should be happening every month, every year and we wouldn't be having these issues."
Windle said these changes would happen but "it won't be next week."
The final audience member to address the board was Edward Bell High School bus driver John Ford over an ongoing pay dispute. Also present was Ford's Alabama Education Association representative T.C. Coley.
Ford said he was at wit's end and asked the board to question him instead. 
"I guess I've been watching too much C-SPAN because I'm going to take my 10 minutes tonight and do like Congress does — I'm going to yield back my time to the board to ask me questions," Ford said.
Board member Carla Talton said the board had read the "reams" of paper Ford had given them.
Ford said bus drivers took on risk and asked for matrix pay at the very least.
"(We receive) $10 an hour for a field trip when we do things like pick up students at 7:15 in the morning and taking a load of band students to Muscle Shoals — who would ever approve a trip to Muscle Shoals to begin with?" he said. "But I did that one morning at 7:15 and was told they had to stay up there and get their little trophies. We didn't get back to Reeltown until 2:30 that morning."
Windle said a committee had been appointed to address Ford's complaints, but that it would take longer than the normal 15-day grievance response time because it involved more than one grievance.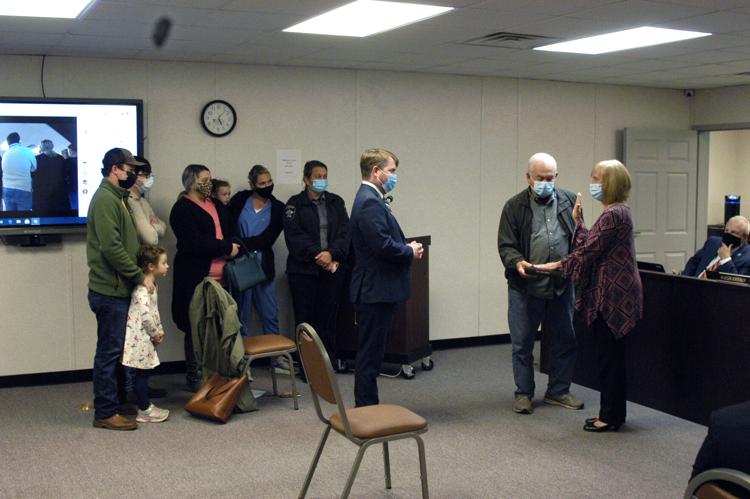 • New board member Linda Daniel was sworn in by Tallapoosa County probate judge East
• Talton was elected president of the board after being nominated by Matilda Woodyard-Hamilton. Talton won receiving three votes against Carter, nominated by Martin Johnson, who received two. Carter was then nominated for vice president which was approved unanimously.
• The board approved its financial report and fiscal year 2020 financial statement. The year ended with $8.2 million in cash and investments and nearly $18 million in capital accounts.