Local handgun purchases for women's defense increased significantly in December. 
The Sure Shot sold 104 handguns in December 2019 compared to 77 sold December 2018 and most of the purchasers said they were buying them for their wives or daughters, according to owner Woody Baird.
Alexander City resident Shane Coger said he bought a second handgun for his wife, Angel Coger, because of recent crime.
"(Crime is) growing each year and I can't be home," Coger said. "I feel better with her having some protection, and she has some training. It's not a paranoia thing to have more than one."
Coger said owning a gun is important for self-defense because police usually aren't at crime scenes right when the crime begins. 
Baird thinks handgun sales surged because of the kidnappings and deaths of Aniah Blanchard and Kamille "Cupcake" McKinney in October.
"We've seen a pretty big increase (in sales) from October up, but in December by far we sold more handguns than we usually do," Baird said. "If there's ever an event like (a kidnapping) you'll see a spike (in sales) but this time it's been pretty big maybe due to the fact there's two or three events and then what's going on over the country as a whole.
"Like the church shooting that just happened in Texas, and of course that happened after the fact but there were still a lot of violent events that (caused) the purchases."
Alexander City resident Carrie Patterson received a 9 mm handgun for Christmas from her husband, Mike Patterson. 
The kidnapping crimes in Auburn and Birmingham made Carrie realize anything can happen. 
"Those are places I go to all the time," Patterson said. "It's kind of scary. Hopefully I'll never use it and just practice."
Patterson is a business manager and travels around the state often carrying a lot of cash, so she wanted a gun for protection.
"It makes me feel a little safer," Patterson said. "When I get out I'm on the go all the time."
Hackneyville resident Angela Smith got a 9 mm pink Beretta from her husband, Glen Smith, this Christmas. Angela wanted a second gun because she is a Realtor and travels and runs and rucks alone. She plans to carry it while doing these things.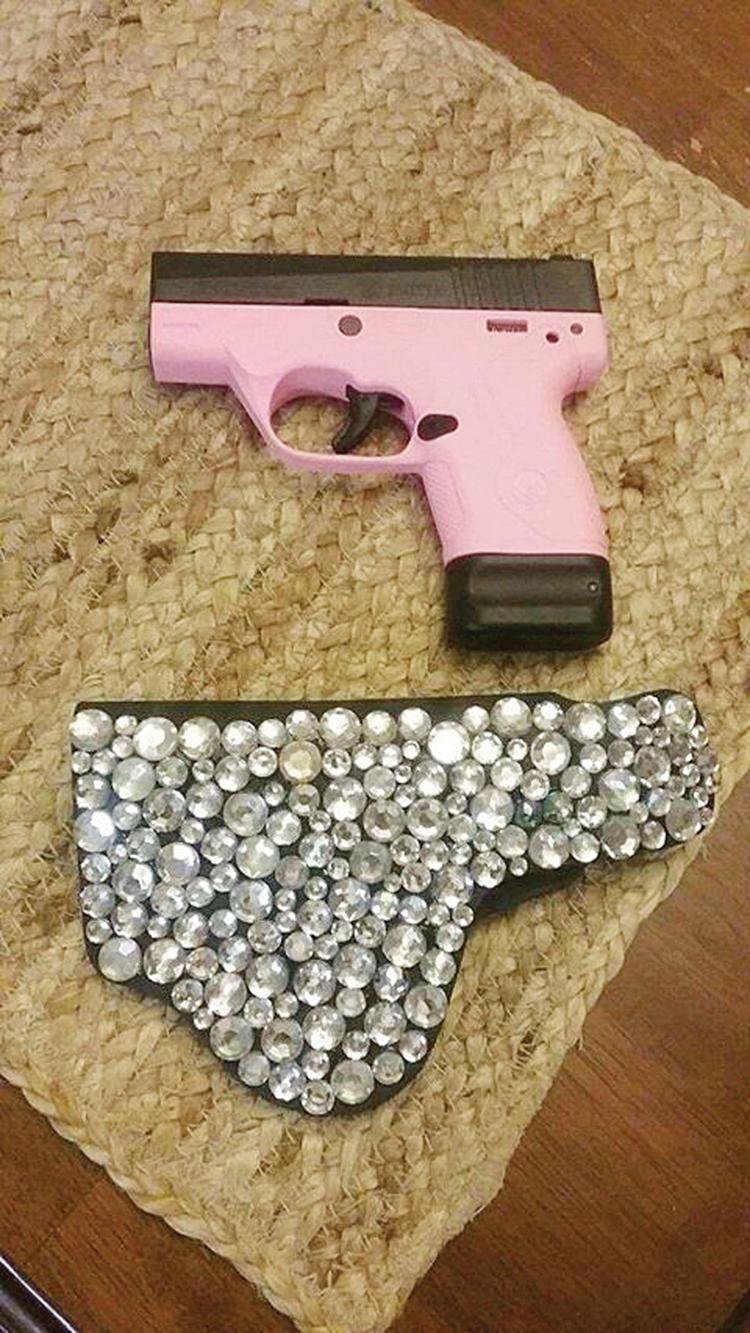 "It was supposed to be a surprise but I ended up guessing what it was going to be," Smith said. "I used to carry one years ago and got lazy."
Smith let her gun permit expire but with recent crime and going out on her own she decided she needed one again.
"My husband is big on making sure you're trained so you know the law and know how to react to different situations," Smith said. "With the church shootings and stuff, it's time to get prepared. You never know when you'll need to be prepared."
Depot Gun & Pawn owner Andy Tucker said all gun sales were up in December and does not believe recent kidnappings affected gun sales.
Dadeville resident Kayla Nelson was purchasing a shotgun Friday for hunting with her family at Depot Gun & Pawn. Her husband owns handguns for protection.
"We're not afraid of anything but (have them) just for protection just in case," Nelson said. "I've got two daughters. I can't be more precautious than protecting them."
February is the biggest month to purchase handguns at The Sure Shot because it's tax return season; about 60 were sold February 2019 and nearly 80 were sold in March 2019, according to Baird. He is expecting to sell even more this year.
Baird asks first-time gun purchasers their level of experience when they shop in addition to what they feel comfortable with such as using a semi-automatic.
New owners without proper training could limp wrist when firing, which is not holding the gun tight enough, causing it to malfunction. Lighter guns need to be held tighter because they don't have enough weight to be steady after firing.
"The heavier the gun is, the more forgiving it is for the operator to be able to hold it tight enough to allow it to function," Baird said. "It's all inertia. If you limp wrist it and you let it whip and take up the inertia, potentially it won't go all the way back forward and (fire), then you have a jam."
Tucker and Baird advise first-time buyers to get a revolver.
"You don't have to think much about a revolver; you just have to pull and point," Tucker said. "An automatic, if you don't know what you're doing, you will get yourself killed."