Isaiah Taylor has fulfilled a lifelong dream as he was deputized as a Tallapoosa County deputy sheriff.
Taylor raised his right hand as he took his oath of office from Tallapoosa County Sheriff Jimmy Abbett and said "I do." 
Taylor, 17, who is Reeltown junior with cerebral palsy, was sworn in as an honorary Tallapoosa County Sheriff's Department deputy in front of his family, classmates and hundreds of officers from surrounding law enforcement agencies Tuesday morning in Reeltown.  
Taylor is confined to a wheelchair and has speech difficulty but has always dreamed of being a police officer.
"We don't let (his disabilities) keep us from doing (anything)," said Jacklyn Baker, Taylor's mother. "I've told him the sky is the limit,"
Taylor, who spends every morning with Reeltown school resource officer Jason Cowart, recently told him he wanted to be an officer.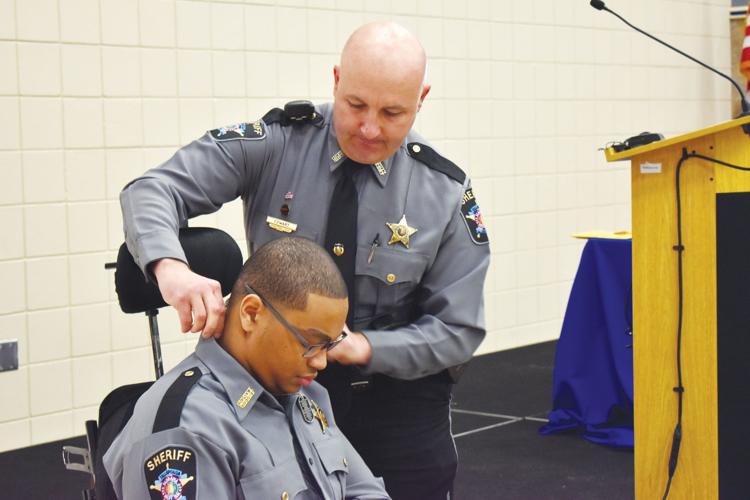 Cowart talked to Reeltown principal Dr. Tom Cochran, Tallapoosa County Sheriff chief deputy David McMichael and Abbett about doing something for Taylor. 
Taylor is now Cowart's partner at Reeltown, according to Abbett.
"His mom has shared stories with me in the past where they would go to the fair and he would take pictures with police cars and that type of thing rather than be interested in the rides," Cowart said. "Everyone was just on board and thought it was a wonderful idea and we reached out to fellow law enforcement officers and had a great turnout from brothers and sisters in blue (Tuesday)."
Taylor was given other agencies' patches, hats and challenger coins, and Baker cried because of the hundreds of officers in attendance.
"I thought it was something small and had no idea it was going to (turn) into this," Baker said. "This is absolutely amazing."
McMichael told Taylor at the ceremony all the officers in attendance needed the event to raise their spirits and remembered the six Alabama officers who died in the line of duty in 2019.
"I want to thank you for your dream you have — a dream of becoming one day a law enforcement officer," McMichael said to Taylor. "It's that dream that has made all of this possible (Tuesday) morning. You are the MVP (Tuesday) morning."
Abbett told Taylor he achieved a lot already and there is a brotherhood in law enforcement.
"I've had the opportunity over my years to swear in hundreds of law enforcement officers and pin that badge on them," Abbett said. "This is probably the best opportunity I've had, to swear you in as a law enforcement officer."
Alabama Law Enforcement Agency senior special agent Fred Hutcherson gave Taylor a State Bureau of Investigations honorary agent certificate and a SBI vest.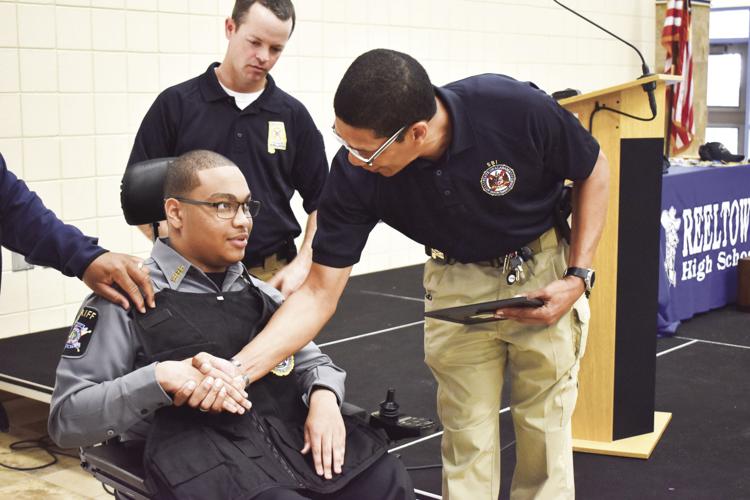 "With the approval of Sheriff Abbett, you'll be able to be a part of SBI," Hutcherson said. "(In the) SBI we can't have you going in your (sheriff's) uniform because that's showing you're with them, but when you're with us, we want you to dress like us."
Taylor was also given a dog tag with the police officer's prayer on one side and the thin blue line American flag, which is black and white and has one blue stripe representing law enforcement. 
"It's special," Cowart said. "He's a wonderful person all together. We need more people like (Taylor)."
The officers lined the hallway afterward to salute Taylor, who took his first ride in Cowart's SRO vehicle around Reeltown Elementary. He then took a helicopter ride with state troopers.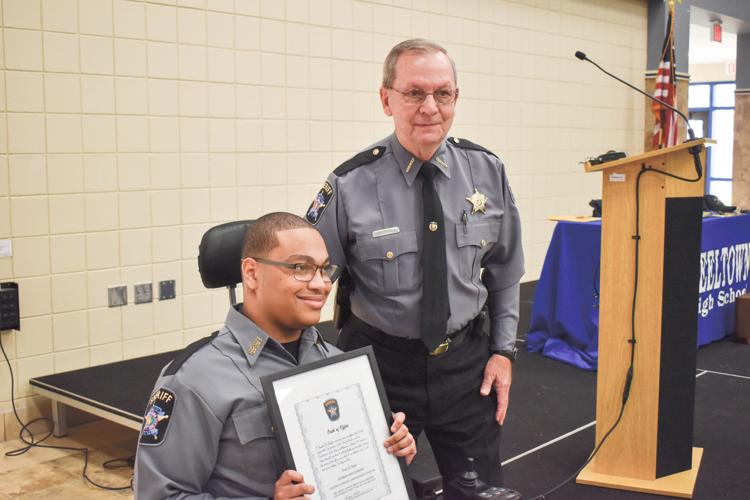 "It's been a special day for him and also a special day for us," Abbett said. "It helps us that we're able to reach out to someone like this who has a desire and wants to be in law enforcement."
Taylor appreciated the opportunity to finally fulfill his dream.
"Thank you, family and police officers," Taylor said. "Every weekend I watch 'Cops.' They get bad guys."
Baker said, "This is a dream come true for him. I'm so grateful for all the police officers in the surrounding area that came out to make this special for him."