Thirteen-year-old Daviston resident Rebecca Rasbury became fascinated with beekeeping at a young age.
Rasbury used to sit in a chair and read aloud to her father's beehive. She'd move the chair closer and closer to the hive every few weeks, managing not to get stung while allowing the bees to grow accustomed to her scent and presence.
Now Rasbury's chair is next to her very own hive.
"I fell in love with them because they're so friendly and they can climb on your fingers, especially during the summertime," Rasbury said.
Rasbury began beekeeping as a way to help her father, Mark Rasbury, who also learned the skill from his father. Mark works as a chimney cleaner and has collected bees from clients' chimneys. 
The Horseshoe Bend School eighth-grader began seriously beekeeping a few years ago in 4-H club and used bees to help pollinate her flowers. After a while she got more and more interested in bees and it became a fulltime hobby. 
The wild and European bees Rasbury takes care of are now part of her life from cooking with honey to teaching others about them. Rasbury has used her bees in her other 4-H activities including a photography exhibit on them and using honey for homemade barbecue sauce and baked goods. Her mother Emily Rasbury said when she doesn't have time to cook dinner, she will make biscuits and use the honey from Rebecca's hive.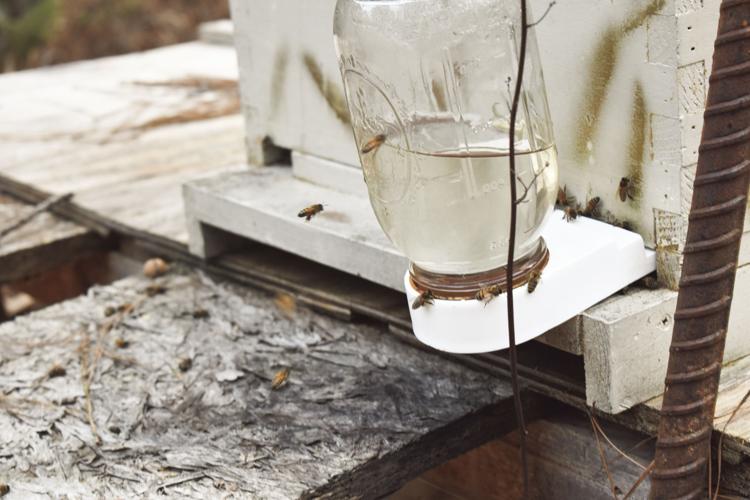 "We have always had an excess of honey so I have to use it for something," Rebecca Rasbury said.
Rasbury is also working in a project about her bees as part of her school's Future Farmers of America (FFA) Conduct of Chapter, which teaches seventh- through ninth-grade students how to conduct efficient meetings and build their communication skills. 
Rasbury took part in the Tallapoosa County Extension beekeeping course led Rasbury to become a member of the Tallapoosa Beekeepers Association. She has also taught Jim Pearson Elementary School students about hives for the beekeepers association. 
Rasbury said it's important to be cautious as a beekeeper. 
"I have been stung but I haven't been stung when going near them," Rasbury said. "It's mostly just when they felt threatened because I was taking up honey or if I was checking and opening up the hive."
Rasbury checks on her bees three to four times a week and feeds them sugar water. Beekeeping also entails checking for mites and wax moths, which are moth larvae left in beehives that can take over hives. 
Rasbury also checks her beehive frames in the summer months every week and makes sure the hive has a firm foundation.
"You don't want the wind pushing over your boxes because that would probably make the bees leave," Rasbury said.
In addition to beekeeping Rasbury is also on her school's cross county and volleyball teams and plays trumpet in the band. She hopes to major in agriculture with anything to do with bees when she goes to college. 
Rasbury's advice for beekeeping is to do research and be cautious with bees but don't get scared of them.
"Bees are just like any other animal," Rasbury said. "As long as you (are) calm around them, they'll get used to you. Just take time."