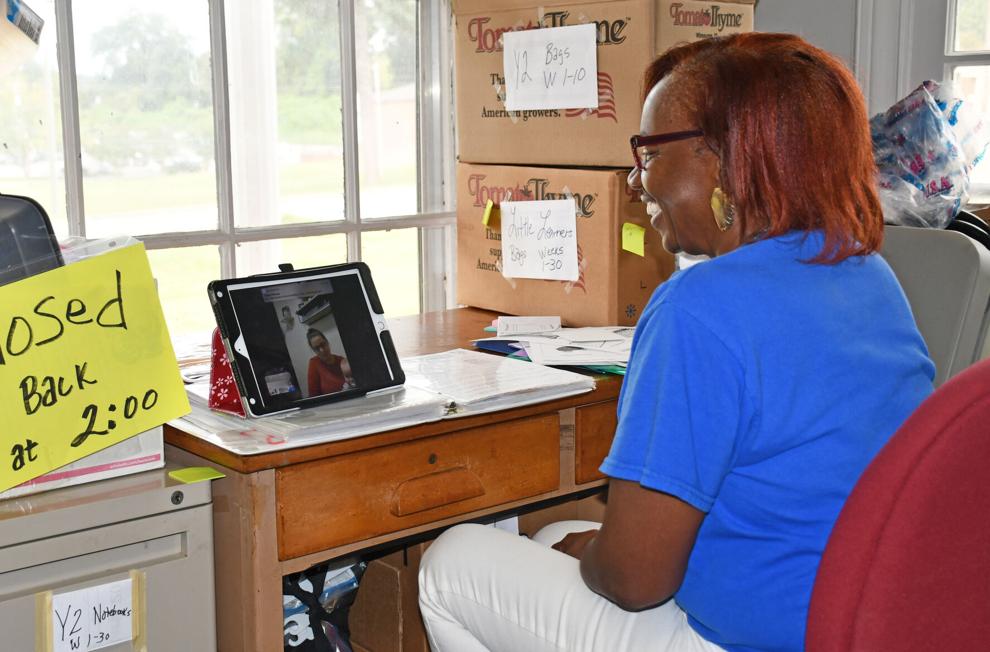 In a house-turned-office beside Benjamin Russell High School, Gladys Barren teaches a one-on-one preschool class via video on an iPad — not to three-year-old Graham, but to his mother, Sarah Gurley, in a sort of role-playing exercise.
"Can you tell me where Spot is?" Barren asks, holding a picture of a basket to the camera.
HIPPY, or Home Instruction for Parents of Preschooler Youngsters, began 12 years ago in Alex City by coordinator Barbara Thompson, who identified the need to "partner with parents to prepare their children for long-term academic success in school." For families who, for whatever reason, cannot send their children to preschool, the program provides free books, supplies and curriculum.
Before the pandemic, the program invented in Israel — operated locally under the Alexander City school system — mentored parents during weekly home visits, going over lessons to improve their preschoolers' number sense, language and motor skill. Parents like Gurley then spend about 15 minutes a day with their preschooler going over those skills and report back on their progress during the next week's session.
In its second year of virtual home visits due to the COVID-19 pandemic, however, "the needs have changed," assistant coordinator Debra Pierce said. "And you know, the parents change too. The household has changed. Most parents work now, so a lot of the virtual lessons are done in the evening when they get off work."
HIPPY's four home visitors now teach virtual lessons as late as 9 or 10 p.m., as early as 6 a.m. or during the parent's lunch hour.
"Some days we're doing them Saturdays and Sundays," Pierce said.
Others are concerned about the coronavirus.
"We've had a lot more children with immune deficiencies," she said. "The parents have been leery about sending them to a public preschool or pre-K or daycare so they've chosen to stay at home and do virtual lessons with them at home."
In addition to the regular pre-K classes at Jim Pearson Elementary School, the program is state-funded through an early childhood education grant HIPPY reapplies for each year that covers up to 70 families. Alex City's program serves 80 families with extra funding from the Russell Foundation.
Pierce said there's still time for enrollment.
"I really think the program is awesome," she said. "It's out there for every parent of a two, three- or four-year-old."
Her hope is that by next year, the in-person home visits can resume.
"I think it's just much more personal when you can meet with them in their home," she said. "You sort of become part of the family."