Outside of church one might never guess John Hill is a Methodist preacher.
On Sundays, Hill can be found at the wooden pulpit with a large wooden cross hanging behind him in the baptistry. But he appears in far more places than in front of his congregation as pastor of Flint Hill United Methodist Church. Hill quietly shares the gospel when it's ready to be received and is rarely in a suit and tie as a critical incident counselor and law enforcement chaplain.
For Hill, all the roles serve him in sharing the gospel.
"I look at my ministry as a toolbox," Hill said. "A hammer is not always the tool that is needed. Sometimes it's a wrench and others it's screwdriver. A hammer is not going to do all those things. I like looking into my toolbox and pulling out the correct instrument for the job to help others."
Despite an early call to the pulpit, Hill almost didn't answer.
"I first felt the call to ministry in high school," Hill said. "I didn't want to do that. I jokingly said 'God doesn't pay.'"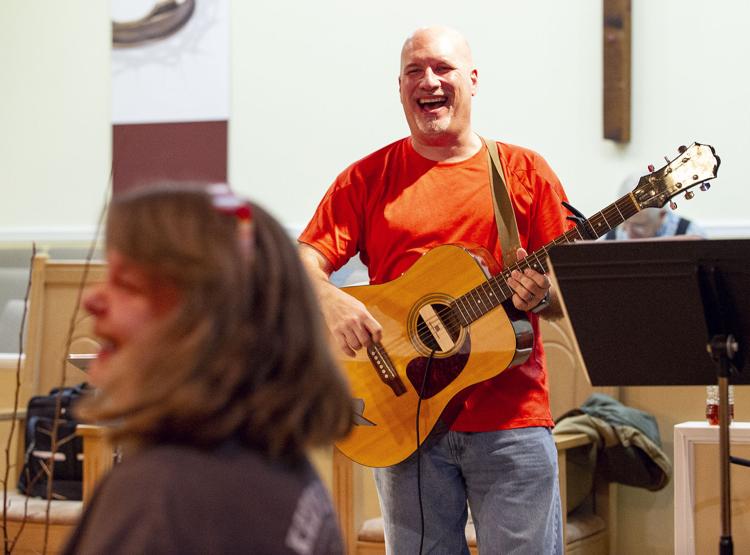 Before stepping to the pulpit, Hill held jobs as an insurance adjuster, a teacher and in sales, but he was never completely happy.
"I knew my life had a purpose, but what I was doing wasn't it," Hill said. I tried everything but pastoring."
Hill took a leap of faith and followed his calling to the pulpit in 2002.
"I finally surrendered to that call," Hill said.
Hill's first appointment as a Methodist preacher came at a small church in Decatur while he was still in seminary. His next one came as an associate pastor at a large church in Huntsville then a church plant in Huntsville and Chelsea before landing Flint Hill United Methodist Church in Alexander City where Hill has been since 2013.
"It's been my longest appointment," Hill said.
In addition to being Flint Hill's pastor, Hill is a law enforcement chaplain and a crisis counselor. Those duties started when Hill was still in Huntsville.
"A police officer got killed less than a mile from our house," Hill said. "I felt a calling to help police officers."
Hill continued his chaplain service in Chelsea with the Shelby County Sheriff's Office.
"They have a chaplain program second to none," Hill said.
Shelby County even has a chaplain academy that is well known across the Southeast with chaplains attending a three-day academy through the International Conference of Police Chaplains (ICPC) covering up to 12 courses, four of which Hill is certified to teach.
Some of the courses help chaplains learn about the liabilities and legal issues they may encounter working with law enforcement. Hill holds a master's certificate with ICPC having been a chaplain for 10 years and at least 35 units of continuing education through ICPC. Ten training hours represent one unit.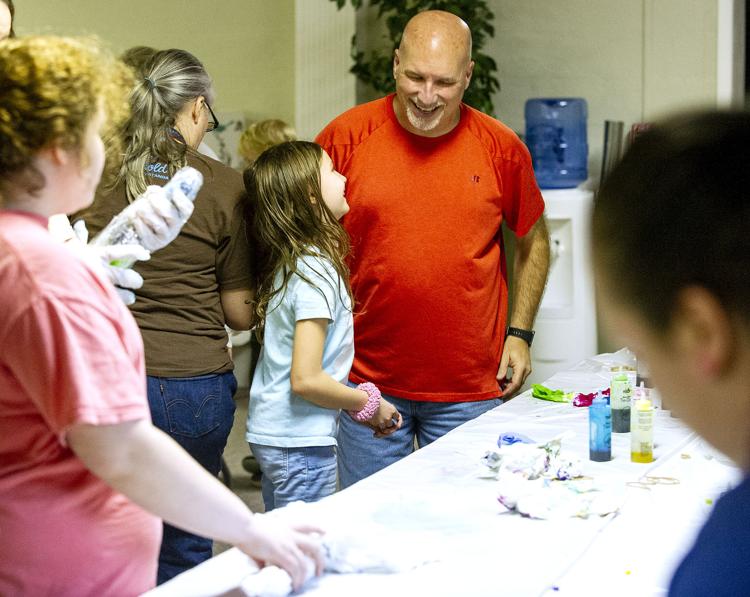 Since moving to Alexander City, Hill has been a chaplain with the Alexander City Police Department. ACPD chief Jay Turner said the chaplain service of Hill and others has been an asset to the department.
"He has done it all," Turner said. "He has numerous life experiences to pull from."
Turner said Hill and the other chaplains often ride along with officers.
"Pastor Hill is great," Turner said. "He doesn't preach to the officers. He rides along, chats and listens. If religion comes up from the officer, he will answer questions."
Hill said he doesn't start out conversations about religious matters with law enforcement. He said not knowing their religious background and then having a religious conversation could cause an officer to shut him out.
"I'm of no use then," Turner said. "Some officers don't want to be preached to."
Hill said religion may never come up.
"That's OK," Hill said. "We are there as a resource and asset to the officers we serve. Our job is not to convert. Our job is to assist the officer however the officer deems necessary. I will get into a police car and not ever talk religion."
Turner said the chaplain service allows his department to better serve the community during a crisis.
"There was a weeklong search," Turner said. "The chaplain service was able to be a liaison between the department and the family."
Hill said that is one of several functions the chaplain service helps with.
"We can be a great bridge between a family or community and the police department," Hill said. "You might have 25 family members gathered so instead of 25 people asking the police department questions, they come to us and we relay the information. At the same time we get to know them and build a rapport with them. Our goal is to get them to trust us."
Hill explained when a family gathers at the scene where a family member is involved, it is a crisis for those individuals.
The chaplain service also helps with death notifications. Turner said their help in those situations is great.
"A chaplain usually accompanies officers to make a death notification," Turner said. "Police officers often have a weakness and helping others with the first notification of the death of a loved one but it comes natural to the chaplains."
Hill is a credentialed chaplain with the United States Secret Service and is also a member of the Alabama Law Enforcement (ALEA) chaplain corp and helps state troopers with death notifications too.
"It is an extremely difficult task," Hill said. "It is always a bad day when a trooper and a chaplain show up at your door. We try to deliver that news in the most sincere and caring way possible."
The chaplain's job often centers around responding to a critical incident. Hill has gone a step beyond being a chaplain by joining the efforts of Alabama Critical Incident Stress Management (ALCISM). Through that program Hill has taught stress management classes for ACPD. ALCISM allows Hill to work with others after critical incidents. Hill said a team from ALCISM has responded to first responders across the state to help with incidents involving children.
Hill said those response teams are trained and include a chaplain, a mental health professional and peers. The mental health professional rarely speaks during the response but is there to make sure the team doesn't get into psychotherapy.
"They are not there to get clients," Hill said. "The peers do most of the talking in the group settings. If we are visiting with police officers, we will take police officers – for fire departments, firefighters go."
Hill said one interesting team involved responding to lifeguards dealing with a child drowning at a pool.
"It was tough," Hill said. "I had to find some lifeguards and they got quick training in route. That is not ideal. There are several classes they need to take before getting on a response team."
Ultimately Hill said the teams are trying to help those involved in a critical incident be resilient.
"It is like the bouncy ball children want to get from those dispensers," Hill said. "The first thing they do is throw it as hard as they can into the ground to see it bounce up. You can always bounce back and through classes, hopefully they have tools to deal with stress and have other ways to cope with stress to bounce back. The classes are like a vaccine; you can build up resistance to some of the hard stuff and also exhibit resilience to bounce back."
The roles as pastor, chaplain and part of the ALCISM team are different and similar at the same time for Hill.
"Being a pastor is different than being a chaplain and it is different being a member of the ALCISM," Hill said. "The roles are different for each. What you do in each is different. How you approach it is different. Yes they blend, but each is independent."