The number of positive confirmed cases of the coronavirus has increased to 124 confirmed cases since Friday afternoon. But as of 10:20 a.m. Saturday, there were still no confirmed cases in Tallapoosa County, according to the Alabama Department of Public Health.
Russell Medical did confirm the facility received a positive test result as of Saturday morning. The test was performed at Russell Medical in Tallapoosa County but it has not been released which county the person with a positive result lives in.
"Our reference lab confirmed to us we have a positive case (of COVID-19) comeback," Russell Medical director of marketing Susan Foy said. "It was a test conducted here at Russell Medical. It has been reported to the Alabama Department of Public Health. APDH has to validate it. They publicize it in their reported numbers."
Foy said it would be ADPH to report the location of the case and all she could confirm is the test sample was collected at Russell Medical.
"ADPH has not yet published it in their numbers," Foy said.
The updated numbers show there are 60 cases in Jefferson County, 12 in Lee County, 16 in Shelby County, six in Madison County, six in Elmore County, four in Tuscaloosa County, three in Montgomery County, two apiece in Cullman, Baldwin and Mobile counties and one each in Calhoun, Chambers, Jackson, Lamar, Lauderdale, Limestone, Marion, St. Clair, Talladega, Walker and Washington counties.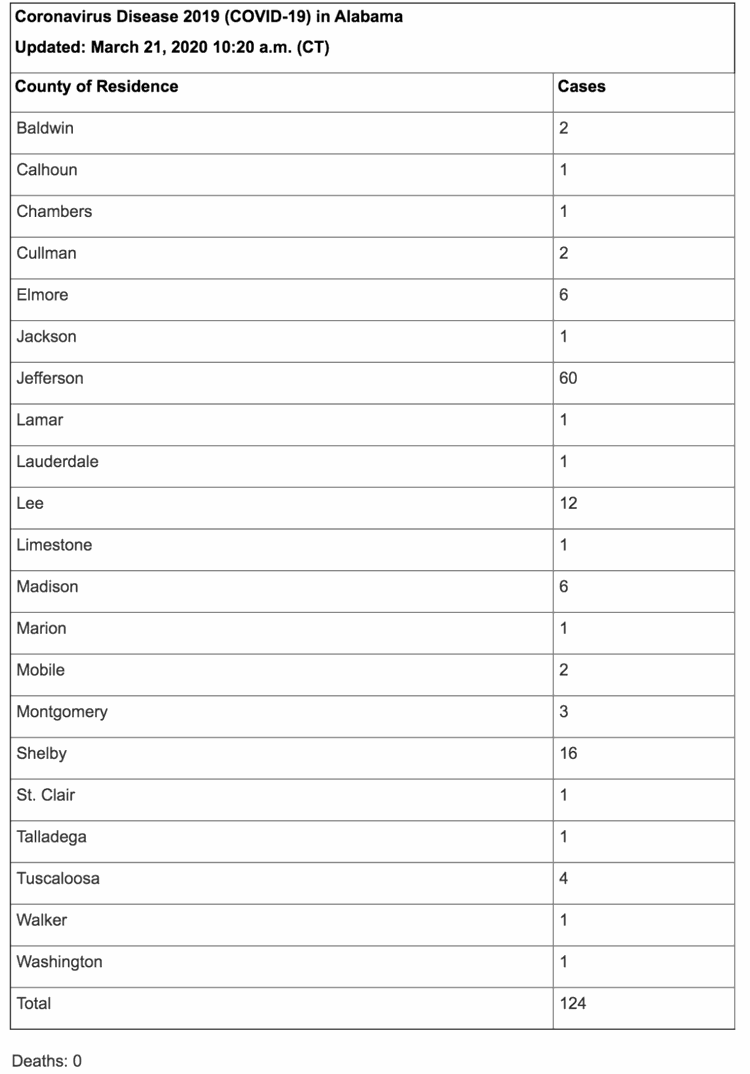 Stay tuned with The Outlook for the latest numbers, which are being released twice a day, and check ADPH's website here.
An Alexander City resident confirmed her husband received a positive COVID-19 test result from Russell Medical by providing documentation to The Outlook on Saturday afternoon. See that full story here.