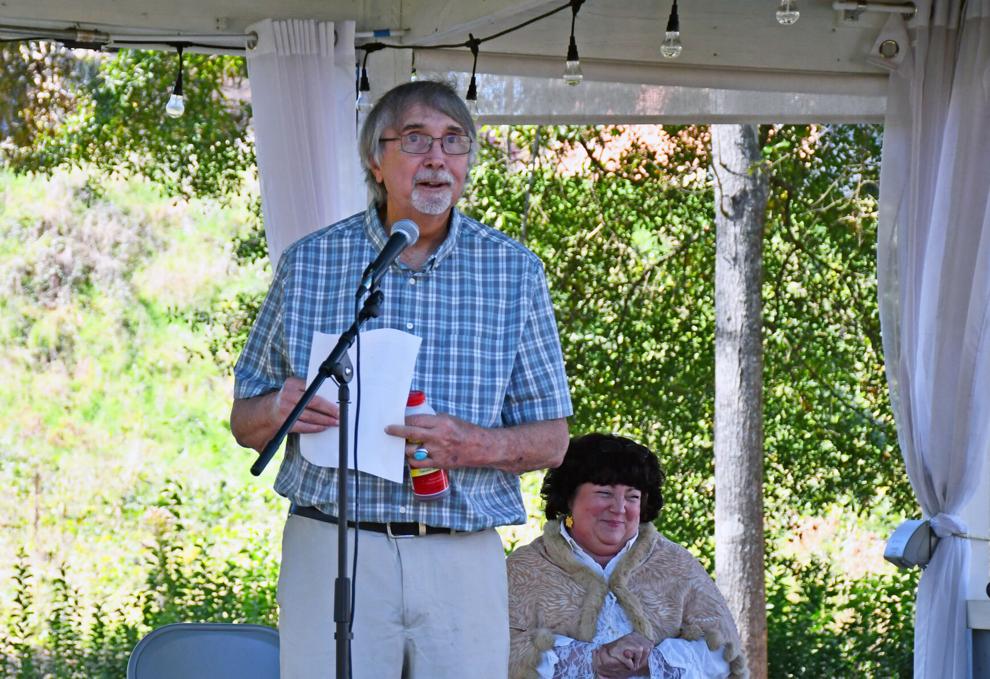 The pun-making was irresistible at the dedication of the Pennington Park pavilion Wednesday, in honor of Dadeville native and civic organizer William "Bill" Ponder.
"Leigh and I, after years of pondering who fit the bill, it suddenly came to us," said Kurt Pfitzner, who owns Pennington Park with his wife Leigh.
But the ribbon-cutting ceremony hosted by the Pfitzners and the Lake Martin-Dadeville Area Chamber of Commerce also paid sincere tribute to the Dadeville High School graduate voted "Most Likely to Succeed."
Sharon Gaither, a lifelong friend of Ponder's who he describes as his partner-in-crime, gave a brief biography, from his founding of the original Dadeville Beautification Board to his involvement in the Tallapoosee Historical Society. She also spoke of his less-publicized acts of kindness.
"Back when the COVID pandemic was at its height and everyone was hoarding everything — and especially those paper products — Bill found a store somewhere outside Dadeville," Gaither said. "I learned he had been buying these articles and he was taking them to people of very, very limited income. But Bill knew these people and what they needed and he took care of them."
Everyone in the audience, Gaither said, would probably be able to cite a different example.
"He willingly shares his assets and resources with people of all ages and all different backgrounds," she said. "He's not going to initially tell you about any good deed he has ever done. You will have to learn that from the recipient or from him accidentally."
When it was his turn at the podium, Ponder said he was "deeply appreciative" and praised the Pfitzners for their transformation of Pennington Park, since moving to the Dadeville area about seven years ago.
"You know they old saying, if you build it, they'll come. God, that's so true, people started pouring in here," he said. "It was their child from the very beginning. He has grown up and is doing well."
Ponder then delivered a deadpan riff on how he tried to find a teleprompter for the occasion.
"I said 'Oh lord, I know who has one. The White House,'" he said. "I can call them up and say 'Put that on Air Force One and fly that down here.'"
Ponder professed not to know what got into him.
"Have y'all ever called the White House? I got through; I couldn't believe it," he said. "I get this girl and I could tell right off she was blonde. She sounded pretty; I knew she was pretty. Y'all blondes forgive me — it could have been red but I knew she was blonde. I said 'Honey, could I talk to the president.' She said 'Well, he's taking a nap.'"
Ponder concluded in saying he was unable to get through to the president.
"Anyhow I'm going to read now so I don't screw up and start crying here," he said. "Words can't express how deeply appreciative I am or how honored I am."
After the dedication, when asked to present a phone bill, Ponder said he "made up the whole thing."
Pennington Park's Ponder Pavilion continues to be available for public use.