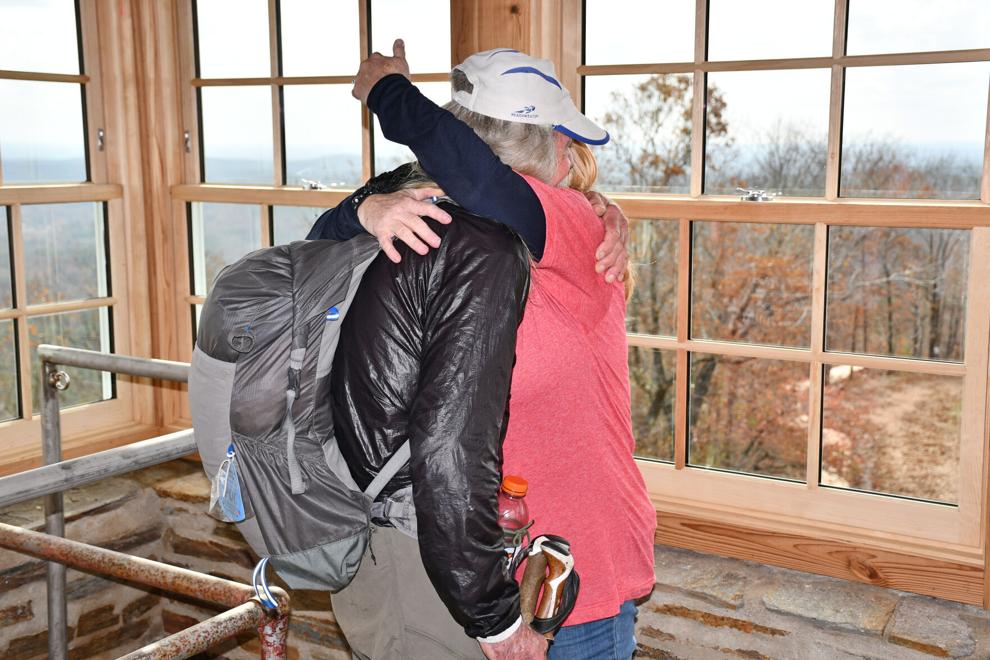 When M.J. "Sunny" Eberhart, 83, began his 2,600-mile hike in February, he started at the Flagg Mountain lookout tower, .9 miles into the Pinhoti approach trail which links to the Appalachian Trail in Georgia.
Eberhart, known by the trail name "Nimblewill Nomad," completed that journey earlier this month, becoming the oldest to hike the entire Appalachian Trail. On Sunday, the long-distance hiker — back home in Coosa County — walked that last nine-tenths of a mile, becoming the oldest to hike not just the trail, but the entire Appalachian range.
"It's a done deal, isn't it," Eberhart said atop the Flagg Mountain lookout tower, joined by a few friends and members of the Coosa County Commission.
For the past few years — when he wasn't hiking — Eberhart has lived in one of the stone cabins atop Flagg Mountain, built in the 1930s by the Civilian Conservation Corps and only recently restored. In return, Eberhart volunteers as full-time caretaker, the result of a handshake-deal with the Alabama Forestry Commission and the Alabama Hiking Trail Society. It also means he gets to live atop the southernmost mountain in the Appalachian range above 1,000 feet — a convenient start to his hike nine months ago.
Since then, the stone lookout tower that looms over its summit has been restored, allowing Eberhart and his entourage to become the first to climb its new wooden staircase Sunday (the tower won't be open to the public for another few weeks).
Before he could even reach the tower, however, Eberhart was greeted by dozens of fans lining the paved approach, some of whom had been following the blog he kept from Alabama to New England. Ina Richards, a hiker from South Carolina, said she'd discovered his blog over the summer and joined Eberhart for a portion of his journey in Maine.
"That area put the skid marks on him," Richards said, referring to Eberhart's nickname for his skins and scrapes.
Eberhart has been back in Coosa County for a week now resuming his pre-hike life as caretaker. Now "well into his '80s," he says, he claims the Appalachian hike will officially be his last.