Cheeks were swelling above the mask of Dianna Duncan Wednesday as she watched her grandchildren enjoying custard from the soon-to-be open Lake Martin Creamery.
Duncan's grandchildren were some of the first to sample the custard created by the husband and wife team of Ellen and Dennis Godfrey.
"It's amazing," 9-year-old Tommy Farr said. "It's our lucky day. I got free ice cream."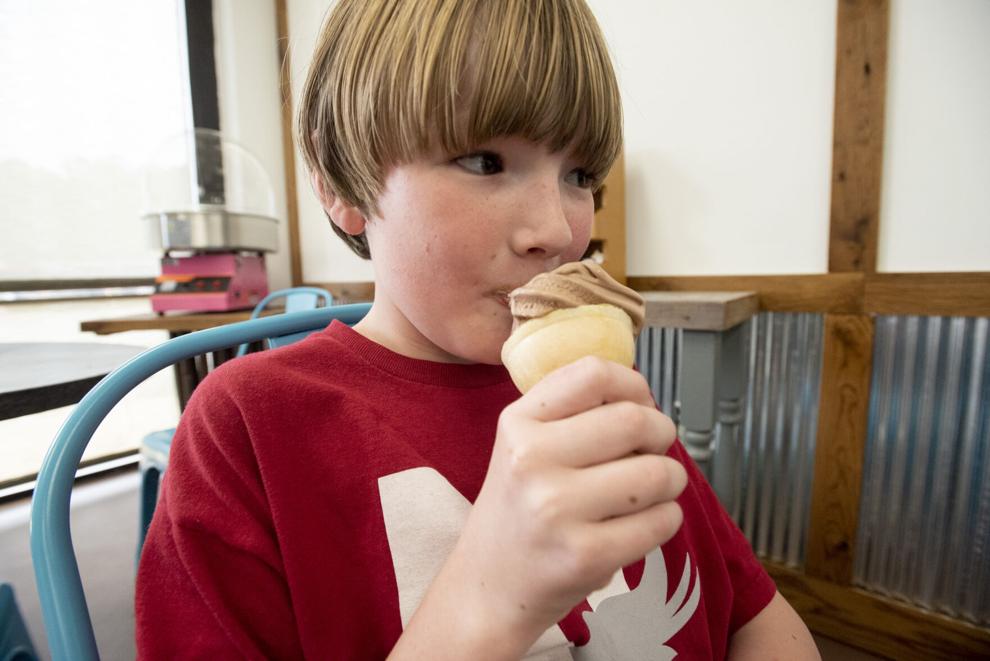 Duncan's other grandchild Hollieanna Farr, 5, dined on the ice cold treat too.
"I love it," the 5-year-old said. "I'm going to come in everyday and get a chocolate vanilla swirl."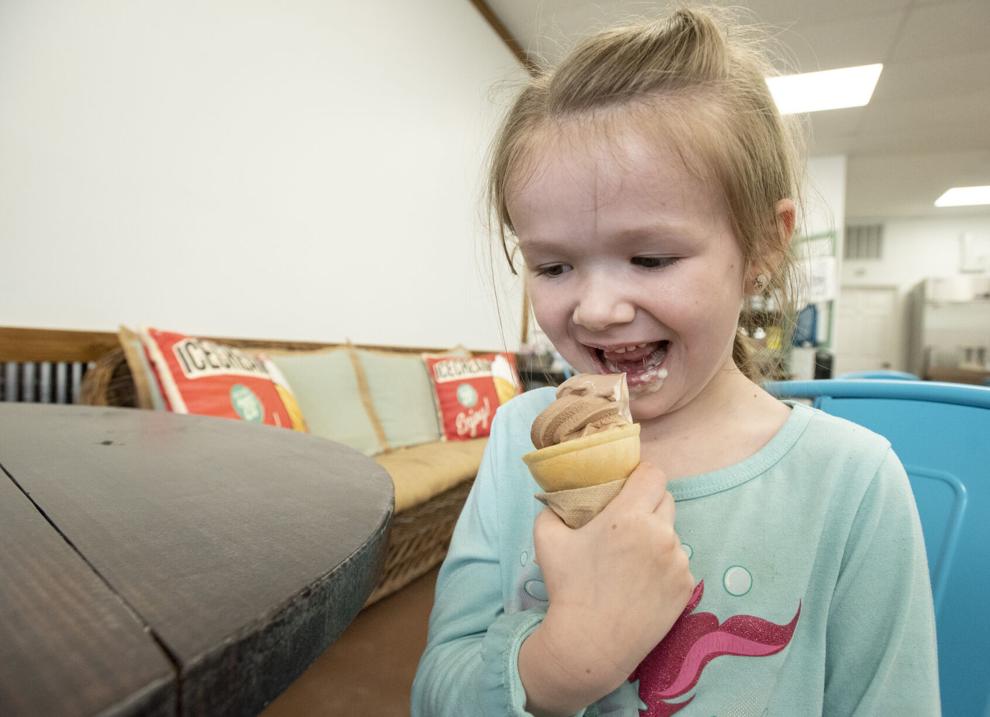 The Farr siblings were visiting their grandmother while on spring break. Frequent trips are fine for Duncan.
"I love it," Duncan said. "We will be here every time they come to visit."
It's those reactions and memories Dennis Godfrey hopes everyone gets to enjoy.
"These guys are the reason why we decided to open this," Godfrey said. "(Duncan) can make memories with them. That is what I want."
Godfrey remembers times as a child with his grandparents.
"My grandfather would take us to Moonland, Mississippi and we would go fish," Godfrey said. "For me that was the best time of my life. He would buy us a can of Beanie Weenies at 4:30 in the morning from a 711 and we thought it was filet mignon. I love the memories I have of my grandfather doing that; it was great."
The Godfreys were introduced to Lake Martin years ago and almost didn't come back after the first morning.
"We came down for a sort of a work thing," Ellen Godfrey said. "It was the Fourth of July weekend. We are going to be in the boat parade. I'm thinking I'm not liking this parade thing. We go to the marina to sign up for the parade and use the potty and came out with a Sea Doo. It is the most expensive potty break ever. We were hooked that weekend. We never looked back. When we would come we would stay at their place until we got a place of our own."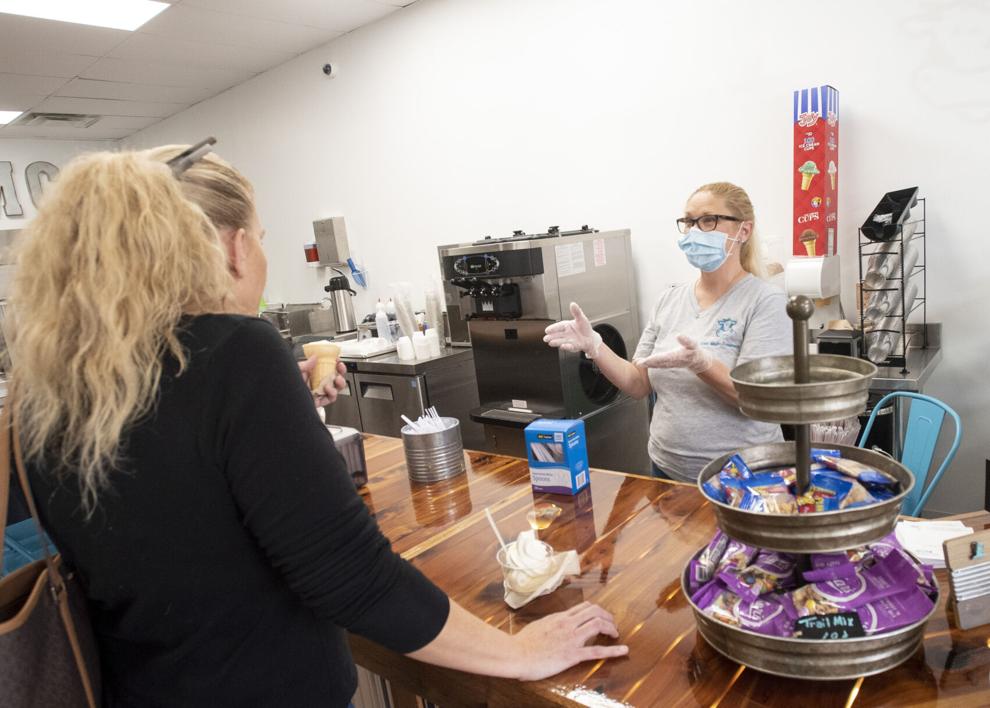 Dennis Godfrey said the couple's idea of an ice cream shop started years ago.
"I was probably only going to work a couple more years anyway," Godfrey said. "Most likely the ice cream shop would have come then.
Last year during the COVID-19 pandemic Godfrey was working a corporate job. He had been with the same company for 18 years
"During the pandemic, I couldn't travel; it became frustrating," Godfrey said. "I got so frustrated trying to run a region from a computer. It just didn't work for me because I'm a people person. We lived in Birmingham and had a place here at the lake. I spent a lot of time down here because I was working from home. The lake kind of exploded and I watched all this around me. I was like, the way people go to work has changed."
Plans for the ice cream shop got pushed up as the Godfreys noticed a change around the lake.
"For us if we are going to make a move, maybe now is the right time for us to do this," Godfrey said. "When this opportunity came, when we found this spot and the opportunity became available, we just had to take a leap of faith. We spent a little time praying about it to see if this really is the right move. I feel like it really is because I think this is something the lake needed.
This was our opportunity so if we were going to do it, let's do it now."
The idea was planted in the minds of the Godfreys a few years ago, who rented a place at Stillwaters.
"She went to find ice cream with her grandchildren; she couldn't find anything," Godfrey said. "She said, 'Have you guys thought of that.' We hadn't but we started doing our research."
Godfrey would leave his corporate job in September.
"That was a little unnerving," he said. "We sold our house in Helena in 3 hours. It afforded us to have the type of funds we needed to open this up. Now we live here at the lake full time."
The Godfreys research took them to Seaside, Florida.
"We saw these cute little ice cream shops," Godfrey said. "We saw how they were run. Most of them were serving hard ice cream but that wasn't something I really wanted to do. I think most people like soft serve. Really what I wanted was a custard, more of a high quality product. We would get that from St. Louis at Ted Drewes. I got the same mix he uses."
The Godfreys are still learning. To help with the learning curve, Lake Martin Creamery posted it would open Wednesday briefly to give out samples as the Godfreys ready for a soft opening Friday.
"We are just learning how to twist," Ellen Godfrey said. "Look at that, it looks like a snake. It's a creamy cobra."
The couple already has ideas of expanding from their basic chocolate and vanilla custards.
"We are going to have both milkshakes and those blasts," Dennis Godfrey said. "We have all kinds of candies.
"On Friday when we open up for real, our customers are going to be getting 30 different types of candies. We have Hawainin shaved ice — 24 different flavors. We have all kinds of candy and treats we are going to sell. Ellen, she is really a good baker. She has all of these molds, we are going to make chocolate candies, we are going to make caramel apples, those types of things.
"We went from basic ice cream to having over 200 different items."
Ellen Godfrey said there is another reason for the blasts and room for even more on the menu.
"We have blasts because everyone who comes to the lake has a blast," she said. "There is such a thing as mixing custard and shaved ice. We are going to play with that a little bit."
All the treats will have names related to water and Lake Martin.
"There will be pirate themed milkshakes for kids," Ellen Godfrey said. "A mermaid one too. It will have mermaid sprinkles and will have white chocolate mermaid tail. We will have a unicorn shake and it will come with unicorn sprinkles. It will also have cotton candy."
It's all relaxation for the couple. Now there is no corporate pressure.
"I'm selling ice cream," Dennis Godfrey said. "I'm not selling cell phones. This is fun, it really is."
Ellen Godfrey said, "We want to make people happy and help make memories. It is all about family fun. We are chillin' at the creamery. They say money can't buy happiness but it can buy ice cream and that is pretty much the same thing."