Horseshoe Bend Regional Library bookmobile librarian Myra Abrams catalogued books while waiting for visitors outside the Bud T. Porch Center on Friday. The bookmobile made its monthly stop to Alexander City and made detours at Cooper Headstart and Gunter Housing.
"I will have a lot of people just come up and speak to me and say, 'I remember when I was a kid (the bookmobile) used to come up to my neighborhood. I haven't seen one of these since I was a kid,'" Abrams said. "Everybody is still so excited to have the bookmobile and to see it, of course if they were members before."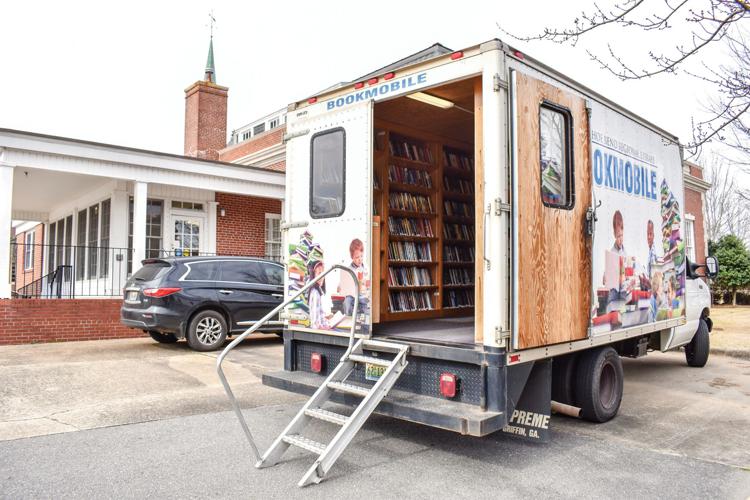 The local bookmobile program began in 1950 to promote reading for children. Abrams drives the bookmobile, which is a truck with a mobile library attached to the back, around Tallapoosa, Lee and Elmore counties.
"We have people who request certain books and some people like to get on the bookmobile and pick out books themselves," Abrams said.
The bookmobile also makes stops in Hackneyville, Camp Hill and Frogeye.
Abrams drives to preschools, senior centers, neighborhoods and wherever she is requested to deliver books. Abrams is sometimes requested to read to classes or will have teachers pick out books to read at preschool programs.
Her typical day involves driving to regular spots or requested places from 9 a.m. to 2 p.m. then she shelves and prepares for the next day after returning to the library.
"I'll load my books up for the particular person or facility," Abrams said. "I'll go drive, rain or shine, and I go to the facility or personal home or deliver the books."
Library cards are not required to check out books but those requesting books will get registered. Books can be renewed if readers are not finished after a month.
Abrams will sometimes get book requests and deliver them to residents.
"I have a lot of people thank me because they're not physically able to go to the library themselves," Abrams said. "Some people don't like to watch TV; they prefer to read which is rare these days. And that's how they spend their time is reading."
The bookmobile's catalogue includes westerns, large print, regular print, junior fiction and nonfiction, kids books, DVDs, audio books, paperbacks, self-help, cooking and free books that were donated. Abrams said the top three genres that get checked out are Christian, mystery and western books.
The library is also getting a new bookmobile this spring that will be handicap accessible, according to Abrams.
Abrams loves helping people pick out books with the bookmobile.
"Any way I can help people and make them feel good I enjoy and this is something people enjoy to do and I'm able to help them with that," Abrams said.
The library posts a monthly calendar online of the bookmobile's planned stops.