Stay tuned to this link for any and all live updates and results, including how Tallapoosa County voted. Republicans carried the county. Read all the details on how the county voted here.
Read the full story on record local turnout here.
According to the Associated Press, Donald Trump is leading the popular vote while Joe Biden is leading in electoral votes. But it will take a while for all results to be reported.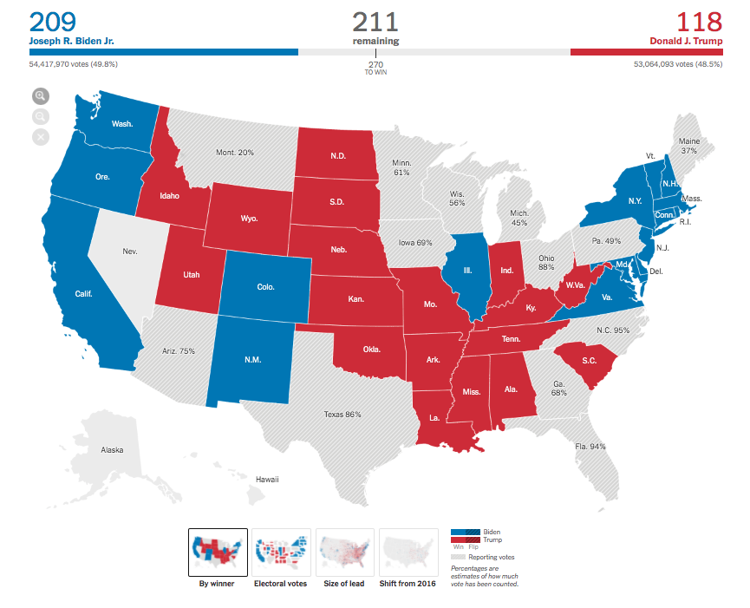 Follow New York Times and its interactive map here.
Tommy Tuberville has won Alabama's Senate seat with 58.4% of the votes so far compared to incumbent Doug Jones' 41.5%, according to the Associated Press. Not all votes are returned but AP is calling it with the majority of votes for Tuberville.
Tuberville is the former Auburn University head football coach and is making his first foray into political office. Tuberville believes in protecting individual liberty, lowering taxes and government spending, building a wall on the U.S. border with Mexico, ending the legality of abortion, preserving second amendment rights and repealing the Affordable Care Act.
Mike Rogers has won the Third Congressional District, according to AP, with nearly 70% of the vote to Adia Winfrey's 30.2%.
Rogers has served as representative of Alabama's Third Congressional District since 1994, serves as chairman of the House Armed Services Strategic Forces subcommittee and is a senior member of the Agriculture and Homeland Security Committees.
TALLAPOOSA COUNTY RESULTS
In Tallapoosa County, 20,964 of 31,196 registered voters showed up to the polls for a 65.54% turnout. Trump won the county as did Tuberville and Rogers.
With 22 of 27 precincts reporting, Tallapoosa County voters have chosen to let Willow Point establish its own road district with 9,570 voting yes and 3,211 voting no.
National results, so far
As of 10:35 p.m. from The Associated Press:
Swing states
Biden
Trump
Arizona
11 electoral votes · 73% reporting
53.6%
1,290,521
45.2%
1,088,052
Florida
29 electoral votes · 98% reporting
47.8%
5,250,894
51.3%
5,633,427
Georgia
16 electoral votes · 71% reporting
45%
1,592,108
53.8%
1,902,774
Iowa
6 electoral votes · 78% reporting
48%
614,292
50.3%
644,382
Michigan
16 electoral votes · 48% reporting
43.4%
1,122,007
54.6%
1,412,021
Nevada
First results expected soon
New Hampshire
4 electoral votes · 59% reporting
53.2%
244,961
45.1%
207,570
North Carolina
15 electoral votes · 94% reporting
48.7%
2,655,149
50.1%
2,730,890
Ohio
18 electoral votes · 94% reporting
45.2%
2,511,884
53.3%
2,960,467
Pennsylvania
20 electoral votes · 51% reporting
41.6%
1,440,775
56%
1,939,588
Texas
38 electoral votes · 77% reporting
46.8%
4,728,232
51.9%
5,242,396
Wisconsin
10 electoral votes · 65% reporting
47%
974,614
51.5%
1,067,291